Culinary traditions from the heel of the boot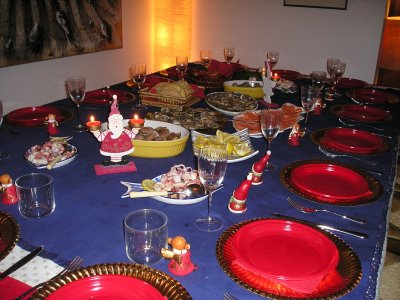 Welcome to Puglia, the heel of the Italian boot, a region of seemingly endless miles of beautiful beaches, breathtakingly wild and unspoiled nature, cities of art, archaeological treasures and varied and delicious culinary traditions.
In Puglia, the Christmas season is particularly rich in delicious tastes and smells. The Italian Christmas dining experience is not limited to lunch on the 25th. The feasting begins on the eve of the 24th and continues for three days.
The traditional menu for Christmas eve is quite simple and features "frittelle," fried dumplings stuffed with various fillings including tomatoes and mozzarella cheese, sauteed onions and capers, tomatoes and tuna, or the intense flavor of aged ricotta cheese. Boiled "cime di rape," or turnip greens, accompany the frittelle as a side dish.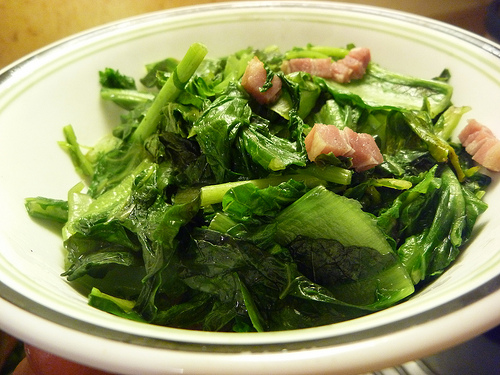 Credits: Flickr
Christmas day finds most Puglians seated around the table with loved ones ready to dig into a multi-course meal that will usually go on for hours and hours. A variety of "frutti di mare," raw mollusks fished fresh from the Adriatic Sea, are often served as a delicious starter. These range from mussels to clams to oysters to scallops, but include local specialties such as hedgehog sea urchins.
The pasta course is usually something filling and rich like a lasagna. The main course is typically lamb. Favorite dishes include baked lamb with "lambascioni" (a small and bitter onion that only grows in the wild), or "cuturidd'," spiced lamb and vegetables cooked for hours in a special terracotta pot.
Just when you thought you couldn't eat another bite...it's time for dessert. There is quite a selection of sweets in the Puglian tradition. "Cartellate" are the most typical Christmas sweet. They are made of fried dough rolled out in long strips and then swirled into the form of roses which are dipped in either honey or mulled wine. "Pettole" are small rounds of dough, first fried and then sprinkled with powdered sugar. "Porcedduzzi," known as the poor man's nougat, are small balls of dough mixed with chopped almonds and honey.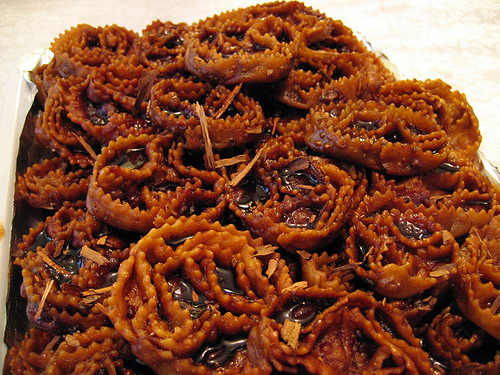 Credits: Flickr
Although you have been feasting like a king for the past two days, it's time to celebrate Saint Stephen's Day on December 26. Naturally, in Puglia that means another afternoon spent around the table. Puglians consider this to be a somewhat lighter meal, although it is once again a lengthy affair including all courses from appetizers to pasta, a main dish to side dishes, ending with all those leftover desserts from the previous days. So how is it lighter? The first course is traditionally a beef broth, served with "milleinfranti," an egg pasta with Parmesan cheese and parsley cooked into the dough, and the main course is the meat used to make the broth. For Puglians, broth is a light lunch!
Take a deep breath and loosen that top button because New Year's Eve and Day, with more mouth-watering Puglian cuisine, are only a week away!
Are you fascinated by Apulian traditions? Subscribe to our RSS, follow us on Twitter and Facebook and we'll keep you updated!!
Other photo Credits: Sara Donahue