Palazzo Montemartini *****

L
Check In:
27-03-2017
Check Out:
28-03-2017
Nights
1
Clients:
0 Adults
Modify
Opening Period : Palazzo Montemartini
Open all year round
Location
Palazzo Montemartini is placed in Rome and it is the only hotel in the city crossed by the sixth century Servian Walls. It boasts a good location for your stay in Rome: within walking distance from Termini Station, the Baths of Diocletian and the church of Santa Maria degli Angeli. You can also easily discover the surrounding area by visiting places of interest as Fontana di Trevi, Villa Borghese, Piazza di Spagna which are all located at less the 1 km away.
Hotel
Palazzo Montemartini, once an ancient palace of the '800, is today a luxury five-star hotel whose high quality is guaranteed by the prestigious Ragosta Hotels Collection. The property features an elegant style characterized by marble, stucco and classic lines. Palazzo Montemartini houses 82 stylish rooms and suites, large multi-purpose rooms, the exclusive Senses Restaurant & Lounge Bar with views of the Servian Wall.
Wellness Centre
Open also to outside guests, the exclusive SPA "ExPure" of Palazzo Montemartini presents massage and treatment rooms, emotional showers with chromo-therapy, heated pools, relax areas, sauna and turkish bath. It covers an area of 600 sqm and offers a wide range of treatments and personalized health, beauty and remise-en-forme programs.
If you look for a complete relaxing holiday in Rome, Palazzo Montemartini presents also its special Junior Suites equipped with private SPA and thalasso-therapy.
Services & Activities
Palazzo Montemartini additional services and facilities (some only by request): room and valet service, babysitting, discounted car park, excursions, free internet connection wi-fi, personal shopper, transports and shows tickets.
Tourist Tax – the city of Rome requires the payment of Euro 7,00 per person, per night for a maximum of 10 nights. This tourist tax has to be paid directly on spot.
Rooms Palazzo Montemartini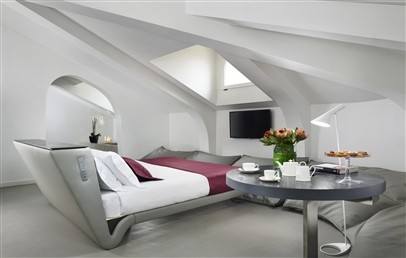 25 to 30 sqm/double bedModern and stylish rooms with all contemporary 5* hotel comforts. The en-suite bathrooms is decorated in marble, carved stone sinks, shower or bath tubs and complimentary toiletries signed ExPure SPA.
read more »»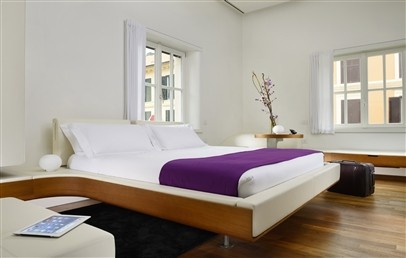 30 to 35 sqm/king-size bedSpacious, modern and refined rooms with a minimal design, king-size beds and bathrooms decorated in marble, carved stone bathroom sinks, tub and shower and complimentary toiletries signed ExPure SPA. The Deluxe rooms offer a charming view of Rome.
read more »»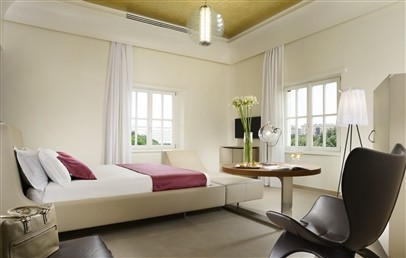 30 to 40 sqm/king-size bedLarge and elegant rooms with a minimal design, king-size beds and bathrooms decorated in marble, carved stone bathroom sinks, bath tubs assembled and complimentary toiletries signed ExPure SPA. The Grand Deluxe rooms offer a charming view of the Baths of...
read more »»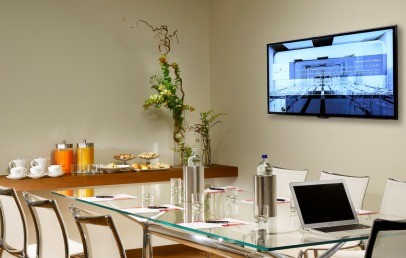 42-45 sqm/king-size bedThese Junior suites are a perfect fusion of business and luxury style. They consist of a large bed room, a private meeting room equipped and 2 large marble bathrooms (one with tub and shower).
read more »»
45 sqm/king-size bedUnique Junior suite with wide glass walls, spacious walk-in closet, long mirrored wall, equipped with the latest technology of Technogym. The room is equipped with a luxury marble bathroom with carved stone bath tubs and multifunctional shower "hammam...
read more »»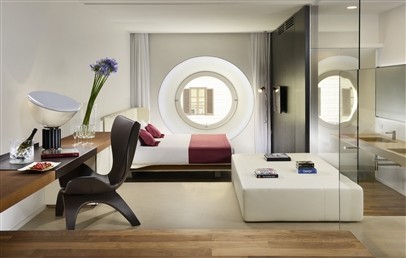 38-47 sqm/king-size bedThese elegant and spacious Junior Suites presents a bright bedroom and large en-suite bathroom. They are equipped with mini stone pools with whirlpool, sauna and the multifunctional "hammam" shower.
read more »»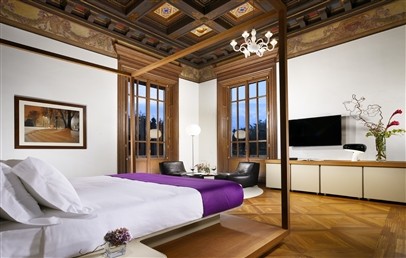 71 sqm/king-size bedLocated in the first floor, the Noble Junior Suite is superlative, elegant and exclusive. It presents frescoed coffered ceiling of the late XIX century, a king size canopied bed and a large bathroom with tub and shower. Thanks to the double private balcony is...
read more »»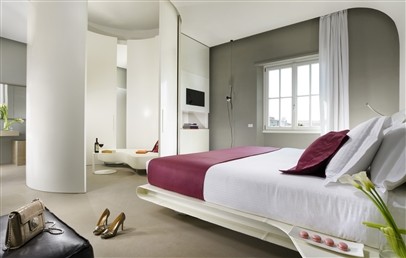 38-46 sqm/king-size bedSpacious and elegant suites built with a stylish design, conceived as a tribute to the genius and the talent of the architect Pierre Chareau and his most famous work the "maison de verre" of Paris. They presents king size bed, a particular revolving rollaway...
read more »»
In Room
Internet in Room
Wi-Fi throughout the hotel
Jacuzzi in the Room
Restaurants
A la Carte Restaurant (Dinner)
Services
Pets allowed
Private parking
More
Cultural Centres
Tourist Centres within 10/15 minutes by car
Nightlife / Clubs / Bars Lounges
Tourist centers within walking distance
*NB: The services may not be fully available / working and subject to change for reasons beyond the control of CharmingItaly.com who declines every responsibility.
Map Palazzo Montemartini
Please select the points of interest you want to display on the map

TELEPHONE ASSISTANCE
+39.070.513489 CALL NOW!