Relais Corte Altavilla ****
Check In:
29-03-2017
Check Out:
30-03-2017
Nights
1
Clients:
0 Adults
Modify
Opening Period : Relais Corte Altavilla
Open all year round
Location
The Relais Corte Altavilla is located in the historic centre of Conversano, right in the heart of Apulia. Conversano is about 30 km to the south of Bari and 40 km. It is 219 m above the sea level and about 8 km away from the nearest beach.
Hotel
Corte Altavilla Relais is made of very peculiar flats: the building dates back to the Norman age and the hotel is surrounded by medieval walls, which used to hide the apartments of the Norman court. Corte Altavilla Relais is so charming because of the rich history of Conversano and especially thanks to the great modern comfort of its rooms.
Rooms
The hotel has 31 independent flats, each equipped with: air conditioning, sat-TV, safe, ensuite bathroom with shower and mini-fridge.
Standard - are double rooms. These have been created in the same spaces where once a medieval court of the year 1300 was. These rooms are equipped with hand-made iron beds and wooden furniture.
Top-Standard - are larger than standard rooms. They can accommodate up to 3 persons in a double bed and a single bed in two separate rooms.
Junior-Suite - offer very comfortable bedrooms with a double bed, a living room and a very romantic view of the cathedral.
Top-Junior-Suite - are more spacious than Junior Suites and also provide a welcoming living room and a Jacuzzi.
Wellness Centre
Corte Altavilla Relais disposes of a comfortable Thermarium Spa housed in ancient stone. Here guests can take care of their body and free their mind, through a path that includes several purifying and relaxing stages. The wellness experts take care of their guests with wisdom and competence, offering true relaxing moments.
Restaurant
The restaurant Goffredo Ristorante osteria in terrazza offers traditional Apulian recipes. The menu changes every day, and only fresh seasonal ingredients are used, as well as a major part are at Km zero and biological. Lunch and dinner can be booked at the reception. The restaurant is right on the top terrace and offers a great view to customers, while they taste delicious Mediterranean dishes. The restaurant is open for dinner from Monday to Saturday and for lunch only on Sundays.
Services & Activities
Wireless hall, free internet point, lounge room with reading corner and courtesy bar are at guests disposal. Further guests can make a different experience, taking part of a fantastic cooking class organized by Corte Altavilla Relais in a beautiful farm, headquarters of an culinary association and hotel partner; or discover the beautiful nature around the hotel, by booking an excursion with the hotel boat or renting a bike. A Soccer court is available in the nearby. A public parking is available 200 meters away from the hotel and a private parking is at 1,5 km. The hotel offers a complimentary shuttle service to/from the parking (to request at the reception). The complimentary Wi-Fi connection is available in the common areas and in all rooms.


<< Boutique Hotels Puglia
Rooms Relais Corte Altavilla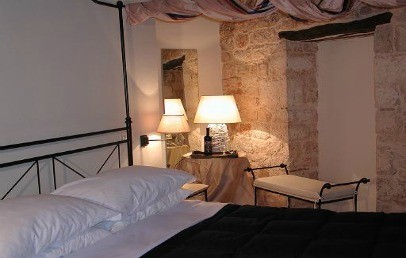 about 20 sqm/double bed Double Rooms with stone walls and white plaster, they are tastefully decorated. All of them have wrought-iron beds, wooden furniture and a bathroom with shower. They are all located inside the Medieval Court of 1300.
read more »»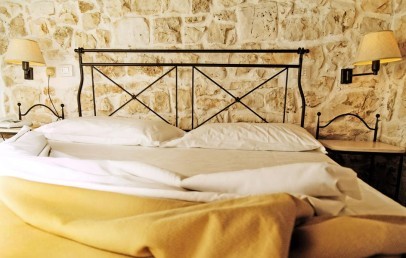 about 30 sqm/double bed Double room with an elegant contrast between the walls of white stone, the plaster and wooden beams. It has a stunning view of the Romanesque Cathedral and has a cozy sitting area.
read more »»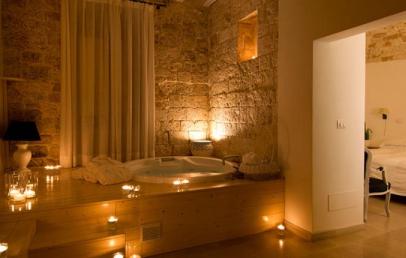 about 60 sqm/double bedThe dominant white of the stone, plaster, beams and the relaxing, circular jacuzzi are the features of our top junior suite with two beds. They are all furnished in a charming style.
read more »»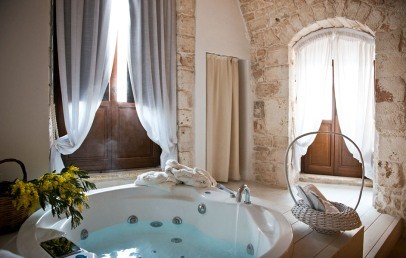 about 70 sqm/2 double beds Wide suite with two bedrooms and two bathrooms with a large jacuzzi. The charming furniture, the dominant white of the stone, plaster and beams makes it luxurious and engaging. It has a private terrace.
read more »»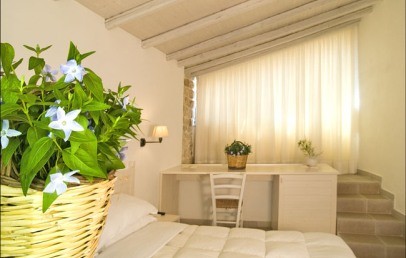 about 30 sqm/double bedSpacious rooms with three beds in two separate rooms. The beds and dormeuse are in wrought iron and the decor is characterized by vaults, wooden beams and stone walls. They are furnished with style plus a cupboard that contains a kitchenette and a refrigerator.
read more »»
Travel Themes
Beaches and coast
Honeymooners
In Room
Internet at the Reception
Kitchenette
Internet in Room
Jacuzzi in the Room
Wi-Fi throughout the hotel
Restaurants
A la Carte Restaurant (Dinner)
Services
Pets allowed
Private parking
More
Cultural Centres
Tourist Centres reached within 30 minutes by car
Tourist Centres within 10/15 minutes by car
Tourist centers within walking distance
Nightlife / Clubs / Bars Lounges
*NB: The services may not be fully available / working and subject to change for reasons beyond the control of CharmingItaly.com who declines every responsibility.
Map Relais Corte Altavilla
Please select the points of interest you want to display on the map
Video Relais Corte Altavilla
Extra Relais Corte Altavilla
Period of validity: from 01-01-2016 to 31-12-2017
Costs for the baby cot (€ 15,00 per stay) and for extra meals to be paid locally
*NB: The offers are not valid for all rooms. To find out, which rooms and periods the offers apply to, please check our online-booking portal.

TELEPHONE ASSISTANCE
+39.070.513489 CALL NOW!