Castello di Poggio alle Mura -
Useful Info
Airport Florence – approx. 130 km (2h)
Airport Pisa – approx. 185 km (2h30)
Montalcino – 20 km
Rooms – 14
Small pets allowed – no
Check In:
23-10-2018
Check Out:
24-10-2018
Nights
1
Clients:
0 Adults
Modify
Opening Period : Castello Banfi Il Borgo
From 29 March 2018
-
to 17 November 2018
From 26 March 2019
-
to 10 November 2019
From 01 January 2020
-
to 31 December 2020
Location
In the heart of Tuscany, immersed in the gorgeous Tuscan country side of the famous Brunello's wine region, lies an important eno-tourist centre, Castello Banfi. The fortress is situated on a hill overlooking the surrounding land where high-quality vines are grown, great expanses that give birth to excellent productions such as the famous Brunello di Montalcino. Montalcino is 20 km away and other important cities in the area are Siena and Florence respectively at 70 km and 130 km, both north of the estate.
Hotel
The hotel Castello Banfi il Borgo, at the centre of a domain of 2830 hectares, is a stone village that was built around 1700 next to the towering castle, formerly called "Poggio alle Mura". The stone houses of the Village were built outside the walls, but not too far away from them, when it was safe enough to move from those without, however, stray too far. The medieval fortress, now known as the Castello Banfi, is used as a reception centre of the wine estate that bears the same name. The exteriors of the structure, even after the renovation, have maintained the original form of a typical building of the XII century, but the interiors are certainly a pleasant surprise: elegantly furnished, spacious, airy and enriched with every comfort. The special attention that guests receive from all the staff of the Castello Banfi, makes the holiday in this enchanting place unique. You will only have one regret: that the holiday will last too short!

Rooms
The 14 luxury accommodations of the Castello Banfi – Il Borgo divided into rooms, Junior Suite and Suites. Each varies in size, location and furnishings. The common denominator is the class that can be found in the choice of furnishings and fabrics used, all in perfect Tuscan style. The famous architect Frederick Forquet has finely restored and decorated this space with exposed wooden beams, arches covered in stone and terracotta floors. In the spacious bedrooms and bathrooms we find comfortable king-size bed, large walk-in rainfall shower or bathtub. The suites have, in addition to a king-size bed, a sofa bed placed in a separate room. Some rooms have the possibility to offer two single beds. All are equipped with the modern comforts such as flat screen TV with international channels, Pay-per-view TV, Wi-Fi internet connection, safe, Nespresso coffee machine and complimentari minibar. Upon arrival, the mini bar in the rooms and suites will be equipped with a complimentary selection of wines from Banfi Estate.
Restaurant
The Castello Banfi offers two restaurants "La Taverna" and "La Sala dei Grappoli", both a real treat. "La Taverna" is open for lunch and housed in the old wine cellar, where once rested the large wooden barrels of the "Brunello di Montalcino". The cuisine is characterized by Tuscan and local tradition, prepared with seasonal ingredients. Guests can choose from the à la carte menu or taste a degustation menu. The restaurant "La Sala dei Grappoli" is open for dinner and invites their guests in an elegant and upscale ambience. During the summer months, with nice weather, the delicacies are served on the outdoor terrace, in order to better enjoy the scent and taste of the dishes surrounded by the silence of the Tuscan countryside. Of course, the delicious plates will be accompanied by excellent vines from the own production.
Services & Activities
The Castello Banfi offers its customers a beautiful outdoor heated swimming pool overlooking the valley and the mountains that surrounds the property. For those who seek peace and tranquillity and love to contemplate the surrounding nature, perhaps sipping a glass of wine, the pergola located in the garden turns out to be just perfect. In the estate, if you wish, you can also attend cooking classes and wine tasting sessions in order to better assimilate the secrets of the Tuscan cuisine and how to match them with excellent wines.
Among the activities of Castello Banfi we cannot forget to quote the first and foremost related to this area: the production of wine. Of course, being this company one of the best known in the world in this field, guests can approach this universe through guided tours of the cellars and wine tasting. Moreover, the Banfi winery, converted from old buildings of the property, offers the opportunity to taste and buy wines but also grappa, extra virgin olive oil, honey, pasta and typical desserts. For those who want to deepen their knowledge, books that relate to wine, gastronomy, history and architecture of Tuscany are also available.
It is worth noting that, besides the Enoteca, the Banfi estate has a Balsameria where the Salsa Etrusca evolves, a concentrated nectar more refined than balsamic vinegar, which is left aging in small barrels made from fine woods and is obtained from late harvested grapes. Besides these two important activities, there is another one for which the Banfi founder, John F. Mariani, has spent considerable time: it is the most important private collection of Roman glassware in the world displayed here in the museum of glass. The collection includes testimonies from Roman times, some pieces are even dated around the fifth century BC. This is an initiative that has to do with art but also with another type of culture, that of wine. Glass and wine have always been tied and here at the glass museum we have ample evidence of it.

The municipality requires the payment of a tourist tax of € 5,00 per adult, per day.


<< Tuscan Countryside Accomodation
Rooms Castello Banfi Il Borgo
from 40 sqm/king size bed Large bedroom with a double bed of 200x200 cm. It is furnished
read more »»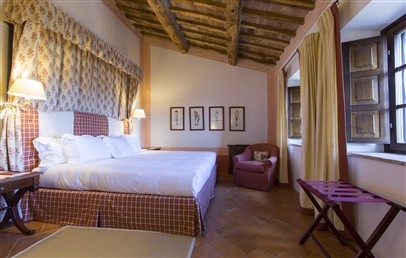 approx. 85 sqm/king size bed Large suite with 200x200 cm bed and living corner furnished in the
read more »»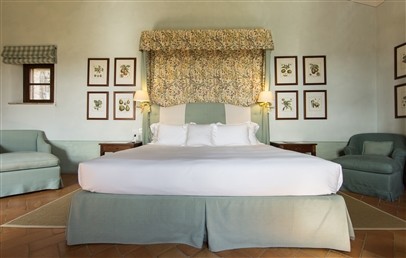 from 66 to 76 sqm/king size bed (200x200 cm) Large suite furnished in the typical Tuscany
read more »»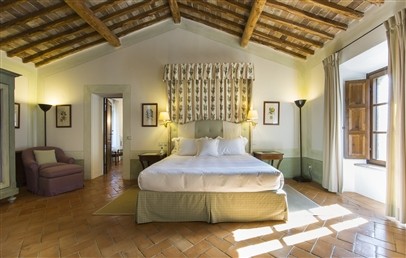 110 sqm/King size bed Refined and exclusive Suite with 200x200 cm bed, comfortable living area, big wardrobe
read more »»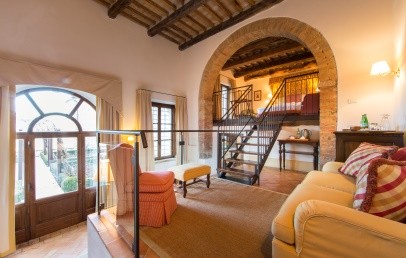 from 56 to 65 sqm / double bed (200x200 cm) A spacious bedroom with a wardrobe
read more »»
In the surroundings
Cultural Centres
Tourist Centres within 30 mins. by car
Other services
Internet throughout the hotel
Parking
General information
Sun terrace
Garden
Outdoor lounge areas
Lounge areas indoor
Rooms adapted for disabled people
Sport & Wellness
Tennis court
Football field
Activities
Excursions/Guided tours
Wine&Food tours
Wine tastings
*NB: The services may not be fully available / working and subject to change for reasons beyond the control of CharmingItaly.com who declines every responsibility.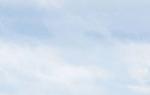 Green Tuscan Hills, good wine and an excellent service….. ..…Come to Castello Banfi and make your dreams become true!!!  This is how guests often describe their stay at Castello Banfi Il
read full article >>
Map Castello Banfi Il Borgo
Please select the points of interest you want to display on the map
Get More Castello Banfi Il Borgo
29-03-2018 - 17-11-2018
Only for Charming customers:
- half a bottle of Brunello di Montalcino Banfi and 2 half bottles of sparkling wine Banfi
- welcome drink
- 1 winetasting of 3 Castello Banfi Sangiovese Wines
- early check-in/late check-out upon availability
01-01-2019 - 31-12-2020
Only for Charming customers:
- half a bottle of Brunello di Montalcino Banfi and 2 half bottles of sparkling wine Banfi
- welcome drink
- 1 winetasting of 3 Castello Banfi Sangiovese Wines
- early check-in/late check-out upon availability
*NB: The offers are not valid for all rooms. To find out, which rooms and periods the offers apply to, please check our online-booking portal.