EREMITO Hotelito del Alma
Useful Info
Airport Roma Fiumicino - 170 km
Nearby - Parrano 9 Km
Rooms: 14
check-in untill 20.00
check-out by 14.00
Late Check out: No
Pets allowed: Yes, free
Check In:
20-10-2018
Check Out:
21-10-2018
Nights
1
Clients:
0 Adults
Modify
Opening Period : EREMITO Hotelito del Alma
Open all year round
Location
The Eremito Hotelito del Alma is located in the very heart of Umbria, in the municipality of Parrano, an ancient medieval stone village. It is surrounded by 3,000 hectares of a natural reserve, on a solitary and quiet position, where the hours are marked by the sounds of nature. The nearest airport is Rome Fiumicino at 180 km distance. Orvieto and Città della Pieve are at 35 km distance, rich of history, good wine and food.
Hotel
Born from the restoration of an ancient Monastery, Eremito Hotelito del Alma is a very innovative structure, built utilizing the latest bio materials together with the old. The thick stone walls keep it cool in summer and warm in winter.
It is the place to restore your soul, to meditate and live a true spiritual holiday. Guests are asked to put their phone in silent mode and to use it outside in the garden, in order to not disturb the other guests. Guests are accommodated in one of the 14 small rooms called "Celluzze" (born from the ancient monastic cells), where the true luxury offered is done by the silence, the essentiality and the time for themselves. Their best comforts are: no Tv, no phone, no air conditioning, no mini-fridge. Every room features a floor heating supplied by a wood-burning boiler.
Wellness
A small Relax Area is at guest's disposal, to take time for themselves to enjoy the Gregorian chants in an entirely environment made of ancient stone with heated pool and steam room.
Restaurant
The stay at the Eremito Hotelito del Alma includes breakfast, lunch and dinner at the restaurant "Refettorio", which offers a vegetarian and vegan cuisine with ancient monastic recipes made by local, biological products from the own vegetable garden or from some surrounding gardens. The aim is make guests savor the ancient flavors with a genuine and healthy cuisine.
The formula "all inclusive" includes: Vegan and vegetarian breakfast, lunch and dinner with alcoholic and non-alcoholic beverages (except for bottled drinks) included. At fixed times of the day at the hotel bar are included: snacks, fruits, ice cream, tea, alcoholic and non-alcoholic beverages (only local products, bottled drinks excluded).
Service & Activities
Various nice outdoor activities can be organised in the surrounding area as walks in the nature, excursion to the little fall, in the woods, climbing with a local guide, horseback riding, jogging trail of 7 km along the valley of the river Chiani.
In the inside of the monastery there is a refectory with fireplace, a reading room with a small library and a large fireplace as well as a cave and a chapel are located in the little tower for moments of meditation and prayer.
Small and medium sized pets are allowed (on request) and a laundry service is available.
Rooms EREMITO Hotelito del Alma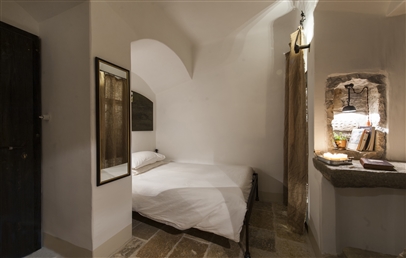 French size bed Essential rooms housed in the former monks' cells. They do not have any
read more »»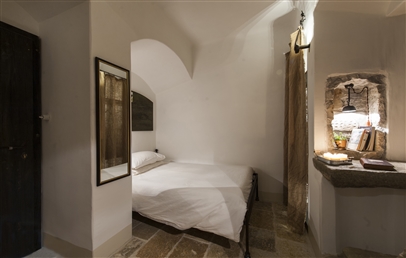 French size bed Essential rooms housed in the former monks' cells. They do not have any
read more »»
Other services
Parking
Internet at the reception
Reading room
General information
Pets allowed
Outdoor lounge areas
Lounge areas indoor
Garden
Swimming pool
In the surroundings
Tourist Centres within 30 mins. by car
Activities
Excursions/Guided tours
Horseback riding
Natural trails
*NB: The services may not be fully available / working and subject to change for reasons beyond the control of CharmingItaly.com who declines every responsibility.
Map EREMITO Hotelito del Alma
Please select the points of interest you want to display on the map