Terme Manzi Hotel and Spa
Useful Info
Rooms – 58 
1 star Michelin restaurant
Check In:
25-09-2017
Check Out:
26-09-2017
Nights
1
Clients:
0 Adults
Modify
Opening Period : Terme Manzi Hotel and Spa
From 13 April 2017
-
to 21 October 2017
Location
The island of Ischia, the third most populous in Italy after Sicily and Sardinia, is about 10 km wide and 7 km long. The highest peak, Mount Epomeo (787 meters) is located in the centre of the island: at its foot lies the famous tourist centre of Casamicciola, which in its lower part houses the Terme Manzi Hotel & Spa. In a few minutes you can reach the centre of the island. The hotel is at about 3 km from the port of Ischia.
Hotel
The hotel was built in 1863 by brothers Manzi on the ancient source of "Gurgitiello", known since antiquity for its therapeutic properties. It was then purchased and renovated in the '60s by the publisher Rizzoli, and then it passed to the Polito family, which helped to value it and create the hotel like it is today. The Terme Manzi Hotel & Spa has a beautiful garden, enriched by classical style statues, and it is best known for its thermal spa and its facilities.
Rooms
The 58 rooms and suites are furnished in Mediterranean style with oriental details and are divided into the following categories: Superior, Deluxe, Prestige;Junior Suite and Suite Garibaldi. Each floor is connected with an elevator that leads to the spa, the open swimming pool, the solarium and Restaurant Bar Le Bouganville.
The Superior rooms, of about 26 sqm, have a window overlooking the courtyard.
The Deluxe rooms, of about 32 sqm, have a balcony or terrace, while the Prestige have wider spaces (about 40 sqm).
Recently built, the Junior Suites, about 50 sqm, are characterized by soft colors like blue and white.
The Suite Garibaldi is unique, with original antiques, statues, paintings and fine furniture. The ceiling is covered with gold leaves and the walls clad in pure silk. An imperial style with modern elements such as satellite TV, internet connection Wi-Fi and air conditioning.
Wellness Centre
The Manzi Spa Thermae covers an area of 1600 square meters. The experienced staff can advise you on the best treatments, which are based on traditional and oriental techniques. The water of the source Gurgitello springs at a temperature of about 70°, thanks to the volcanic action of the island. This water is rich in elements that can dissolve toxins, fatty acids and waste products of metabolism. The beneficial properties of water can be alternated with mud, massages, for moments of real peace and true wellbeing.
Restaurant
The traditional à la carte restaurant "Gli Ulvi" is open for dinner and is the best place to taste the local cuisine of Ischia and Campania, where during the weekends guests can also taste delicious pizzas. The "Le Bouganville" restaurant and bar, located by the pool, is open for lunch with à la carte service. During the day it offers also refreshing aperitifs and cocktails.
For an unique Gourmet experience, the Terme Manzi Hotel & Spa offers the opportunity to dine à la carte at the 1 star Michelin restaurant "Il Mosaico", where the starred Chef Giovanni De Vivo, using the finest quality ingredients, offers to its guests the typical Campania dishes in a modern style and it will be served in an elegant atmosphere.
Services & Activities
The Terme Manzi Hotel & Spa offers cooking classes for guests who want to discover the culinary secrets of Campania, and a tour of the cellars for those who want to deepen their knowledge of winemaking tradition. To discover the beauty of Ischia, nothing better than an excursion by boat, horseback or minibus around the island. For sportive guests, a fitness centre and an open swimming pool are at their disposal.
<< Ischia Hotels
Rooms Terme Manzi Hotel and Spa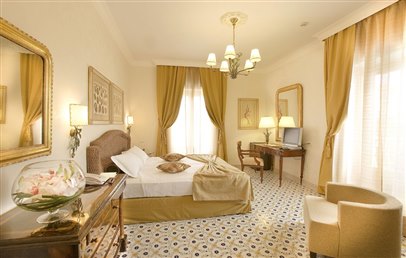 40 sqm / double bed or twin beds These rooms are characterized by a Mediterranean style
read more »»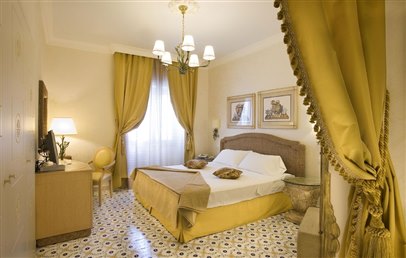 26 sqm / double bed or twin bedsThe design of the rooms are simple and elegant,
read more »»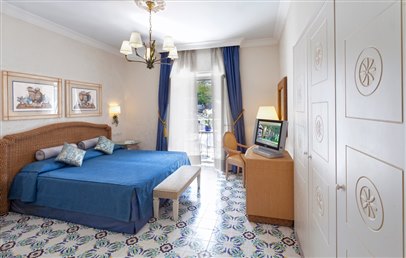 32 sqm / double bed or twin beds Inviting and romantic decorated rooms with fabrics warm
read more »»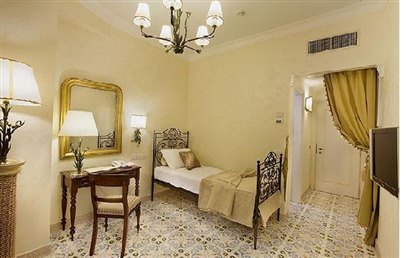 Single bed Inviting and comfortable rooms furnished with fabrics in warm colors. They have a television
read more »»
26 sqm / double bed for single use The design of the rooms are simple and elegant,
read more »»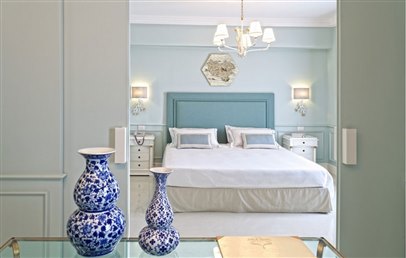 50 sqm / double bed Kingsize The Junior Suites have a special charm and are elegantly
read more »»
Other services
Internet in room
Transfers
Meeting rooms
Parking
Sport & Wellness
Spa
Turkish bath
Sauna
Fitness center
General information
Swimming pool
Pets allowed
Outdoor lounge areas
Garden
Sun terrace
In the surroundings
Selection of beaches
Tourist Centre within 10/15 mins. by car
Activities
Cooking classes
Wine&Food tours
Horseback riding
Excursions/Guided tours
Boat trips
*NB: The services may not be fully available / working and subject to change for reasons beyond the control of CharmingItaly.com who declines every responsibility.
Map Terme Manzi Hotel and Spa
Please select the points of interest you want to display on the map
Get More Terme Manzi Hotel and Spa
13-04-2017 - 21-10-2017
Welcome gift for Charming guests: a sweet or fruits!


24-09-2017 - 21-10-2017
For stays of min. 4 nights between September 24th and October 21st: one free 4-course dinner per person at the Restaurant Gli Ulivi (drinks not included)
*NB: The offers are not valid for all rooms. To find out, which rooms and periods the offers apply to, please check our online-booking portal.