Useful Info
Airoport – Bari 60 km, Brindisi 70 km
Nearby – Monopoli 3 km
Privat and equipped beach – at 8 km distance (beach shuttle service)
Rooms – 37
Small pets allowed – Yes, on request
Charming's opinion
A fortified Masseria with a simple and fine taste, Il Melograno is set in a wonderful position next to Monopoli. Its furniture includes rich tapestries, carpets and paintings that match perfectly with the surrounding country and the beautiful
Check In:
31-05-2017
Check Out:
01-06-2017
Nights
1
Clients:
0 Adults
Modify
Opening Period : Il Melograno
From 08 April 2017
-
to 05 November 2017
Location
In the South of Italy and in the midst of majestic olive groves, half way between green hills and the blue Adriatic sea, the 5-star hotel Il Melograno is a beautiful position. This hotel is located about 3 km outside of Monopoli and about 60 km away from the airport Bari or around 70 km from the airport Brindisi.
Charming suggests you to rent a car to reach your desired hotel.
Special offers: Romance; Spa Spring; Country & Sea Experience... contact us now for more information!
Hotel
It was realised in a fortified farmhouse of the 17th century furnished in style with old handcrafted carpets and paintings. Il Melograno with its typical architecture of Mediterranean constructions wrapped by the scents and colours of the big flowered garden, fits perfectly with the territory and beautiful landscape which surrounds it.
Rooms
Among the 37 rooms which are lovely flooded by the sunlight and are furnished with antique furniture, real rarities which provide a cosy and welcoming atmosphere. The rooms are situated facing the "piazzetta" which is dominated by olive trees, bougainvillea hedges, flower bushes and Jasmine or close to the orange and lemon grove. Some have a private patio. All the rooms have a private bathroom with tub, air condition, mini fridge, safe, satellite TV. The main distinction is by the different room sizes: Deluxe is around 35 sqm, Superior is around 47 sqm, Junior Suite is around 55 sqm surface.
Wellness Centre
A walk under the pergola of bougainvillea which leads to an orange and lemon grove where the entrance of the oasis of beauty is. A modern gym, a big indoor pool with enchanting view, a big hamam area of refined Moroccan inspiration. A large choice of massages and personalised cosmetic treatments and a relaxing area that offers you the sensation of total relax and well-being.
Restaurant
A beautiful stairway, typical hand painted stones framed by flowered climbing plants which lead to the restaurant of Il Melograno where dinner is served in between enchanting olive groves which stand majestically on green English grass. The national, traditional cuisine, creative and extraordinarily various, celebrated with great knowledge, combines simplicity with chosen ingredients and a selection of precious national and regional wines. Bar and there is a wireless internet connection point the hall.
Services & Activities
Magnificent and various is the scenery of Le Tamerici, the private beach which provides services on behalf of Il Melograno. Splendid oasis of tranquillity and privacy on the shore of the crystal clear waters of the Adriatic seas. Surrounded by the scents and the colours of the Mediterranean vegetation, dominated by a huge dune and shady trees. The beach is 8 km away and can be reached comfortably by shuttle bus from mid June until the mid September. In between the green you find 2 tennis courts with flash light, outdoor swimming pool and jogging path. A 18 hole golf club is nearby.
The healthy Mediterranean cuisine is expressed exemplarily by the cooking school of Il Melograno. Cooking classes in a group or one-to-one, according to the client's wishes, exchange guided tastings with a personal touch.
The fishing boat "La Madonna della Madia" takes you along the enchanting Ionic coast of Gallipoli, "the pearl of Salento". A full day dedicated to the discovery of beautiful sandy beaches framed by rocks; lunch is served on board and it is also possible to rent deck chairs and sun shades on the famous beach "Punta della Suina".
Tourist tax – The municipality of Monopoli requires the payment of a tourist tax of € 2,00 per person/night, to be paid on spot. Children under 12 years are exempted.


<< Boutique Hotels Puglia
Rooms Il Melograno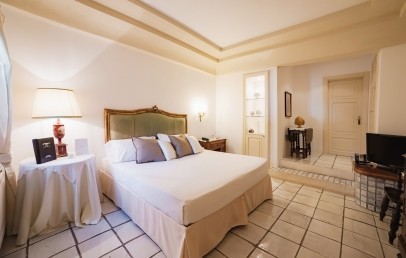 approx. 35 sqm / Queen size bed or twin beds This lovely rooms are located in the
read more »»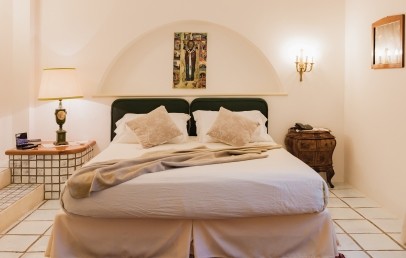 40 sqm / King size bed or twin beds Those rooms are located on the ground or
read more »»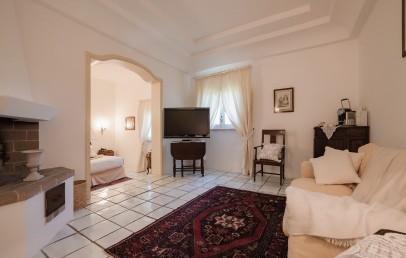 approx. 55 sqm / Queen size bed Located in the orange grove. The Junior Suites are furnished
read more »»
In the surroundings
Selection of beaches
Cultural Centres
Tourist Centre within 10/15 mins. by car
Golf Course
Beach
Beach service
Beach Shuttle-bus
General information
Swimming pool
Sun terrace
Garden
Outdoor lounge areas
Lounge areas indoor
Rooms adapted for disabled people
Pets allowed
Sport & Wellness
Wellness centre
Turkish bath
Fitness room
Tennis court
Football field
Wellness treatments
Massages
Other services
Internet at the reception
Internet in room
Parking
*NB: The services may not be fully available / working and subject to change for reasons beyond the control of CharmingItaly.com who declines every responsibility.
Map Il Melograno
Please select the points of interest you want to display on the map
Offer Il Melograno
Long Stay PREZZO + BASSO
Long Stay - Book 7 nights and 1 night is free of charge!


Long Stay PREZZO + BASSO
Long Stay - Book 14 nights and 2 nights are free of charge!


Get More Il Melograno
08-04-2017 - 15-06-2017
Services included from 08/04 to 15/06 and from 01/10 to 05/11: admission to the indoor pool, free use of the tennis courts, paddle, wellness program starting from 18 years old.
01-10-2017 - 05-11-2017
Services included from 08/04 to 15/06 and from 01/10 to 05/11: admission to the indoor pool, free use of the tennis courts, paddle, wellness program starting from 18 years old.
16-06-2017 - 30-09-2017
Services included from 16/06 to 30/09: admission to the indoor pool, free use of the tennis courts, paddle, wellness program starting from 18 years old, admission to the beach Club with a beach umbrella and 2 sun beds, beach towels and shuttle service at fixed times.
*NB: The offers are not valid for all rooms. To find out, which rooms and periods the offers apply to, please check our online-booking portal.

TELEPHONE ASSISTANCE
+39.070.513489 CALL NOW!