Useful Info
Suite with private pool
30 rooms
during August children over 10 years are welcome
à la carte restaurant
Beach service included
9 and 18-hole golf course nearby
Charming's opinion
Masseria Torre Maizza looks at the Mediterranean Sea from the centre of an extensive estate. The fine familiar atmosphere involves its guests with a warm welcome, while its rustic and luxurious details catch everyone's eye. Perfect for couples of
Check In:
04-02-2023
Check Out:
05-02-2023
Nights
1
Clients:
0 Adults
Modify
Opening Period : Masseria Torre Maizza
From 01 January 2023
-
to 31 December 2023
From 01 January 2024
-
to 31 December 2024
Location
The Masseria Torre Maizza is located approx. 5 km from Savelletri di Fasano and the Adriatic Sea. The airports of Bari and Brindisi are both at about 50 km distance. 
Charming suggests you to rent a car to reach your desired hotel.
Masseria
The original architectural structure of the Torre Maizza farmhouse is at the centre of a large hillside estate, which overlooks the Mediterranean Sea, and just 1.5 km away from the coast. You will find the farm set in a grove of age-old olive trees and can enjoy strolls through orchards, vineyards and fields of other crops.
Torre Maizza is an ancient garrison, part of a defence line that crossed whole Apulia, from the Gargano promontory to "finibus terrae" as Santa Maria di Leuca was once called. During the sixteenth century it was used as a watchtower against the raids of Ottoman and Saracen Turks, and it has now been converted into a refined, 5-star luxury resort. Local traditional hospitality, once provided to pilgrims and Benedictine monks, is now offered to guests.
During August children over 10 years are welcome.
Rooms
30 rooms and suites in total, distinguished between different categories and with the following facilities: free wi-fi and broadband ADSL connection in all rooms, extra large mattresses, goose-down pillows and duvets, bathrobes, organic pharmacy toiletries, LCD TV with satellite and music channels, Sky, CDs and radio, DVDs library, safe laptop-size.

Superior and Deluxe – these rooms are under the cathedral vault ceiling, in typical white tufa dwellings, and guests will experience here the pleasure to live in an ancient farmhouse. Glimpses on the Mediterranean Sea from the window, framed by the colours of the olive grove and the grassy scent of the green golf course are the scenario to be enjoyed from each small terrace or window. All rooms have a double bed, a bathroom with bath tub and two couches and all feature typical farmhouse furnishings with hand-painted details. Deluxe rooms are larger than Superior rooms and are set in a better location.
Junior Suites – are in an unique setting, completed by the romantic charm of a chimney, a Jacuzzi and a small terrace.
Junior Suite Deluxe – are large rooms in order to offer more comfort to guests, whirlpool, a small garden, a miniature terrace overlooking the ancient olive trees, with the sea on the horizon, and the golf course for some time outside. 
Suite dell'Ulivo – typical farm dwelling combined with the elegance of a modern resort. Bedroom and separate living room and a big terrace overlooking the olive grove and sea.
Suite delle Palme and Torre Maizza – utmosst in terms of old and genuine country values, combined with the elegance of a modern resort. On the terrace overlooking the green olive grove, guests can fully enjoy a unique experience, using the private Jacuzzi pool and relaxing on the sun beds.
Beach
At 5 km distance from the Masseria is the Coccaro Beach Club, with a long stretch of white sandy and fine beach. The Beach Club offers a terrace in teak with white curtains and gazebo, a restaurant and sushi bar, a lounge area under the palm trees, wellness pavilions behind the dunes for massages and exclusive AVEDA treatments (to pay), a children's club and a boutique.
For sports activities it offers a mini soccer field, beach volleyball court and equipment to get out in a canoe and paddle boat.
The access to the Coccaro Beach Club (lounger, umbrella, beach towel) is included in the room price. Moreover it offers the possibility to use the free shuttle service, available on request. The beach club can be reached by bicycle (available at the Masseria) or with the own car (private parking of the Beach Club).
Sport
Tennis court, horse riding, Golf Club San Domenico 18-holes, 5-a-side artificial grass pitch, quad bikes excursion, wind- and kite-surfing on the beach, go-cart track, champion-ship clay pigeon shooting range.
Restaurant
At the restaurant you can enjoy outstanding quality for an unique experience. View on the ancient orange grove, scent of orange blossoms, and the star of the moment is the Mediterranean cuisine. A combination of tradition and creativity, attention to detail shows in the menu, which includes a selection of the most genuine ingredients from both the farmhouse organic fields and the region of Apulia.
The restaurants and bars are Le Palme of Masseria Maizza, Egnathia at Masseria Coccaro, Cabana by the pool, at Coccaro Beach Club, different bars and il Cigar Lounge. 
Services & Activities
The swimming pool is surrounded by the garden's old columns: a stretch of water lapping teak decking. Vineyards, olive trees and an ancient mulberry around the whirlpool facility, where heated water will guarantee sensorial indulgence during winter.
Other services are: Coccaro Golf Club 9-holes, Beach Club Coccaro, cooking school, mountain bike rental, excursions with the private 14 metres yacht, beach volley court, footing trail.  
City tax – The municipality requires the payment of € 3,00 per person/overnight, for a max. of 3 consecutive nights during the month May, June, September and October. During July and August the tax is € 5,00 per person/overnight, for a max. of 5 consecutive nights. Children under 12 years are exempted. The tax has to be settled on spot.
 


 << Masserie Puglia
Rooms Masseria Torre Maizza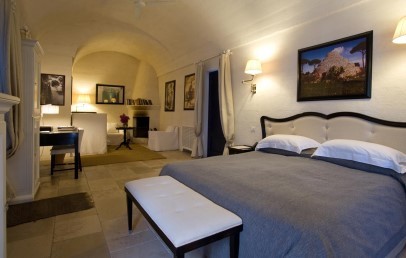 49 sq.m. / king-size bed Romantic suite in typical white tufa dwellings and characterized by vault ceiling.
read more »»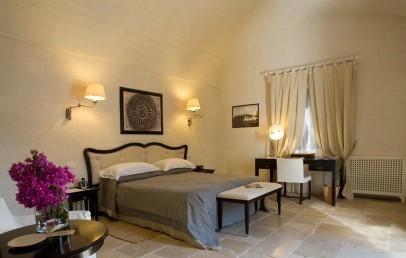 25 sq.m. / king-size bed Double room in typical white tufa dwellings and characterized by vault ceiling.
read more »»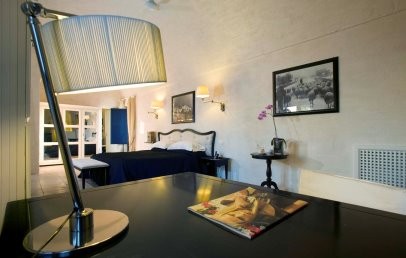 36 sq.m. + 30 sq.m. / king-size bed Large double room in typical white tufa dwellings and
read more »»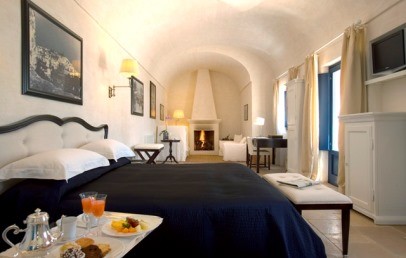 44 sq.m. / king-size bed Romantic suite in typical white tufa dwellings and characterized by vault ceiling.
read more »»
55 sq.m. + 100 sq.m. / king-size bedRomantic Suites in typical white tufa dwellings and characterized
read more »»
In the surroundings
Selection of beaches
Cultural Centres
Tourist Centre within 10/15 mins. by car
Golf Course
Beach
Beach Shuttle-bus
Equipped Beach
Internet
Wi-Fi in the whole structure
Common areas
Sun terrace
Garden / Park
Outdoor lounge areas
Heated swimming pool
Wellness
Spa
Wellness treatments
Massages
Sport
Golf
Tennis
Five-person soccer field
Volleyball court
Water Sports
Surf/windsurf/kite lessons
Diving center
Activities
Horse riding
Boat trips
Cooking classes
*NB: The services may not be fully available / working and subject to change for reasons beyond the control of CharmingItaly.com who declines every responsibility.
Map Masseria Torre Maizza
Please select the points of interest you want to display on the map