Futura Club Barone di Mare
Litoranea, Via Otranto -
Torre dell Orso (Lecce) Puglia
Useful Info
170 rooms
Beach 1 km (little train service)
Free Wi-Fi in the common areas
Brindisi airport 80 km, Bari Airport 200 km
Charming's opinion
Located in the south of Salento, a short distance from the beach, the resort offers a range of facilities for different age groups and is an ideal choice for a family holiday. The resort is also recommended for those who want a relaxing beach
Check In:
05-10-2023
Check Out:
06-10-2023
Nights
1
Clients:
0 Adults
Modify
Opening Period : Futura Club Barone di Mare

Location
Approximately 1 km from Torre dell'Orso, a renowned beach in the heart of Salento, the Futura Club Barone di Mare is a short distance from Otranto (less than 20 km) and Lecce (less than 30 km). The nearest airport is Brindisi (80 km), while Bari airport is 200 km away.
Hotel
The Futura Club Barone di Mare consists of a series of terraced residential units on two levels, interconnected by footpaths, which also lead to the areas where the common facilities are located.
Rooms
The resort houses 170 rooms furnished in a traditional, simple and functional style. They are divided into various units and can be located on the ground, first or second floor. Comfort rooms for disabled guests are available (on request and subject to availability).
Beach
The Cala Torre dell'Orso beach is located 1 km from the resort, is characterised by fine sand and can be reached by a small train, which runs at set times. The Cala Marin equipped beach club manages the beach service and is equipped with a bar, snack lunch, services, and a private area with a whirlpool bath (for a fee).
Beach service from the third row included in the Club Card.
Wellness Centre
For relaxing breaks, the Anaïs wellness area covers an area of 1,000 square metres and offers a whirlpool pool, chromotherapy, music therapy, Turkish bath, massage rooms and herbal tea relaxation room.
Families
The resort provides a full entertainment programme for children and young people, divided into age groups from 3 to 17 years. For parents of small children, the Futurotto Card provides access to a fully equipped baby feeding area, available 24 hours a day. An assistance service is available during mealtimes, which also provides some basic foodstuffs.
Restaurant
Meals are served in the central restaurant, where an assisted buffet is provided. The cuisine ranges from local to national specialities; theme evenings, show cooking and grilling are offered. Gluten-free packaged basic products are available (please indicate at the time of booking).
Services & Activities
The available services are: free Wi-Fi in public areas, two bars, swimming pool with dedicated children's area, several courts for sports activities (use with lighting for a fee), outdoor fitness area, gym, bazaar, tobacconist, games room, playground, playroom, hairdresser, photographer, unattended indoor parking.
For a fee: first and second row on the beach, entrance to the private area of the Cala Marin establishment, various rentals, treatments and massages at the wellness centre.
The Club Card includes: daytime and evening entertainment / use of swimming pool and sports facilities / beach place from the third row / first supply of beach towels with deposit (from 3 years old).
Top Futura: upon request and availability, with additional charge: first supply of minibar (2 bottles of 1/2 lt of still and sparkling water, cola, orangeade, fruit juice, beer, tonic water, salty snack, sweet snack) / fruit basket in the room upon arrival / late check-out at 12.00 / 2 complimentary beach towels Futura Vacanze / beach bag / 20% discount on wellness treatments / reserved table at the restaurant.
Rooms Futura Club Barone di Mare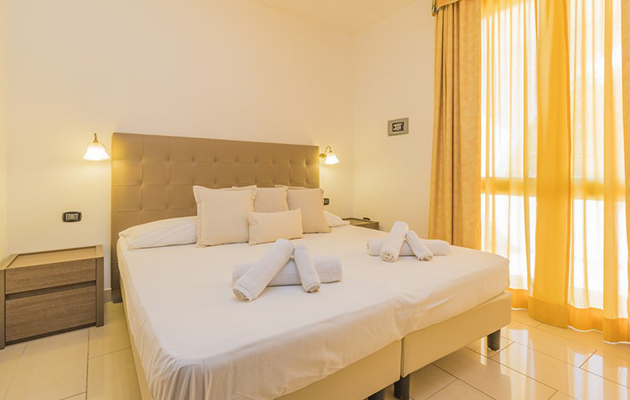 Elegantly furnished rooms in a typical style, all located on the ground floor. They are equipped
read more »»
Elegantly furnished rooms in a typical style. Located on the ground floor, first or second floor,
read more »»
Elegantly furnished rooms in a typical style. Internally they are divided on two levels: on the first
read more »»
Simply furnished rooms consisting of a double room, a room with two single beds and a
read more »»
Family
Mini Club
Baby service
Kids Playground
Junior Club
Sport
Tennis
Five-person soccer field
Bocce field
Beach volleyball court
Gym / Fitness room
Entertainment
Night entertainment service
*NB: The services may not be fully available / working and subject to change for reasons beyond the control of CharmingItaly.com who declines every responsibility.
Map Futura Club Barone di Mare
Please select the points of interest you want to display on the map
Extra Futura Club Barone di Mare
01-01-2023 - 31-12-2023
Handling Fee: € 70 per adults, € 50 for children 0-11 y.o.
03-09-2023 - 31-12-2023
Club card: mandatory, to be paid at the time of booking, from 3 y.o.: € 49 per person per week from 03/09 to 24/09.
01-01-2023 - 31-12-2023
Futurotto Card: compulsory for children 0-2 years old, euro 20 per night to be paid upon reservation. Includes services, cot (to be requested at the time of reservation, own cot accepted at the same supplement) and meals from the menu.
*NB: The offers are not valid for all rooms. To find out, which rooms and periods the offers apply to, please check our online-booking portal.