Veraclub Cala Ginepro Resort & Spa
Useful Info
159 rooms
Beach 300-500 m
Nearest village: Orosei 14 km
Port/airport Olbia 80 km away
Free Wi-Fi in common areas
Pets not allowed
Charming's opinion
Veraclub Cala Ginepro is recommended for lovers of nature and the sea: it is located a short walk from the beach, the rooms are surrounded by vegetation and the area of the Gulf of Orosei is rich in beauty to explore. Recommended for families, for
Check In:
07-12-2023
Check Out:
08-12-2023
Nights
1
Clients:
0 Adults
Modify
Opening Period : Veraclub Cala Ginepro Resort & Spa

Location
Set in the beautiful bay of the Gulf of Orosei, Veraclub Cala Ginepro is located in the resort of the same name, 14 km from Orosei. The airport and the port of Olbia are about 80 km from the resort.
Hotel
The resort is surrounded by greenery and manicured gardens, and is about 300/500 metres from the sea. It offers many facilities for adults and children, a cuisine that will allow you to taste the local flavours, and a rich programme of sports and recreational activities.
Rooms
The 159 rooms at Veraclub Cala Ginepro are furnished in typical Sardinian style and feature amenities such as air conditioning, hairdryer and private bathroom with bath or shower. Most have a balcony or veranda.
Beach
The resort's beach is between 300 and 500 metres from the rooms, depending on their location in the resort. It can be reached on foot via a tree-lined path (no shuttle service available) and boasts an expanse of fine white sand, crystal-clear waters and wind-smoothed granite cliffs.
Each room has a free beach umbrella, two sun loungers and beach towels from the third row onwards. The first and second rows are payable at the hotel, on request in advance and subject to availability.
Wellness Centre
The Templus Salutis SPA wellness centre services are available to adults for a fee: indoor pool, hammam, frigidarium sauna, chromotherapy, relaxation area and gym.
Sports
Padel court, open-air gym, table tennis, petanque available. Tennis court about 700 metres from the resort.
Families
Entertainment is provided for children aged between 3 and 17, divided into age groups, and includes games, workshops, sports and recreational activities. There is also a baby feeding room for the 0-2 age group, equipped to heat and cook baby food.
Restaurant
Breakfast, lunch and dinner are buffet style at the resort's restaurant, which has two air-conditioned rooms. A typical dinner is served once a week.
Basic products for coeliacs, such as bread, pasta and a breakfast cake, are available on request (please advise when booking).
Services & activities
The Veraclub Cala Ginepro also offers an entertainment programme for adults, with games, tournaments, activities, piano bars and shows. It has two swimming pools: one for adults and one with a shallow water level, suitable for children. On request at the reception, it is possible to participate in many excursions to discover the area, such as to the Natural Oasis of Bidderosa, Porto Cervo and Barbagia.
Pets are not allowed. Free Wi-Fi in common areas.
Rooms Veraclub Cala Ginepro Resort & Spa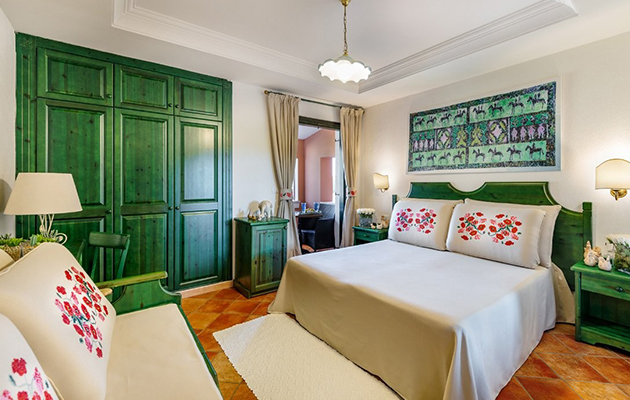 Room with two beds or a double bed, with the possibility of adding a third bed
read more »»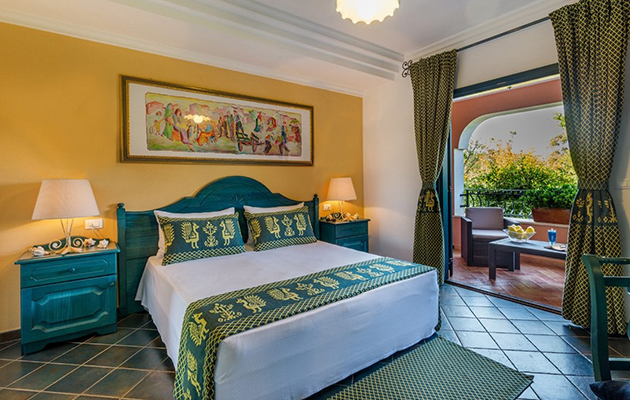 Room with 2 single beds or one double bed, can accommodate a 3rd foldaway pouf bed
read more »»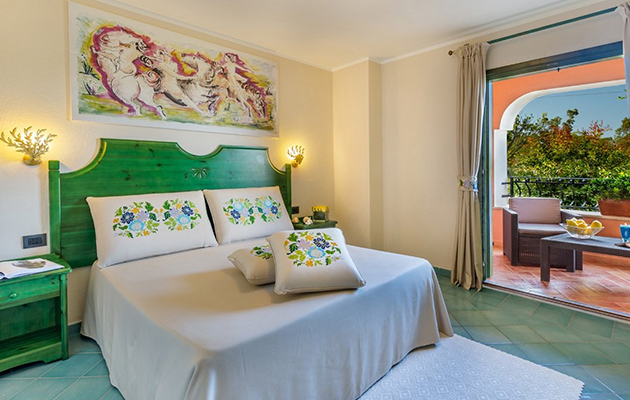 This room consists of two communicating areas: a bedroom with a double bed and a living
read more »»
Food & Drink
Bar
Restaurant
Restaurant for Celiac Disease
Family
Mini Club
Kids Playground
Children's pool
In room / Private Services
Hairdryer
Air conditioning in Room
Digital Terrestrial TV
Phone in Room
Minibar
Safety box in Room
Furnished Patio or Balcony
Sport
Tennis
Gym / Fitness room
Bocce field
Ping Pong
Five-person soccer field
Common areas
Garden / Park
Swimming pool
Entertainment
Night entertainment service
*NB: The services may not be fully available / working and subject to change for reasons beyond the control of CharmingItaly.com who declines every responsibility.
Map Veraclub Cala Ginepro Resort & Spa
Please select the points of interest you want to display on the map
Extra Veraclub Cala Ginepro Resort & Spa
01-01-2023 - 31-12-2023
- Handling fee: € 60,00 per each adult, € 35,00 for children 2-11 y.o.
01-01-2023 - 31-12-2023
- Insurance VeraAssistance: compulsory, from € 46 per person up to € 120.
The amount will be calculated according to the value of the stay.
*NB: The offers are not valid for all rooms. To find out, which rooms and periods the offers apply to, please check our online-booking portal.