Useful Info
Catania airport 125 km
Modica 10km, Pozzallo 10 km
Nearest beach – 400 m
Nursery, Baby Club, Mini Club, Junior Club, Young Club
Check-in 17:00
Check-out 10:00
Pets not allowed
Charming's opinion
Just a short distance from the sea, set on the shores of a wide bay in the Val di Noto, this resort offers a whole series of services and activities for adults and kids alike. We suggest it for families and for sports buffs, and all those looking to
Check In:
09-12-2023
Check Out:
10-12-2023
Nights
1
Clients:
0 Adults
Modify
Opening Period : iGV Club Baia Samuele
From 09 June 2024
-
to 08 September 2024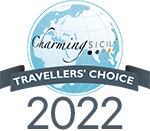 Location
Set on the extreme south of the island in the splendid Val di Noto, iGV Baia Samuele is in the centre of a large bay, and lies just a few hundred metres from the shore.
Modica is distant some 20 km, Pozzallo 10 km, while Catania airport can be reached in 1 hour 30 minutes (125 km).
Hotel
A village for the whole family marked by its stylish tone, set in a privileged position and with a host of services and activities planned to fill your days. The resort is set in wide spaces and is divided into several different structures, surrounded by lawns and gardens. 
Rooms
Set in several different buildings, the 320 rooms of iGV Baia Samuele are divided into several different types, differing as to position, services and size.
The cottage rooms are set inside the village and are to be found either on the ground or first floors. The Hotel Club, a three-storey building looking over the sea, hosts the Hotel Club rooms, the Suites and the Super Suites. Guests of the Hotel Club have a dedicated pool and the use of the Restaurant Monsu.
The cost of the room includes: full-board accommodation, including evening meal on the day of arrival and lunch on the day of departure; beach service (beach towels attract payment), group sports classes (one-on-one coaching is charged a fee), use of the sports fields and equipment during the day (night-time tennis is charged a fee).
Check-in from 17:00 hrs, Check-out not later than 10:00.
Beach
The long fine sandy beach is about 400 m from the centre of the village and is accessible by a short walk or by means of our shuttle bus, active during day-time. The beach is gently sloping, so suitable for the kids, and is equipped with sun umbrellas, sun beds and deck chairs (service free for resort guests; beach towels are charged € 10.00 refundable deposit and € 5.00 for the towel itself), gazebo, sailing centre, mini club, restaurant and bar.
Wellness Centre 
iGV Baia Samuele dedicates an area of about 1,000 m2 to wellness and body care, in a stylish, welcoming environment.
The wellness centre (charged separately) includes a Finnish sauna, a Kneipp route, hammam, thermal mud, sensory showers, thalasso-therapy, sun bed and sun armchair, gym and several different types of massage (from the most classic to ayurveda, shiatsu and oriental), alternating with a relaxing herb tea. 
Sport
Guests wishing to keep in shape during their holiday have a wide range of choices including activities, sports fields and equipment for use free of charge.
Group classes include sailing (catamarans), tennis, archery, fitness, water gym. During the months of July and August the resort also offers group and individual swimming classes for a fee.
Available facilities: beach volleyball, beach tennis, beach soccer, 5-a-side football, four tennis courts, basketball, volleyball, canoes, bowls, table tennis.
Night tennis is available for a fee, as are individual lessons.
Many of the sports activities are seasonal and are only available at certain times. 
Families
The holidays and entertainment are for the whole family: the resort's specialised AIGO staff, an exclusive of the iGV group, divide kids and teens by age brackets and organise dedicated activities including sports, games and exercises stimulating creativity and fostering new friendships. The AIGO service is available from 09.00 to 23.00 hrs.
Parents with small children have the availability of a Nursery (0-2 years of age) where there is a kitchen, a restaurant, a nap room, a play area and a pool. One room equipped with a fridge, kitchen and food warmer is available round the clock. Free use of strollers (subject to availability).
Then there is the Baby Club (3-5 years of age), the Mini Club (6-10 years of age), the Junior Club (11-13 years of age), and the Young Club (14-17 years of age).
Restaurant
The Main Restaurant serves breakfast, lunch and a buffet dinner, with bottled water and a flask of house wine included. Tables are not bookable (with the exception of holders of the Hotel Club card).
With prior booking (required) but without payment of a supplement, guests may lunch (Saturdays excluded) at the Ristorante a Mare, which offers a buffet of vegetables and starters, pizza, grilled meat and fish.
Guests holding the "Hotel Club" card may access the Ristorante Monsu, within the "Hotel Club" area, with air conditioning. Here there is buffet service with starters, desserts and fruit, while the main dishes are served at the table; breakfast is always buffet style. This restaurant is open only in high season, from 11 July to 21 August (dates are flexible). 
Services & Activities 
The resort offers a day and evening entertainment programme rich in activities, games, sports competitions and cabaret shows, all coordinated by the activity staff, well-trained in involving adults and kids alike.
iGV Club Baia Samuele offers the following services: an amphitheatre, four piano-bars, a cinema, a common hydro-massage tub, a semi-Olympic pool and a freshwater pool reserved for the use of Hotel Club guests, a medical and paediatric service in surgery hours, Wi-Fi in the hall of the village and the Hotel Club (fee charged), at the Bar "Rosa dei Venti" and in the rooms of the Hotel Club.
Sorry, no pets.
The Platinum Club Card costs € 300.00 per week and includes: early check-in / late check-out subject to availability; reserved beach umbrella and beach towel with no deposit (daily change possible); a daily paper, a reserved table at the restaurant. The availability of the Club card is limited and it should be requested at the time you book your stay. 
Rooms iGV Club Baia Samuele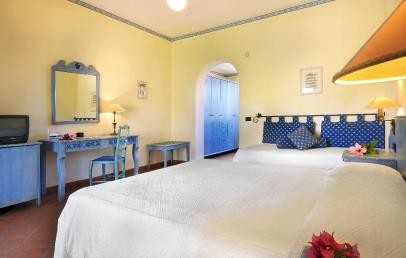 26 sq.m. - Double bed or twin bedsNestled in the garden, the Cottage rooms are spread
read more »»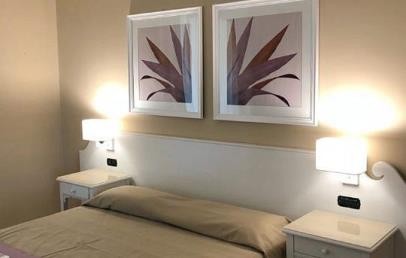 20 sq.m. - Double bed or twin bedsLocated in the Hotel Club building, the rooms are furnished
read more »»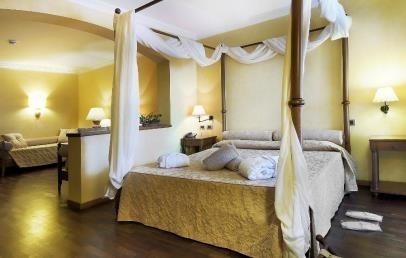 Double bed + 2 sofa bedsLocated in the Hotel Club building, the Suites consist of a
read more »»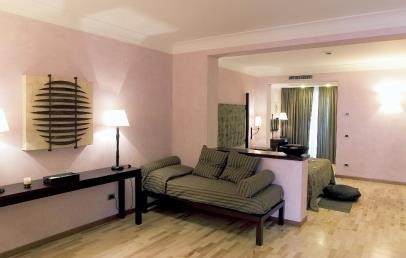 Double bedLocated in the Hotel Club building, the Super Suites consist of a double bedroom and
read more »»
Nestled in the garden, the Cottage De Luxe rooms are spread over two floors and are
read more »»
Entertainment
Night entertainment service
Family
Baby Club
Nursery
Mini Club
Junior Club
*NB: The services may not be fully available / working and subject to change for reasons beyond the control of CharmingItaly.com who declines every responsibility.
Map iGV Club Baia Samuele
Please select the points of interest you want to display on the map
Offer iGV Club Baia Samuele
Early Booking Percentuale
30% reduction for stays in all periods!
Get More iGV Club Baia Samuele
01-01-2023 - 31-12-2023
Only for our customers: no iGV handling fee (you save: € 60,00 per each adult, € 35,00 for children 2-11 y.o.)
01-01-2024 - 31-12-2024
Only for our customers: no iGV handling fee (you save: € 60,00 per each adult, € 35,00 for children 2-11 y.o.)
*NB: The offers are not valid for all rooms. To find out, which rooms and periods the offers apply to, please check our online-booking portal.