Masseria Amastuola Wine Resort
Località Amastuola - SP 42 -
Useful Info
18 Rooms
Wine tastings
Guided tours
Cooking classes
Taranto 14 km, Martina Franca 25 km, Alberobello 35 km, Matera 48 km, Ostuni 51 km
Airports - Bari 80 km, Brindisi 90 km
Charming's opinion
A fine old fortified country mansion perched on the top of a hill overlooking the splendid garden and vineyard surrounding it. You will find Masseria Amastuola at Crispiano, just a short distance from the Salento area and the Valle d'Itria. We
Check In:
28-01-2020
Check Out:
29-01-2020
Nights
1
Clients:
0 Adults
Modify
Opening Period : Masseria Amastuola Wine Resort
From 04 April 2020
-
to 18 October 2020
Location
Situated in the countryside of Crispiano, on a hill 210 m above sea level, the Masseria Amastuola is set at the heart of a 170 hectare estate, with ancient olive trees, vineyards and dry-stone walls.
The siting of the Hotel means that guests are within easy reach of the best-known attractions of Puglia and Basilicata: 20 minutes from Martina Franca, 35 from Alberobello, 45 from Matera and 50 from Ostuni.
Hotel
A fascinating country house dating back to the 1400s, Amastuola today hosts a stylish wine resort, set in the beautiful vineyard-garden designed by landscaper Caruncho. The farmhouse is built round a large sunny internal courtyard and looks out with its wide terraces over the Ionian Sea and the vineyard.
Wine culture is a distinctive feature of the Masseria Amastuola, which has a welcoming tasting hall, barrel vaults, a bookshop and a traditional restaurant.
Rooms
Set on the first floor of the main building and on the ground floor, in the area of the old sheep pens, the 18 rooms of the Masseria have minimalist décor, with white stone walls and stylish designer furniture.
The rooms set in the historic building all have vaulted ceilings and can be accessed from the great courtyard of the masseria. Passing through the garden-courtyard, for exclusive use, guests will access the new rooms created in the area of the former sheep pens, all with independent entrance.
The rooms have an area ranging from 30 to 51 m2 and have all mod cons: Wi-Fi, phone, small safe, heating/air conditioning, SAT TV and mini-bar.
Originally designed to welcome groups visiting the vineyard, these rooms offer all types of guests the authentic experience of Puglia hospitality.
Services & Activities
Cost of the room includes breakfast and Wi-Fi connection, available both in the rooms and in common areas.
The many activities on offer allow guests to transform a pleasurable vacation into a full-immersion Puglia experience: guided visits to the vineyard and winery, wine tasting and offers of the best local products, cooking courses, bicycle tours along the estate pathways, horse riding or rides in a horse-drawn carriage, angling.
Small pets are welcome with prior booking and at management's discretion.
Late check-out is free of charge but is subject to availability.
<< Masserie Puglia
Rooms Masseria Amastuola Wine Resort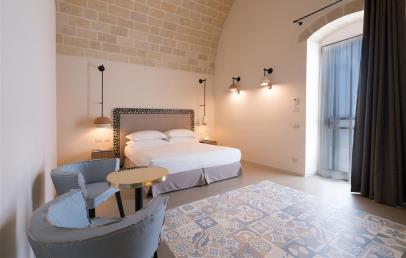 26-35 sq.m. / double bed or single beds The Deluxe rooms keep the original country coupled
read more »»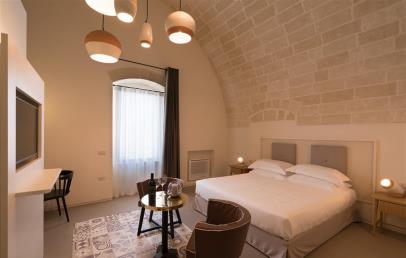 26-37 sq.m. / double bed or single beds Large and sunny, the Exclusive rooms have a full
read more »»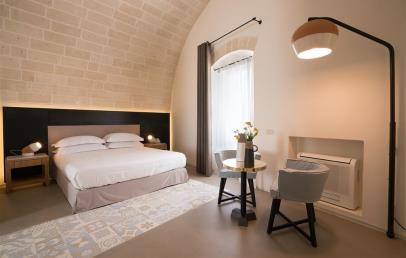 40-51 sq.m. / double bed The Suite is the leading light of Amastuola hospitality, a room
read more »»
Common areas
Lounge areas indoor
Outdoor lounge areas
In room
Rooms adapted for disabled people
Activities
Excursions/Guided tours
Guided tastings
Wine tastings
Cooking classes
Horseback riding
Fishing-tourism
Internet
Internet in room
Wi-Fi in common areas
In the surroundings
Selection of beaches
Cultural Centres
Tourist Centres within 30 mins. by car
Food & Drink
Restaurant
Breakfast
Lunch
Dinner
*NB: The services may not be fully available / working and subject to change for reasons beyond the control of CharmingItaly.com who declines every responsibility.
Map Masseria Amastuola Wine Resort
Please select the points of interest you want to display on the map
Offer Masseria Amastuola Wine Resort
Early Booking Percentuale
10% reduction for bookings confirmed within February 29th 2020 (stays from March 27th to May 31st)!
Early Booking Percentuale
10% reduction for bookings confirmed within February 29th 2020 (stays from September 1st to October 18th)!
Get More Masseria Amastuola Wine Resort
01-01-2019 - 31-12-2020
Only for Charming customers: one bottle of wine in the room upon arrival
Extra Masseria Amastuola Wine Resort
01-01-2019 - 31-12-2020
Baby cot free on request (upon availability)
01-01-2019 - 31-12-2020
*NB: The offers are not valid for all rooms. To find out, which rooms and periods the offers apply to, please check our online-booking portal.