Masseria Relais SantaTeresa
Strada vicinale Santa Teresa -
Useful Info
Gallipoli 4 km
Brindisi 80 km, Bari 200 km
Free Wi-Fi
Beach: Padula Bianca, 4 km
Charming's opinion
The location of Masseria Relais Santa Teresa is ideal for a restful stay, away from the chaos, but at the same time close to the beaches and the city of Gallipoli. Recommended for those who wish to stay in a typical Salento masseria, enjoy contact
Check In:
09-06-2023
Check Out:
10-06-2023
Nights
1
Clients:
0 Adults
Modify
Opening Period : Masseria Relais SantaTeresa
From 01 April 2023
-
to 03 November 2023
From 01 January 2024
-
to 31 December 2024
Location
Located north of Gallipoli, which is 4 km away, Masseria Relais Santa Teresa is a few km from the beautiful beaches of the coast and a short distance from the most important centres of Salento such as Lecce (32 km), Otranto (45 km), S. Maria di Leuca (52 km) 
Distances from the airports: Brindisi (80 km - 60 min.), Bari (200 km - 2h approx.).
Hotel
Masseria Relais Santa Teresa is a 4-star hotel surrounded by olive trees and lush Mediterranean vegetation. The fortified tower and the outbuildings, which date back to 1600, represent the ancient body of the masseria. Barrel vaults, stone walls, lime plaster and dry stone walls have been preserved and restored, and help to keep the old charm of the farm intact.
The property is fenced off and encloses a 9-hectare park, rich in plant species that the owners have taken care to preserve during the work.
Rooms
The rooms of Masseria Relais Santa Teresa are all on the ground floor, with independent access. They are furnished in a minimalist style, using natural materials.
Beach
The nearest beach is Padula Bianca, which is only 4 km away. On request, the masseria can book a shuttle service to the beach, as well as possible beaches in agreement.
Restaurant
The La Corte Restaurant welcomes guests in the main hall with its characteristic barrel vaults, in the rooms created from the old stables or outside in the gazebo in the square or courtyard.
Mainly traditional dishes are offered, prepared with high quality raw materials, mostly local and zero km. 
Dishes for celiacs and vegans are available on request, to be reported when booking.
Services & Activities
The farmhouse has a swimming pool with bar area, solarium terraces with umbrellas and sunbeds, common rooms with TV and fireplace, jogging path in the park, free Wi-Fi throughout the property and reception open 24/24. Possibility of in-room massages, on request and at an additional cost.
Rooms Masseria Relais SantaTeresa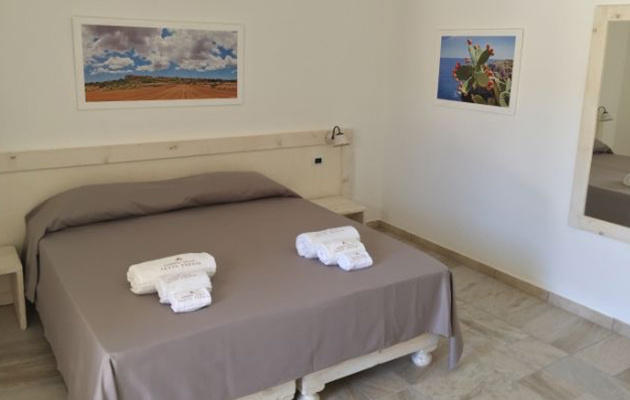 Rooms located in two blocks outside the Corte Antica, all with an entrance patio and some
read more »»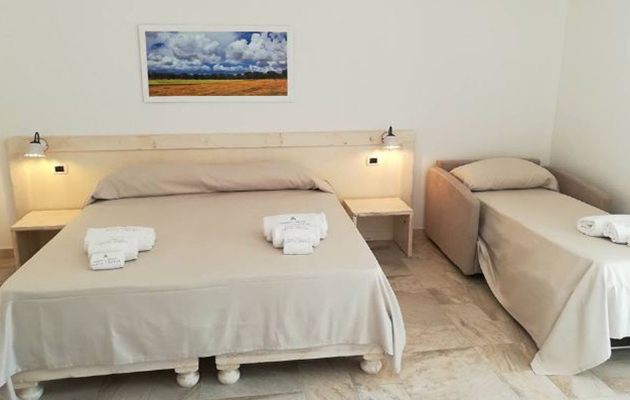 Double rooms with foldaway armchair bed for children up to 11 years old, located in two
read more »»
Located inside the Corte Antica, with a small entrance patio overlooking the rock garden, they are
read more »»
Double or triple rooms, characterised by the unique barrel vaults made of the typical local stone
read more »»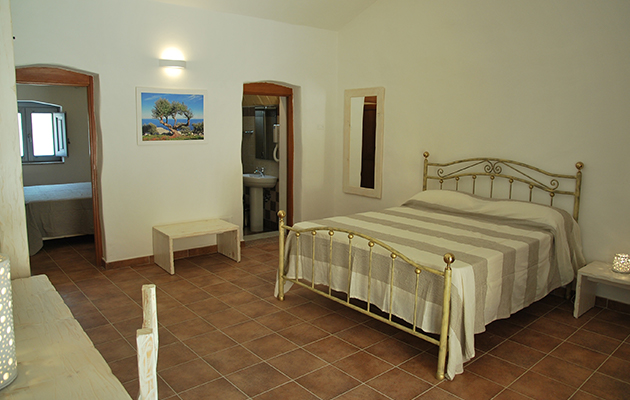 Located in the oldest part of the farmhouse, with a fireplace, it has two rooms: in
read more »»
*NB: The services may not be fully available / working and subject to change for reasons beyond the control of CharmingItaly.com who declines every responsibility.
Map Masseria Relais SantaTeresa
Please select the points of interest you want to display on the map
Get More Masseria Relais SantaTeresa
18-09-2023 - 31-10-2023
Only for Charming customers: one bottle of wine + Early Check-in/ Late Check-out
Extra Masseria Relais SantaTeresa
27-05-2021 - 31-12-2024
Cot rental, to be requested upon booking: € 10 per night.
*NB: The offers are not valid for all rooms. To find out, which rooms and periods the offers apply to, please check our online-booking portal.