Nicolaus Prime Il Gabbiano
Useful Info
Rooms – 92
Airport Brindisi – 75 km
Equipped beach – 100 m
Bari airport 120 km
Nicolino Baby Club (3-5,99 y.)
Nicolino Mini Club (6-11,99 y.)
2 Swimming pools
Pets are not allowed
Charming's opinion
Set on the Ionian coast of the Salento region, Nicolaus Prime Il Gabbiano is a welcoming family village just a short distance from a beautiful beach of white sand. We recommend this structure to families looking for a holiday with a happy blend of
Check In:
29-09-2022
Check Out:
30-09-2022
Nights
1
Clients:
0 Adults
Modify
Opening Period : Nicolaus Prime Il Gabbiano
From 22 May 2022
-
to 02 October 2022
Position 
Set on one of the most beautiful stretches of the Salento shore, Nicolaus Prime Il Gabbiano stands directly on the seashore just a short distance from the gleaming beach of Marina di Pulsano. The hotel is 75 km from Brindisi Airport and is a great base for visiting the Salento and the whole region. 
Hotel 
Marked by a fresh elegant style, Nicolaus Prime Il Gabbiano is set out in two buildings separated by the central pool, surrounded by well-arranged common areas which also host the relaxation area and a large terrace for theme evenings. 
Rooms 
The hotel's 92 rooms are warm and welcoming, marked by simple modern furnishings. All rooms, recently refurbished, have AC, phone, safe, Led TV, minibar, en-suite with shower and hair dryer. 
Guests can book a large Family Floor consisting of three rooms each with bathroom and a small closet, ideal for family groups up to 6/10 people. 
Beach 
A fine white sand beach is right in front of the hotel (about 100 meters away), and can be reached by an underpass running directly from the hotel itself. The great attraction of this locality, known as "La Fontana", is the presence of an underground spring which comes to the surface on the beach, so that bathers can enjoy the invigorating sensation of fresh water.
At the private Lido, hotel guests will find sun loungers, sun umbrellas, showers and a bar (bar service requires payment). Guests with limited mobility can use the Job chair to make it easier to enter the sea. The first set of beach towels is free, changes require payment. 
The beach service is available from the end of May to the end of September (dates to be defined).
Beach costs for one beach umbrella and two sunbeds in the first row, for stays of minimum 7 nights (to be requested at the time of booking - limited availability):
From 22/05 to 12/06 and from 28/08 to 25/09: € 77,00 per week
From 12/06 to 24/07 and from 21/08 to 28/08: € 133,00 per week
From 24/07 to 21/08: € 154,00 per week
Families 
The qualified staff of the Nicolino Club offers a rich and varied programme of activities and entertainment, divided by age groups: the Nicolino Baby Club (3/5,99 years) and the Nicolino Mini Club (6/12 years), with sports, fun learning, recreation and preparation of shows at the amphitheatre (from the end of May to mid-September, dates to be set).
The structure has a pool reserved for kids, a combined tennis/basketball court, a 5-a-side synthetic soccer pitch and an area of the Nicolino Club is set up as a playground. 
Guests can request a baby buggy for kids aged 0 – 2,99 years, subject to availability.
Nicolino Card mandatory (0-2,99 years old):  Mum's Corner (in high season) at the restaurant, baby food kit; bottle warmer in the room and, if requested, baby bathtub. 
Restaurant 
Breakfast is continental style, lunch and dinner served from the buffet in the two air-conditioned restaurant rooms.
From 10:00 to 11:00, light breakfast for late risers served at the bar with espresso coffee, fruit juice and pastries. 
For special dietary requirements (gluten/lactose intolerance) basic packaged products are available, which may be supplemented with products provided by guests. Please state requirements when booking. 
For the use of parents with babies/toddlers there is an area equipped with bottle-warmers, microwave oven, small buffet with two types of pasta, cream of vegetable soup, tomato sauce and the chef's soup.
Services and activities 
Guests have free access to all internal and external areas of the hotel: a large lounge with seating and a reading area, three bars (at the pool, in the hall and on the beach), two restaurants with AC, a wellness area, garden with two pools (one reserved for children) with solarium and relaxation area.
Free Wi-Fi connection available in the hall, at the pool bar, pool solarium area and on the beach.
The following services require payment: night-time use of the soccer/tennis pitch, the covered garage (subject to availability of parking spaces), excursions and minibar items. 
Check-in is from 17:00, check-out by 10:00. Pets are not allowed.
<< Family Hotels Puglia
Rooms Nicolaus Prime Il Gabbiano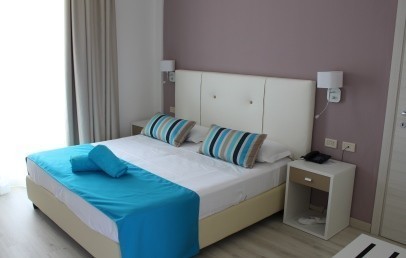 Situated in the main wing, the Classic rooms are comfortable and functional, marked by simple modern
read more »»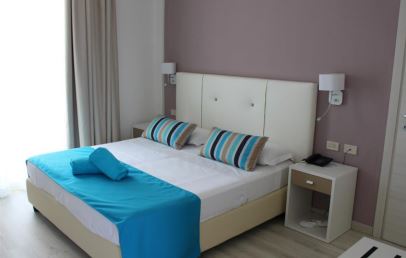 The Comfort rooms are welcoming and marked by simple, modern furnishings. In case of 4th bed,
read more »»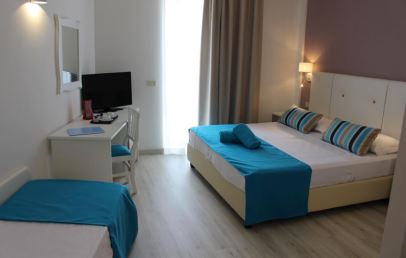 Large, completely refurbished rooms, the Deluxe have extremely stylish furnishings. In case of 4th bed, it
read more »»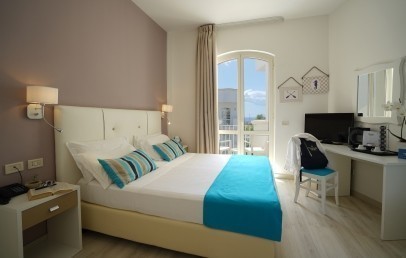 The Comfort rooms are welcoming and marked by simple, modern furnishings. In case of 4th bed,
read more »»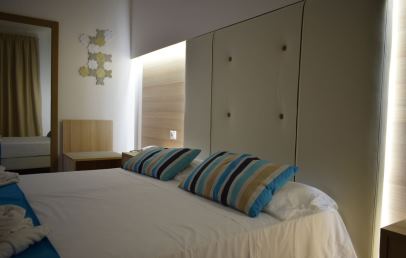 2 Comfort rooms with connecting doorThe Comfort rooms are welcoming and marked by simple, modern furnishings.
read more »»
Common areas
Swimming pool
Sun terrace
Garden / Park
Outdoor lounge areas
Lounge areas indoor
Family
Baby Club
Mini Club
Baby service
Children's pool
Kids Playground
Baby buggies on demand
Beach
Private beach
Sun umbrellas
Sunbeds
Beach Towels provided
Equipped Beach
Sport
Five-person soccer field
Tennis
Entertainment
Night entertainment service
In the surroundings
Selection of beaches
Cultural Centres
Tourist centers within walking distance
Tourist Centres within 30 mins. by car
Nightlife / Clubs / Bars Lounges
*NB: The services may not be fully available / working and subject to change for reasons beyond the control of CharmingItaly.com who declines every responsibility.
Map Nicolaus Prime Il Gabbiano
Please select the points of interest you want to display on the map
Offer Nicolaus Prime Il Gabbiano
Minimum stay PERCENTUALE
5% reduction for stays of minimum 14 nights (not valid from August 7th to September 4th)
Extra Nicolaus Prime Il Gabbiano
22-05-2022 - 02-10-2022
Baby cot for the child up to 2 years old to be requested upon reservation and to be paid locally: € 10,00 per day. Customers' baby cots are not allowed. Max 1 baby cot per room (not possible in Classic rooms)!
22-05-2022 - 02-10-2022
Nicolino Card - Compulsory Club Card for children from 0 to 2 y.o.: € 98,00 per week
22-05-2022 - 02-10-2022
Mandatory Club Card to be paid on spot from 3 years old: € 56,00 per person per week
22-05-2022 - 02-10-2022
Nicolaus Handling Fee: € 38,00 per person per stay; children 0/11 y.o. 50%. The Nicolaus Handling Fee is 100% non refundable and includes: Nicolaus assistance and medical/luggage insurance.
28-08-2022 - 01-10-2022
- First Row on the Beach: 1 umbrella + 2 sunbeds to be requested at the time of booking and to be paid locally: € 77 per week from 22/5 to 12/6 and from 28/8 to 25/9, € 133 from 12/6 to 24/7 and from 21/8 to 28/8, € 154 from 24/7 to 21/8.
*NB: The offers are not valid for all rooms. To find out, which rooms and periods the offers apply to, please check our online-booking portal.