Contrada Samuele, 97018 Sampieri -
Useful Info
150 rooms
Equipped beach at 1400 m (shuttle service)
Airports - Comiso 55 km, Catania 125 km
Pozzallo 14 km, Modica 22 km, Ragusa 40 km, Noto 45 km
Pets are not allowed
Kids Club 3-8 y.o.
Charming's opinion
Set amidst junipers and lentisks, the VOI Marsa Siclà Essentia is a modern resort positioned on the coast of Sampieri, in Val di Noto. A superb setting in one of the most beautiful areas of Sicily, we recommend this resort to
Check In:
02-06-2023
Check Out:
03-06-2023
Nights
1
Clients:
0 Adults
Modify
Opening Period : VOI Marsa Sicla Essentia
From 20 May 2023
-
to 01 October 2023
From 01 January 2024
-
to 31 December 2024
Location
Wreathed in the unmistakable scents of Mediterranean brush growth, the VOI Marsa Siclà Resort Essentia is just a short distance from the seaside hamlet of Sampieri. A pleasant stroll leads from the small town's fine seaside promenade to the ruins of "Fornace Penna" at Punta Pisciotto, the "Mannara" that features in the Commissario Montalbano TV series.
Just 22 km from Modica and 40 from Noto and Ragusa, the hotel is a strategic starting point for exploration of the Baroque gems of the Val di Noto.
Hotel
The VOI Marsa Siclà Essentia is a modern structure consisting of a series of small independent villas set in a lush Mediterranean garden. The large garden boasts a 1000 m2 with an area for the kids and two lanes for swimming, plus an equipped solarium with sun umbrellas, deck chairs, sun loungers and coffee tables (subject to availability). The resort has recently obtained GSTC (Global Sustainable Tourism Council) certification.
Rooms
The Resort's 150 rooms, set in several separate structures, are comfortable and look out over the garden with private relaxation areas.
All rooms have free wi-fi, hairdryer, independent AC, sat TV, safe, minibar (Refuelling on request, with surcharge - mineral water included for the entire stay). All room types are equipped with a multimedia streaming device, which allows content available on the Internet, mobile phone and PC to be shown on the TV. There will also be a coffee/tea station in all rooms. For those who need it, possibility of working remotely from the room, with dedicated equipment and services.
Guests staying in Deluxe double rooms enjoy exclusive VIP services: one sun umbrella and two sun loungers per room reserved in the first row on the beach, minibar with drinks included (first refill), evening turn-down, free beach towel change, voice-controlled Alexa device for information about the area and useful news for your stay, beach shopper bag with sun kit. 
Special VOI+ Formula is available with a supplement and includes:
VIP Courtesy Set
One beach umbrella and two sunbeds per room reserved in the second row on the beach
Minibar with drinks included (first refill)
Evening turn down service
Late check-out at 13.00
Beach shopper bag with travel sun kit
Digital newspapers
Beach
The resort is about 1400 m from the beach of Sampieri, accessible with a pleasant stroll through the dunes or by using a free shuttle service (from 9 AM to 7 PM, approximately every 10 minutes).
Beach umbrellas and loungers are available for the use of resort guests from the second row (upon availability - the first row is for guests staying in Deluxe Rooms). Beach towels are included with a deposit of € 20.  
A shared powerbank station is available on the beach. There is also a nautical base and pedal boats.
Wellness Centre
Almost set between sea and sky, the VOI Thalassospace is a large area dedicated to guests' wellness, with several seawater pools at varying temperatures and biomarine routes with water jets for massaging all areas of the body. At sunset, possibility to request a dedicated Happy Hour.

This area is accessible with a supplement of € 12,00 per person and is reserved for the use of guests of more than 12 years of age. In the same area, in a reserved zone, there are two gazebos where you can enjoy body treatments and massages in the open air or, alternatively, by the sea (services subject to a charge).
Sport

The resort offers the following activities:
Regenerative activities: outdoor fitness area, jogging and body&mind trails. digital detox trails.
Sports activities: group courses in canoeing, aqua aerobics, sup, aerobics, holistic, yoga, pilates, hit fit. Also tournaments of various sports (beach volleyball, beach tennis, bocce).
Rental of sports equipment for individual use is subject to a charge.
Families
To enliven the vacation of small guests, the multilingual staff of the Kids Club organizes games and sports at the seaside and in the pool, activities, workshops and nature experience with pre-set times, divided by age group (from 3 to 8). 
The babysitting service is available at an extra charge. 
Restaurant
A point of reference for guests choosing between the various formulas available (half board, full board), the central Restaurant Il Baglio offers buffet service for lunch and dinner. It offers the best dishes of Sicilian cuisine plus a series of delicious Italian and international recipes as well as vegan and light dishes. There is also availability of gluten-free meals and ingredients for breakfast, as well as of organic products. Every evening at dinner, a gourmet dish will be proposed; once a week there will be special dinners, one gala and one themed. Guests will also be able to taste many typical products and street food offered by local companies.

The Tamilia Grill and Pizzeria serves grilled meat and fish, salads, poke and fruit for lunch (reservation required, extra charge); for dinner, it serves excellent pizzas baked in a wood-fired oven and Sicilian craft beers (reservation required, included depending on the treatment booked).
The BeachBar Ossi di Seppia located at the resort beach, from 9 am to 7 pm, offers poke menu and snack lunch, fruit, cold dishes, grilled vegetables and ice cream round the clock. Open for lunch with reservation (also open to external customers). Snack lunch included for full board guests; the Bar/café is always for a fee. 

The Pool Bar (8am to midnight) - offers late breakfast and, for lunch, it serves snacks, poké,  sandwiches and salads at an extra cost.
Services & Activities
The price of your stay includes: free access to common areas (pool, solarium, reading and relaxation room …), beach towels (deposit required) internal vehicle parking (without surveillance), sun beds and beach umbrellas on the beach and at the pool subject to availability, group lessons,  a free shuttle bus service for the beach at scheduled times, luggage transport with porters or on electric trolleys on arrival and departure. 
Group bar class with local barmen (booking required). Evening entertainment twice a week, silent cinema under the stars, dedicated spaces for bookcrossing.
Wi-Fi connection is available free of charge in all rooms and in common areas.

ATM and small boutique. VOIhotels app to keep you informed about the hotel's services.
Available, with payment of a supplement, are: Thalassospace, babysitting, individual lessons of canoe and tennis, rental of sports equipment and excursions, external medical service.
Check-in is from 16:00 and check-out by 10:00. Late check-out by 13:00 only for guests choosing SPECIALE VOI+. 
Rooms VOI Marsa Sicla Essentia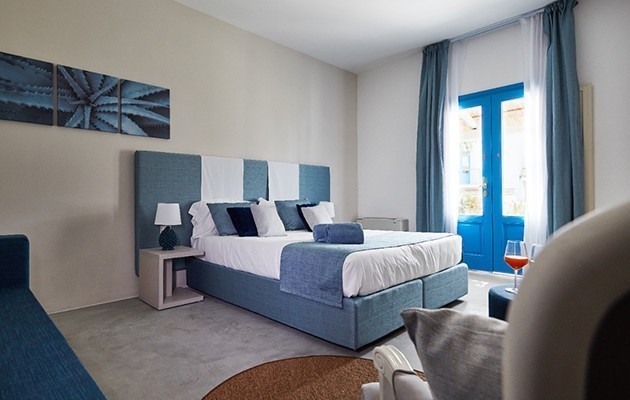 17-22 sq.m. The Classic rooms are completely renovated and are surrounded by well-kept greenery. They are equipped
read more »»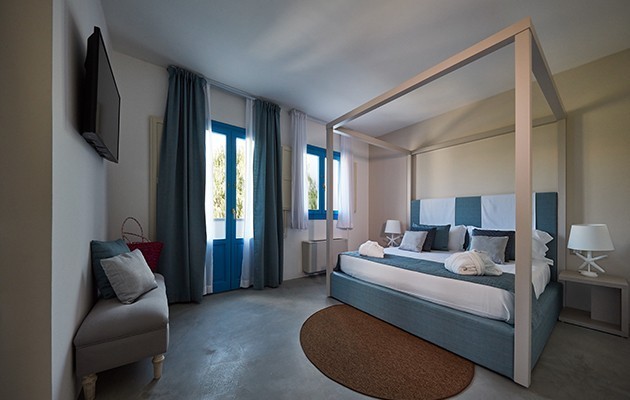 Large accommodations consisting of a double bedroom, living room and en-suite; the deluxe are located on
read more »»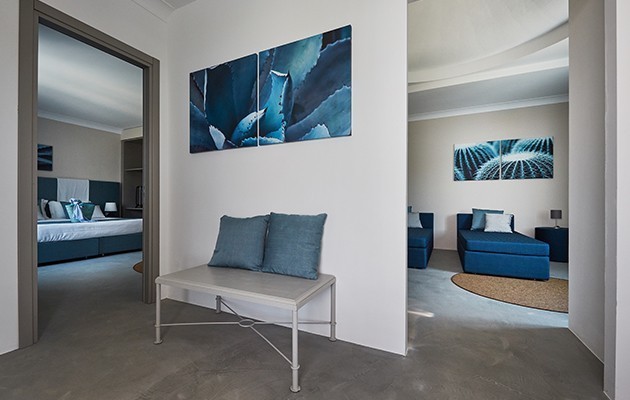 30 sq.m. Large family rooms located on the upper floor consisting of a bedroom separated by a
read more »»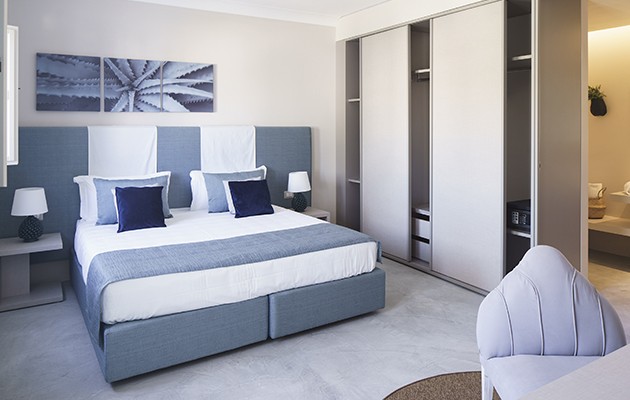 Approx. 18 sq.m.Cozy and bright, with double window, patio or balcony. The quadruple rooms consist of
read more »»
In the surroundings
Selection of beaches
Cultural Centres
Common areas
Swimming pool
Sun terrace
Lounge areas indoor
Family
Mini Club
Children's pool
Baby Sitting
Beach
Beach Shuttle-bus
Sun umbrellas
Sunbeds
Beach Towels provided
Equipped Beach
Sport
Tennis
Tennis lessons
Water Sports
Activities
Excursions/Guided tours
Natural trails
Entertainment
Night entertainment service
Other services
Reading room
Porter service
*NB: The services may not be fully available / working and subject to change for reasons beyond the control of CharmingItaly.com who declines every responsibility.
Map VOI Marsa Sicla Essentia
Please select the points of interest you want to display on the map
Offer VOI Marsa Sicla Essentia
Minimum stay PERCENTUALE
Long Stay - 7% reduction for minimum stays of 14 nights for stays until 15th July and from 27th August onwards!
Minimum stay PERCENTUALE
Long Stay - 7% reduction for minimum stays of 14 nights for stays until 15th July and from 27th August onwards!
Extra VOI Marsa Sicla Essentia
01-01-2023 - 31-12-2024
The meals for the baby (0 - 2 y.o.) from a dedicated menu are on request and to be paid on spot: € 15 per night, per infant from 20th May to 1st July (incl.) and from 3rd September to 1st October; € 20,00 per night, per infant in the other periods.
*NB: The offers are not valid for all rooms. To find out, which rooms and periods the offers apply to, please check our online-booking portal.