Via Scalo, 15 - Malfa Salina -
Useful Info
Catania Airport - 150 km
Rooms - 26 
Check In:
24-09-2023
Check Out:
25-09-2023
Nights
1
Clients:
0 Adults
Modify
Opening Period : Hotel Signum
From 22 April 2023
-
to 16 October 2023
From 01 January 2024
-
to 31 December 2024
Location
Hotel Signum is located at 500 mt from the sea and immersed in the green of Salina, the second largest Island of Aeolian Archipelago. Most of the Island of Salina hosts the natural reserve "Le montagne delle Felci e dei Porri", a green paradise rich in flora and fauna. The most convenient airport is Fontanarossa in Catania (150 km); while the Island can be reached by ferry or hydrofoil from several coastal towns.

How to reach the hotel – The nearest airports are Catania, Reggio Calabria and Palermo. You can reach the island by hydrofoil or ferry from the ports of Milazzo, Messina, Reggio Calabria, Palermo and Naples (www.libertylines.it) or by helicopter (www.airpanarea.it). Once on the island you will find several taxi services that will take you to the hotel located at about 7 km away from the main port. The hotel organizes private and collective transfers from Catania airport to Milazzo port, upon advance request.
Hotel
Signum is a 4-star boutique hotel, cleverly restored from an old country hamlet. The garden consists of large common areas and terraces, but also intimate and romantic corners. The hotel houses an infinity pool with sea view, 30 rooms, a reading room with library, a bar, a 1* Michelin restaurant (headed by Martina Caruso) and the Signum SPA.
Rooms
Each room, named after a typical plant of the island Salina, features a unique style and fine details like antique furniture, design objects and precious fabrics. At guest disposal air conditioning, ceiling fan, satellite LCD TV, Sky, Wi-Fi connection, minibar and safety box.

Beach
Signum Hotel boasts a wonderful view over the gulf of Malfa; it is located just a few steps from a pebble beach (five minutes walk, Punta Scario). The Island is filled in secret bays and small inlets with rocky backdrops but also breathtaking cliffs. The hotel recommends a boat trip with snorkeling.
Wellness Centre
The Salus per Aquam Spa offers a range of treatments and products based on the natural properties of Salina, an ancient volcanic land. The hot springs of the outdoor wellness area is natural as well and feed the steam baths, the water theraphy, the knipe walk and the Jacuzzi. The Spa was an a traditional and typical Aeolian building surrounded by greenery. The indoor hosts the large area dedicated to body and face treatments and massages.
Restaurant
The Signum Restaurant offers an elegant atmosphere, a Mediterranean cuisine with a pinch of creativity and a good selection of wines with a special attention to small and large winegrowers. Guests are welcome in the romantic terrace with Stromboli and Panarea view during the summer and in the garden veranda for cooler evenings.
Chef Martina Caruso (1 star Michelin) uses only local products and Sicilian excellence, in full respect of the rhythms of nature. She enhances the authenticity of the ingredients, to create a genuine and original product. The discovery of the island becomes a sensorial experience, which begins at breakfast time.
The Restaurant is also open to external customers and only at the same time as the Hotel. It offers an informal and light lunch and a richer menu in the evening. 
The Bar is available to guests with drinks and special cocktails, to be enjoyed by the pool, on the terrace or under the stars. The barman creates small masterpieces with aromatic herbs and garden fruits; the menu also offers great classics and original blends. 
Services & Activities
The concierge service of Signum Hotel is at your disposal to organize mountain excursions, boat trips and wine tastings.
<< Hotels on the islands
Rooms Hotel Signum
approx. 20 sq.m. / double bed or twin bedsBright rooms. They can host, on request, a
read more »»
approx. 26 sq.m. / double bed or twin bedsDeluxe rooms are all different from each other
read more »»
approx. 30 sq.m. / double bed (single beds on request) + 3rd bed on request The 2
read more »»
45 sqm approx. / double bed The Suites offer the comfort and charm of being at home.
read more »»
55-70 sq.m.The Suites in the Villa offer its guests the maximum comfort and Aeolian charm. They
read more »»
Internet
Wi-Fi in the whole structure
In the surroundings
Selection of beaches
Tourist Centre within 10/15 mins. by car
Wellness
Spa
Massages
Beauty treatments
Activities
Excursions/Guided tours
Boat trips
Guided tastings
In room / Private Services
Rooms adapted for disabled people
*NB: The services may not be fully available / working and subject to change for reasons beyond the control of CharmingItaly.com who declines every responsibility.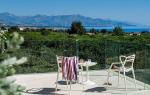 4 points that distinguish a boutique hotelIt is not easy to describe what "Boutique Hotel" actually means because its definition varies not only from state to state, but also each host
read full article >>
Map Hotel Signum
Please select the points of interest you want to display on the map
Get More Hotel Signum
01-01-2023 - 31-12-2024
Only for guests staying in Executive rooms, Suites and Suites in Villa: access to the Signum SPA wellness area included (reservation required)
Extra Hotel Signum
01-01-2023 - 31-12-2024
Upon confirmation, please inform us if you are interested in booking a table at the Signum Restaurant or SPA treatments.
01-01-2023 - 31-12-2024
Baby cot supplement for the child up to 3 years old (mandatory) to be paid locally: € 50,00 per night
22-04-2023 - 31-12-2024
Breakfast (optional): € 30,00 per person per day to be paid on site
22-04-2023 - 31-12-2024
Daily access to the Signum SPA wellness area: € 30,00 per person to be paid on site
*NB: The offers are not valid for all rooms. To find out, which rooms and periods the offers apply to, please check our online-booking portal.