Useful Info
124 Ecolodge Suites
Private Equipped Beach
Mini Club, Teeny Club, Junior Club
Full board & All Inclusive Formulas
Thalasso SPA
Small pets allowed
Charming's opinion
A surprising 5-star resort, the Alborèa Ecolodge Resort is inserted with its independent suites in the heart of the Stornata Nature Park, just 2 km from a stunning equipped beach. We warmly recommend this resort to families in search of a relaxing
Check In:
11-12-2023
Check Out:
12-12-2023
Nights
1
Clients:
0 Adults
Modify
Opening Period : Alborea Ecolodge Resort
From 01 January 2024
-
to 31 December 2024
Location
The Alborèa Ecolodge Resort fits harmoniously in the Stornara Biogenetic Nature Reserve, whose coastal wood of Aleppo pines enfolds the 124 Ecolodge Suites of the resort. 
Alborèa forms part of the Ethra Reserve Complex of Castellaneta, whose numerous services and attractions are linked by means of internal pathways, suitable for walking and biking. 
Brindisi and Bari airports are about 100 km away.  
Hotel
Unspoilt nature and services of excellence are what the Alborèa Ecolodge Resort offers its guests: a fine private beach, equipped with beach umbrellas and sun beds, a sumptuous Spa of 3500 m2 and a rich programme of sports, plus a restaurant and bar in the main wing and on the beach, open spaces and special services dedicated to the smaller guests.  
The guests of the Alborèa have access to the common areas, sports activities and entertainment of the other structures of the Ethra Reserve.
Rooms 
The 124 Ecolodge Suites of the resort are independent units measuring 50 m2, set on one floor and in the centre of the pine wood. All rooms, marked by their modern stylish format are equipped with patio with table and chairs.  
There are single-room apartments available, ample open spaces with living area, sofa bed and double bed, and double room apartments consisting of a double room and living area with two single beds; both solutions have two ensuite bathrooms. 
When booking, guests can request a cooking nook (limited availability only).
On request, Ecolodge Suites can also welcome small pets (max 10 kg): our four-footed friends have a reserved area fenced off in the garden of the room, with sleeping facilities and feeding bowls. Limited availability.
 Beach 
The resort offers its guests a large private beach, set on a quiet shore area measuring more than 5 km, excellently suited to kids' bathing needs.  
The beach can be easily reached by a comfortable shuttle bas (service available free of charge from 8 am to 7.15 pm). At the beach guests will find a bar and restaurant grill, showers and changing facilities; beach towels are available free of charge.  
Each family has its own reserved beach umbrella with two sun beds and a small table for the length of their stay (first line included for the Ecolodge Executive Suites). 

Available to guests are: sailing boats (except when regattas are in progress), windsurf, canoe and pedalos, beach volley /beach tennis courts, private and group sailing courses.
Wellness Centre 
With its 3500 m2 dedicated to relaxation, the exclusive Spa offers guests: an external and internal pools, a Marina Acquatonic pathway, a Thalassos Oasis with external Jacuzzi tubs, a sauna, Turkish bath, hydro-massage, a solarium area plus a fitness area.  
There are also available wellness and 'remise en forme' pathways, beauty treatments for face and body, massages and thalassotherapy programmes. 
The Spa is located at the Kalidria Hotel, within the same Ethra Reserve complex. It can be reached on foot or by shuttle bus, available throughout the day at the resort.
Sport 
Sports buffs can choose between all the services and activities of Ethra Reserve: tennis courts and 5-a-side football, bowls, beach volley and beach tennis, archery, fitness area with isotonic equipment, handlebars, treadmills and spinning bikes; group fitness activities and collective swimming, sailing, windsurf and tennis lessons (from 1 June 2020 to 12 September 2020). 
Families 
The small guests of the Alborèa can use the communal services of the Ethra Reserve, such as the extensive playground or the Spray park, where kids up to 12 years of age can play happily among water games, fountains and slides.  
Children and kids may choose between an extremely varied programme of sports and recreational activities, under the guidance of expert instructors and qualified entertainers: football school (kids aged 5 to 14), collective swimming lessons (from 3 years), dance school with introductory and ballet classes for girls aged 5 to 7, modern dancing for girls aged 8 - 14), Bluserena Circus Lab (juggling, balancing, acrobatics, micro magic and slack line), and the 'Serenino Serale' evening programme (from 21:30 to 23:30, games, activities and theme parties for children aged 3 - 10).  
Divided and studied by age bracket, the activities of the Ethra Reserve Club are available every day, except Sundays, from 1 June to 12 September 2020- only the SereninoClub and SereninoPiùClub are available from 24 May to 20 September: 

Serenino Club  
Mini Club, kids aged 3 to 5, from 09:30 to 18:30 
Qualified assistance, safe, colourful spaces, built round the kids, games, creative labs, baby dance and shows in the amphitheatre.  

SereninoPiù Club 
Mini Club, kids aged 6 to 10, from 09:30 to 18:30 
A programme to meet the needs of this age group with a range of creative activities in addition to the Serenino programme.  

Ten-year olds may choose to join up with SereninoPiù or Serenup. 

Serenup
Teeny Club, kids from 11 to 14, from 09:00 to 12:30 and from 15:00 to 19:00 
A host of sports activities, such as football, kayaking and sailing classes and a modern dancing school; Bluserena Musical School, a lab for singing, dancing and acting; amusing action games such as Blaster Challenge and Play Your Role Game, and 'grown up' emotions such as Sleep Over, with supper under the stars and a night in a tent, Pizza Party on the Beach and a seaside picnic.

Kids of 14+ can choose whether to register with Serenup or Serenhappy.

Serenhappy  
Junior Club, kids from 14 to 17, from 09:00 to 12:30 and from 15:00 to 19:00 
Sea, sports and entertainment covering an extremely rich entertainment programme, including Bluserena Musical School, Vintage Secret Party, a Night under the stars, Entertainer for a Day, Battle Royale... 

---- 

Alborèa makes available to mums a fully equipped kitchen (grill, fridge, sink, tables and chairs, pots and pans, crockery, bottle-warmer, microwave, blender, steriliser and homogenizer) available round the clock.  
During assistance times there is free availability of pre-packed products (cocoa powder, assorted yogurts, water, honey, jams and marmalades, rusks, tea, chamomile tea, grain semolina, pasta, biscuits …), ready to use products (boiled rice, vegetable broth, meat broth, tomato sauce, vegetables...) and fresh products (fruit and vegetables, fresh meat, milk, ricotta, eggs, fish fillets ...). 

From 20 June 2020 to 05 September 2020, Ethra Reserve offers the services of a resident doctor, on call round the clock. 
Restaurant
Alborèa Ecolodge Resort offers all the food specialties of Puglia and the best national dishes, in a rich array of breakfast, lunch and dinner dishes, at the main restaurant. Each family has a reserved table (not assigned). 
Apart from the main restaurant, guests may choose between the Pizzeria Ethra, open in the evening from Monday to Saturday from June to Mid September, and the restaurant on the sea Mediterraneo for a light lunch (open from June to Min September - please book one day in advance).  
The main restaurant offers gluten-free pre-packed basic foodstuffs (at breakfast) and at least one complete menu (at lunch and dinner) free from gluten, lactose and eggs.  

PIÙ - Bluserena Full Board Treatment
In the Central restaurant: buffet breakfast, buffet service lunch and dinner with show-cooking, filtered tap water and draught wine. 
In the Pizzeria Ethra and in the seaside restaurant Mediterraneo: two courses to choose from the menu except second courses, drinks on payment. 
For each restaurant, guests are entitled to a maximum of two visits per person for stays of 7 nights and only one access for stays from 4 to 6 nights. 
At the main bar: micro filtered water. 

EXTRA - Bluserena All-Inclusive Offer
This option can be booked for at least 7 nights (and for all the people included in the booking)
In the Central restaurant: buffet breakfast, buffet service lunch and dinner with show-cooking, filtered tap water and draught wine, a 40-cl sized draft drink between orange juice, beer and coke or pepsi (guests aged 3+).
In the Pizzeria Ethra and in the seaside restaurant Mediterraneo: two courses to choose from the menu except second courses, drinks on payment. 
For each restaurant, guests are entitled to a maximum of three visits per person per week. 
At the main bar: coffee and teas, draught or on the tap drinks in 20 cl glasses (choice of ice cold lemon or peach teas, lemonade, tonic water, citron juice, chinotto and gassosa, orange soda, coke or pepsi); fruit juices, syrups, mineral water (glass), draft beer in a 20 cl glass, granite, one white and one red wine, or prosecco; liqueurs, aperitifs, vermouth, grappa and amari. Cocktails, Champagne and all alcoholic beverages defined as special on the bar price list are excluded. 
Services and activities 
The price of your stay includes: vehicle parking, Wi-Fi connection, free access to fitness area and use of equipment, collective sailing and windsurfing classes, tennis, archery, target practice, use of kayaks, SUP boards, pedal boats and sailing boats and windsurfs, beach service with beach umbrella and sun beds, beach towels and shuttle bus service. 

The following attract payment: wellness treatments and services, massages and beauty treatments, individual lessons, boat and inflatable excursions.

Doctor on call round the clock (free visits at times to be established). 

Small dogs welcome (max 10 kg). 

----- 

Arrivals and departures are planned for Sundays in the absence of specific requests.  

Check-in: room handover from 14:30, is guaranteed by 16:00.  
Your stay includes dinner on arrival day and lunch on the day of departure (can be replaced by a packed meal). On request, you can begin your stay with lunch and end with breakfast on the day of departure.  

Check-out: you must free the room and beach umbrella by 11:00.
Late check-out is available and attracts payment, according to availability (try and request when booking or at the Resort, within two days of departure). 
Rooms Alborea Ecolodge Resort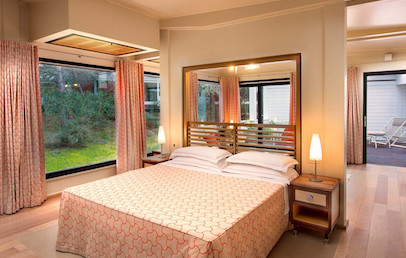 Independent living units measuring 50 m2, set on one floor and in the midst of the
read more »»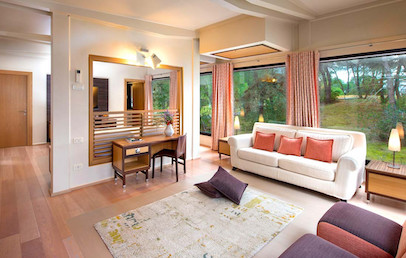 Stylish units measuring 50 m2, set on one floor and in the midst of the pine
read more »»
General information
Access for guests with disabilities
In room / Private Services
Rooms adapted for disabled people
Food & Drink
Restaurant
Bar
Breakfast
Lunch
Dinner
Family
Mini Club
Junior Club
Baby service
Kids Playground
Beach
Private beach
Sun umbrellas
Sunbeds
Beach Towels provided
Beachbar
Beach Shuttle-bus
Equipped Beach
Wellness
Spa
Thalasso Center
Turkish bath
Sauna
Whirlpool in a relaxing area
Beauty treatments
Wellness treatments
Massages
Sport
Gym / Fitness room
Tennis
Tennis lessons
Five-person soccer field
Beach volleyball court
Bocce field
Water Sports
Surf/windsurf/kite lessons
Sailing lessons
Archery
In the surroundings
Selection of beaches
Golf Course
Tourist Centres within 30 mins. by car
Cultural Centres
Common areas
Sea-water/saltwater swimming pool
Indoor swimming pool
Outdoor lounge areas
Internet
Wi-Fi in the whole structure
*NB: The services may not be fully available / working and subject to change for reasons beyond the control of CharmingItaly.com who declines every responsibility.
Map Alborea Ecolodge Resort
Please select the points of interest you want to display on the map