Check In:
03-12-2023
Check Out:
04-12-2023
Nights
1
Clients:
0 Adults
Modify
Opening Period : Calaserena Village
From 01 January 2024
-
to 31 December 2024
- Location: A few steps from the sea
- Closets port: Cagliari 35 Kms
- Closest airport: Cagliari Elmas 30 Kms
- Distance from the sea: 450 mts.
- Nearest town: Maracalagonis
- Pets: Allowed with surcharge, only in certain rooms - max 10 kilos.
Hotel
Calaserena Village is a 4-star resort located directly on the sea, on the beautiful beach of Geremeas, between Cagliari and Villasimius, from which it is separated only by a pleasant path in a shady wood. The beach is only 450 m away from the rooms.
At the Calaserena Village, in the rooms, in the lobby, in the restaurants and bars, a completely renewed, fresh design awaits you, waiting to be discovered!
Rooms
The hotel has 350 rooms on two and three floors, on average around 450 metres from the sea, divided into Classic, Premium and Premium Plus rooms. Interconnecting rooms and rooms for disabled guests are also available.
Classic Rooms
They all have individually controlled air conditioning, telephone, TV, fridge, safe and bathroom with shower.
Classic Rooms with Garden
Upon request and availability (for a fee) the Classic Rooms are also available in the Garden and Dog Room version, where small pets (max. 10 kg) can be accommodated in a garden with a kennel and bowl.
Premium rooms
Premium rooms are located in the area closest to the lobby and the main facilities. They combine the Classic room facilities with a kettle with tea and herbal teas, espresso machine, open mini bar (water, 2 soft drinks and beer), rental of a beach towel per person (from 3 years of age) with daily change.
It is possible to request at the time of booking the availability of a premium room on the ground floor with garden at extra charge or on the 1st and 2nd floors with balcony.
Premium Plus Rooms
Comfort rooms are located in the area closest to the lobby and main facilities. They are equipped with a kettle with tea and herbal teas, espresso machine, TV with Sky, open mini bar (water, 2 soft drinks and beer), rental of one beach towel per person (from 3 years) with daily change, beach umbrella in the 3rd row. When booking, it is possible to request availability Premium Plus Garden or 1st and 2nd floor with balcony.
Services
Reastaurants
Meals are served in the Ristorante Centrale with two air-conditioned dining rooms and shaded outdoor area Il Patio, free of charge and bookable upon confirmation for the entire period of your stay, for both lunch and dinner. In the event of adverse weather conditions, accommodation will be in the Central Restaurant, on the second shift.
It will be possible to reserve, upon confirmation of your stay and subject to availability, an assigned family table for the entire duration of your stay in the dining room of the central restaurant, at a cost of € 5 per day per room.
All meals are served buffet-style with show-cooking in the central restaurant. 
In addition to the central restaurant, from Monday to Saturday (05/06 to 09/09) you can also use the Il Gusto Restaurant with table service, and the Blu Beach Restaurant with buffet service, which are open for lunch and dinner at least 6 days a week. Availability at these restaurants is limited, and reservations must be made at the village on the previous day (shifts spread over several time slots may be arranged).
Two bars are available to guests, one in the piazzetta and one on the beach.
Lunch with the animators reserved for children and teens of the Mini, Teeny and Junior Club. The service is available from 05/06 to 09/09/2023, every day except Sunday.  
Full Board - Plus
Full board includes: breakfast, lunch and dinner with buffet and show cooking, draught wine and microfiltered water included; one access per week to restaurant at Il Gusto and BluBeach Restaurant. Sea Box to be consumed in the beach area; supervised lunch for children and teenagers; one assigned beach umbrella with two sunbeds. Use of Baby/Baby kitchen.
All Inclusive
In addition to the services of the Pensione Più includes: cafeteria at the bar, soft drinks, draught beer, fruit juices, syrups, slushies, sweet and savoury snacks, a selection of national and international spirits and spirits, aperitifs and cocktails all day long. During meals beer, coke and orangeade on tap. Two accesses per week at the Il Gusto and Blu Beach Restaurants. Beach towel from 12 years of age.
Catering for Celiacs/Food Intolerances
In the resort, special attention is paid to guests intolerant to gluten, lactose and eggs.
Although we cannot guarantee the absolute absence of contamination, as food is prepared in a single kitchen, care and attention in the preparation of meals is certainly guaranteed.
Gluten. At the main restaurant, the following are available for breakfast: a sausage and packaged staples such as tarts, snacks and rusks; at lunch and dinner at least one first course, one main course and one dessert made with gluten-free ingredients (dishes, however, are prepared in a single kitchen, therefore with possible contamination).
Lactose and eggs. In addition to a rich buffet of naturally lactose-free and egg-free food, lactose-free and egg-free packaged staples (snacks, rusks, yoghurt and milk) are available at breakfast; at lunch and dinner, at least one starter, one main course, one cold meat, one cheese, one pizza and one dessert free of lactose or eggs.
In restaurants with table service, upon request: gluten-free, a gluten-free starter, main course, main course and dessert; lactose- and egg-free, a lactose- and egg-free main course, main course and dessert.
Beach
Calaserena Village is located directly on the crystal-clear sea of Geremeas beach.
The wide sandy beach, gently sloping and therefore particularly suitable for children, is equipped with parasols and sun loungers, changing rooms and showers, a bar, and an information and service point.
Each room is allocated a free place on the beach, which includes a sun umbrella and two sun beds from the fourth row.
Guests can make use of the sailing boats and windsurfs (except during course times), canoes, paddle surfing and beach volleyball and beach tennis courts and the services of Bluserena SeaSport (some for a fee) and the "RESORT 5STAR IDC" diving centre inside the resort (for a fee). 
A JOB chair is available on the beach for bathing in the sea and wheelchairs can be hired on request. There are no individual accompanying services and assistance to bathers is guaranteed by the presence of lifeguards at the times displayed.
Services
The Calaserena Village has an equipped beach, sandy seabed, in the first strip ideal for children, freshwater pool with water slide and whirlpool and a swimming pool.
Free wi-fi connection.
At Calaserena Village, guests will find a team of entertainers, guaranteed fun for all ages: children's and youth clubs, games and parties, sports courses and tournaments, live music, dancing in the dance hall and outdoor disco.
Every evening shows in the large amphitheatre: musicals, cabaret, variety shows, games. Among the many activities are dance classes of all kinds and group dances at all hours of the day.
There is a bar, tobacconist's, travel agency for car hire and transfers, pram and bicycle hire, conference hall seating up to 400 people, and indoor parking.
Services for Children
At Calaserena there are a thousand and more services and spaces that are safe and tailor-made for children, with the security of specialised animators who will accompany them in games and creative, educational and sporting activities.
All services are provided by dividing children and young people into age groups. Families can enjoy a large swimming pool with slides, a large children's park with giant games, springs, swings, slides and more. In the forest, children can enjoy watching the animals in the mini farm and have fun in the mini riding school with ponies. All the services mentioned below are available from 5/6 to 9/9.
Serenino Club for children aged 3 to 5 and SereninoPiù Club for children aged 6 to 10. Children aged 10 can choose to join either the SereninoPiù Club or the SerenUp. The SereninoPiù Club offers numerous sports activities (football academy, dance, swimming, rhythmic gymnastics). 
For 10 to 14 year olds, Calaserena offers Serenup (14 year olds can choose between Serenup and Serenhappy) and 14 to 17 year olds Serenhappy where they will be involved in games, sports activities, theatre, shows and more.
Serenup and Serenhappy are open daily, from 9 a.m. to 12.30 p.m. and from 3 p.m. to 6.30 p.m., except Sundays, from 05/06 to 09/09/2023.
The fun continues in the Evening Serenade. The whole family can also enjoy circus disciplines. Together they can learn, while having fun, the basics of juggling, balancing and clowning. The service is available from 05/06 to 09/09.
Blu Nursery: The nursery area is air-conditioned and welcoming and offers a real programme of games and activities tailored to the little ones. Animators will be playmates and will prepare snacks and snacks for the babies, provide nappy changes and naps. Parents will be provided with bottles, bibs, dummies, nappies, non-slip socks and sunscreen. Parents will be able to participate in some of their children's activities
The Blu Nursery is available, for a fee, every day except Sundays, from 9 a.m. to 12.30 p.m. and from 3.30 p.m. to 6.30 p.m. from 17/07 to 09/09/2023 You can also book the service for the morning or afternoon only.
On arrival, it is compulsory to show the identity documents of all members of the reservation, including minors of any age. Failing this, the hotel will apply the discount for the higher age group.
Baby Kitchen
The Baby Kitchen/Biboneria is an area dedicated to parents, equipped with tables, chairs and high chairs, for baby food for children 0-3 years old
Assistance and availability of basic products during main mealtimes is guaranteed: vegetable and meat broths, vegetable puree, noodles, meat slices, fish fillets, cooked ham, dairy products, fresh fruit, fresh milk, soya milk, rice milk, lactose-free milk, yoghurt, jams, tea and camomile tea, biscuits. Homogenised baby food, baby cheese and baby milk, both liquid and powdered, are not available.
It is also possible to heat milk and baby food, sterilise, blend and homogenise food.
The Baby Kitchen is accessible from 06:00 to 00:00; during closing hours, it is possible to ask the Reception staff to heat milk using the microwave oven provided. A basic supply of packaged products is also available.
Medical Assistance
Medical office open at certain times of the day, doctor resident in the village and on call 24 hours a day. 
Visits are free during the opening hours of the doctor's office, and are charged for at other times and outside the office.
Services for the disabled
The Calaserena Village is barrier-free. Disabled rooms are available and a Job chair is available on the beach, specifically for bathing in the sea. Wheelchairs can be hired on request. Individual wheelchairs are not available.
Sport
For fitness enthusiasts, the Calaserena is the right choice! In fact, in addition to the modern gym-fitness area with isotonic machines, dumbbells, walking mats and spinning bikes, group gymnastics and assistance from qualified personnel at set times, it also offers many other activities: Stretch and Tone, Acquagym, Nordic Walking and Yoga, Cross Training, Jump fitness. Multi-purpose tennis/ five-a-side football and bowling synthetic grass courts, archery, beach volleyball with night lighting, table tennis.
During the holiday you can also take group lessons in swimming, sailing, and from 29/05 to 09/09 tennis, archery and shooting.
Free group sailing and windsurfing lessons for adults and children. Intensive courses and individual lessons in windsurfing and sailing for a fee. Free use of canoes, paddle surfs and sailing and windsurfing boats (except during group lesson times). Diving centre for a fee.
Wellness
The Bluwellness is an area dedicated to those who wish to take a break for relaxation and wellness. It is possible to request relaxing massages, sports massages, holistic and customised wellness programmes, facial and body treatments. Services are chargeable and available from Monday to Sunday.
Club Card
The club card is compulsory from the age of 3 years gives access to the following services: use of sports fields and equipment, beach services, participation in tournaments and group lessons, Serenino, SereninoPiù Club, Serenup and Serenhappy services.
Paid Services
Serenino Nursery (booking required), individual lessons of the sports provided, horse riding, mini riding school, "Bluwellness Club", sunbeds on the beach, umbrellas and palm trees in the first rows, beach towels rental, all excursions, diving center services, car and stroller rental, transfers, use of safety deposit boxes available at the reception, internet point, medical assistance.
Animals
At Calaserena you can bring your own small dog (maximum 10 kg and only if provided with health certification). The animal may stay in the kennel in the garden, in the Classic room, will be provided with bowls for food and water, and may circulate in the Village in the reserved areas and on dedicated routes (it does not have access to the beach, restaurant and piazzetta), on a leash.
There is no provision of food and the number of places is limited, and no other animals are allowed.
Delivery and Release Rooms and Parasols
The resort allows you to start your stay with lunch or with dinner: if you start your stay with dinner, lunch on the day of departure will be included in the price (replaceable on request with a packed lunch); if you start with lunch, on the other hand, your stay ends with breakfast (to be reported at the time of booking). On the day of arrival you will have lunch and dinner in one of the resort restaurants (at Bluserena's discretion), not necessarily in the central restaurant.
Delivery of rooms and umbrellas on arrival is scheduled for 4.00 pm. Early delivery is not guaranteed for those who start their stay with lunch. Rooms and umbrellas must be returned by 10.00 a.m.
It is possible to book Late Check Out (for a fee), which allows you to use the room and umbrella until 2.15 p.m. on the day of departure. The service must be requested within two days of departure.
On arrival and departure days, changing rooms with showers and unattended luggage storage are available in the hall area.
PLEASE NOTE
For payments within the structure it is mandatory to use the Smart Card, a pre-paid rechargeable card.
Rooms Calaserena Village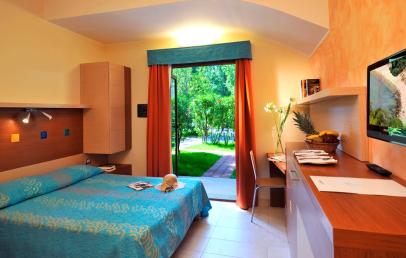 They are equipped with individually controlled air conditioning, TV, mini fridge, safe and bathroom.
read more »»
Le camere Premium Plus si trovano nella zona più vicina alla hall e ai servizi principali.
read more »»
They are equipped with individually controlled air conditioning, TV, mini fridge, safe and bathroom.
read more »»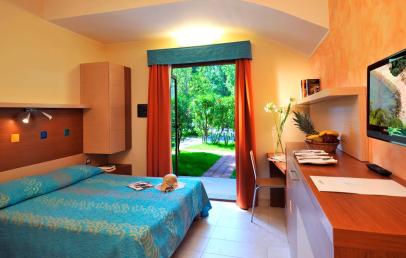 They have a garden and are equipped with individually controlled air conditioning, telephone, TV, mini fridge,
read more »»
Premium rooms are located in the area closest to the lobby and main facilities. They also
read more »»
Internet
Wi-Fi connection
Wi-Fi in common areas
In room / Private Services
Hairdryer
Air conditioning in Room
Digital Terrestrial TV
Minibar
Safety box in Room
Rooms adapted for disabled people
Food & Drink
Restaurant
Bar
Restaurant for Celiac Disease
Family
Mini Club
Kids Playroom
Kids Playground
Baby service
Children's pool
Children's Restaurant
Baby buggies on demand
Common areas
Garden / Park
Swimming pool
Sport
Tennis
Gym / Fitness room
Water Sports
Bocce field
Five-person soccer field
General information
Access for guests with disabilities
Entertainment
Night entertainment service
Other services
Supermarket / Mini market / Bazaar
Air conditioning
*NB: The services may not be fully available / working and subject to change for reasons beyond the control of CharmingItaly.com who declines every responsibility.
Map Calaserena Village
Please select the points of interest you want to display on the map