Check In:
03-10-2022
Check Out:
04-10-2022
Nights
1
Clients:
0 Adults
Modify
Opening Period : Calaserena Village

- Location: A few steps from the sea
- Closets port: Cagliari 35 Kms
- Closest airport: Cagliari Elmas 30 Kms
- Distance from the sea: 450 mts.
- Nearest town: Maracalagonis
- Pets: Allowed with surcharge, only in certain rooms - max 10 kilos.
Hotel
Calaserena Village is a 4-star resort located directly on the sea, on the beautiful beach of Geremeas, between Cagliari and Villasimius, from which it is separated only by a pleasant path in a shady wood. The beach is only 450 m away from the rooms.
Rooms
The hotel has 350 rooms on two and three floors, on average 450 metres from the sea, divided into Classic, Premium and Comfort rooms. There are also connecting rooms and rooms for disabled guests.
Classic Rooms
They all have air conditioning with individual control, telephone, satellite TV, fridge, hairdryer, safe and bathroom with shower.
Classic rooms with garden
On request and upon availability the classic rooms are also available in the garden. There is also the Dog Room version, where you can accommodate small pets (max 10 kg) in the garden with kennel and bowl.
Premium Rooms
Premium rooms are located in the area closest to the lobby and main facilities. They include an espresso coffee machine, free Wi-Fi, 32-inch TV; a beach towel rental per person (from 3 years old) with a midweek change with additional washings for a fee.
It is possible to request at the time of booking the availability of a Premium Room on the ground floor with garden at no extra charge or on the 1st and 2nd floor with balcony.
Comfort rooms
Comfort rooms are located in the area closest to the lobby and main services. They are equipped with Sky TV service, open fridge bar (water, 2 drinks and beer), beach towel rental per person (from 3 years old) with daily change, reserved table for families in the restaurant, beach umbrella in the central area. Free WiFi connection included in rates.
Upon booking you can request availability of a comfort room on the ground floor with garden at no extra charge or on the 1st and 2nd floor with balcony.
Connecting rooms and rooms for the disabled are available on request.
Services
Reastaurants
Meals are served in the Central Restaurant with the two air-conditioned dining rooms. Tables are assigned for the entire duration of the stay and they can accommodate 8/9 people. Only guests who choose the Comfort Room can have a reserved table.
All meals have buffet service with show-cooking in the Central Restaurant. Those who prefer to eat outdoors, can eat at Il Giardino, a shaded area outside the central restaurant with reserved family tables. The service is offered free of charge and must be booked for the entire period of stay, both for lunch and dinner. In case of bad weather conditions the accommodation will be in the central restaurant, at the second round.
In addition to the central restaurant, from Monday to Saturday (from 10/6 to 21/9) guests can also use the restaurant Il Gusto with tables reserved for families, open for dinner. The availability at this restaurant is limited, reservation is required one day in advance (if necessary will be made shifts spread over several time slots).
There are two bars available for guests, one in the square and one on the beach.
Breakfast buffet with non-expressed cafeteria (from dispenser).
Reserved lunch for children and teenagers of the mini, teeny and junior Club from 03.06 to 07.09 with pizzas and snacks on the beach from 11.00 to 12.30.
Drinks at meals
Draught wine and microfiltered water.
All Inclusive Bluserena
Bookable for a minimum stay of 7 nights (and only for all the components of the reservation), drinks included until 2 p.m. on the day of departure, always served by the glass.
With Pensione Più you can get the following:
At the bar. Espresso coffee and cappuccino, also decaffeinated and barley, cappuccino with soy milk, white milk and macchiato, ginseng, American coffee, cofee with spirit, coffee cream, tea and infusions, draught drinks in 20 cl glasses. a choice of lemon or peach iced tea, lemonade, tonic water, citron, chinotto and soda, fruit juices (pineapple, ace, peach, apricot, orange, pear), orangeade and coke (or pepsi at the hotel's discretion), draught beer in glasses 20 cl, slush, a white wine and a red wine, prosecco, bitters and liqueurs, aperitifs and vermouth, grappa.
The All Inclusive formula excludes cocktails, champagne and all spirits (grappas, liqueurs and sparkling wines) defined as special on the bar price list;
At the bar point of the central restaurant. Espresso coffee and cappuccino, also decaffeinated and barley, cappuccino with soy milk, white milk and macchiato, at lunch and dinner a 40 cl. draught drink per person from 3 years old, a choice of beer, orangeade and coca cola (or pepsi at the discretion of the hotel).
The All Inclusive service also includes one beach towel per person from 12 years of age, with weekly change (additional washings are charged).
To access the services it is necessary to use the Smart Card and wear the specific bracelet.
It is not possible to use the All Inclusive to offer drinks to third parties. The formula can be revoked by the Customer at any time and by Bluserena in case of non-compliance with the regulations, in both cases going back to the price of Pensione Più.
Catering for Celiacs/Food Intolerances
In the resort special attention is reserved for guests with intollerance to gluten, lactose and eggs.
Although the absolute absence of contamination cannot be guaranteed, as the food is prepared in a single kitchen, attention and care in the preparation of meals is certainly guaranteed.
Gluten. At the main restaurant for breakfast are available: cold cuts and packaged basic products such as tarts, snacks and rusks; at lunch and dinner at least a first course, a second course and a dessert made with gluten-free ingredients (dishes however prepared in a single kitchen, therefore with possible contamination).
Lactose and eggs. For breakfast packaged lactose and egg-free basic products such as snacks, rusks, yoghurt and milk; milk also available at the main bar, at lunch and dinner at least one first course, one second course, one cold cuts, one cheese and one dessert without lactose or eggs.
Beach
The Calaserena Village is located directly on the crystal clear sea of Geremeas beach.
The wide sandy beach, gently sloping and therefore particularly suitable for children, is equipped with umbrellas, sunbeds and deckchairs, changing rooms and showers, bar, assistance and information point.
Each family unit will be assigned an umbrella with a sunbed and a deckchair.
Guests can enjoy sailing and windsurfing (except during course times), canoes and beach volleyball courts. Sailing, windsurfing and canoeing group courses are available; diving available with surcharge at the Dive Center GOLD PALM IDC 5 Stars, inside the village, authorized to issue PADI patents of any level.
On request, for a fee: Bluserena Water Fun, motorboat towing activities, in complete safety thanks to the qualified staff and the use of approved systems, boat and dinghy excursions.
Services
Calaserena Village has direct access to an equipped beach, with sandy bottom, ideal for children; there is also a swimming pool with water slide and whirlpool and a swimming pool.
Free wi-fi connection in the main common areas and in the Premium and Comfort rooms.
At Calaserena Village guests will find a team of over 40 entertainers, with fun guaranteed for all ages: children's and youth clubs, games and parties, sports courses and tournaments, live music, dancing and outdoor disco, excursions.
Every evening there are shows in the large amphitheatre: musicals, cabaret, variety shows, games. Among the many activities there are dance lessons of every kind, from Salsa to Merengue, from Bachata to Mambo, tango course, but also ballroom dancing and group dances at all hours of the day.
For those who prefer other pastimes, in the card games club, both during the day and in the evening there will be tournaments of Poker Texas Hold'em and many other games.
There are boutiques, shops, emporium, newsagent, tobacconist, ATM, unattended parking, TV space, conference rooms up to 400 seats.
Services for Children
At Calaserena there numerous services and safe, tailor-made spaces for children, with specialized entertainers who will accompany them in games and creative, educational and sports activities.
The Bluserena Villages were the first in Italy to receive the "Children's Friendly Holiday" quality mark recognized by the National Federation of Paediatricians Cipe-Sispe-Sinspe. The seal of quality certifies that services and equipment are designed to meet the needs of children, young people and their parents, so that fun and safety are combined with fun.
All services are provided by subdividing children and teenagers into age groups. At families' disposal a large swimming pool with slides, a large playground with inflatables and giant games, springs, swings, slides and more. In the woods children can have fun watching the animals in the mini farm and riding ponies. Parents who want to cook and prepare baby food for their children can use a 24-hour kitchen. All the services listed below are available from 4/6 to 8/9 with the exception of Serenino and SereninoPiù Club which are available throughout the summer season.
Serenino Club reserved for children from 3 to 5 years old and for children from 6 to 10 years old SereninoPiù Club (10 year old children can choose between this formula and Serenup): both clubs are located in a custom built space with a swimming pool and games.
SereninoPiù also offers numerous sporting activities (canoeing, sailing, swimming). Children who are not members of the Serenino Club will also have access to the swimming pool inside the club, at set times (access allowed for children aged 0 to 6 years in the presence of their parents).
For children from 10 to 14 years old the Calaserena offers the Serenup (14 years old children can choose between Serenup and Serenhappy) and from 14 to 17 years old at the Serenhappy where they will be involved in games, sports activities, theatre, shows and much more.
Boys and girls from 5 to 14 years old can to participate in the Dance School (propaedeutic dance and ballet from 5 to 7 years old, modern dance from 8 to 14 years old) and in the Football School and Martial Arts School, both with qualified instructors, in uniform provided by Bluserena, and in the Swimming School.
Serenup and Serenhappy are open every day, from 9.00 to 12.30 and from 15.00 to 19.00, except Sundays.
The fun continues in Nightime Serenino , every day except Sunday, from 9.30 pm to 11.30 pm. The whole family can also have fun with the Bluserena Circus, learning the basics of circus disciplines, juggling, balancing and clowning (available from 8/6 to 7/9).
Serenino Nursery: a specialized staff will take care of children from 12 to 36 months of age in spaces dedicated to them, such as aan air-conditioned sleeping area and a changing area equipped with everything necessary for hygiene and care. They will be delighted with snacks and refreshments. Mothers will take care of bibs, baby bottles and pacifiers, non-slip socks, sun protection and nappies.
Mothers can participate in some of their baby's activities. For families there is a large swimming pool with water slides, a large playground with giant inflatable games, spring games, swings, slides and more. In the woods the children can observe the animals in the mini farm and have fun in the mini riding school. The service, on payment, is available every day except Sunday, from 9.00 a.m. to 12.30 p.m. and from 3.30 p.m. to 6.30 p.m., from 01/07 to 07/09.
On arrival it is obligatory to show the documents proving the identity of all the members of the reservation, including children under the age of 18.
Cooking Mums
A free kitchen available to mothers who want to cook and prepare meals for their children. It is equipped with electric hotplates, fridge, sink, tables, chairs, high chairs, pots, dishes, bottle warmer, microwave oven, blender, sterilizer and homogenizer.
It is available 24 hours a day and during the main meal times, mothers can enjoy vegetable and meat broths, vegetable mash, pastries, slices of meat, fish, cold cuts, dairy products, fresh fruit, fresh milk, soy or rice milk, lactose-free milk, yoghurt, marmalades, herbal teas, tea, chamomile tea, biscuits (not available homogenized, cheese and milk for early childhood neither liquid nor powdered).
Medical Assistance
Doctor's office open at certain hours of the day, doctor resident in the village and available 24 hours a day. Paediatrician available from 16/06 to 07/09
Visits are free of charge during doctor's office opening hours, and are charged at other times and outside the doctor's office.
Services for the disabled
The Calaserena Village is a village free of architectural barriers and equipped for the disabled. They can have special rooms, reserved parking space, in the amphitheatre and on the beach (near the footbridge). In the village there is a Job chair, specific for bathing in the sea. No individual accompaniment is provided.
Sport
For those who love fitness the Calaserena is the right choice! In addition to the modern gym-fitness area with isotonic machines, dumbbells, treadmill and spinning bikes, group gymnastics and assistance of qualified personnel at fixed times. There also many activities: Stretch and Tone, Total Body and Aquagym, Nordic Walking and Pilates, Suspension Training, Street Workout and Drumstick fitness. Multi-purpose tennis/football courts and synthetic grass bowls, archery, beach volleyball with night lighting, table tennis.
During the holiday you can also take group lessons in swimming, sailing, and from 3/6 to 7/9 tennis, archery and target shooting.
Free group sailing and windsurfing lessons for adults and children, introductory sailing charter tours, guided by qualified instructors. Intensive courses and paid individual windsurfing and sailing lessons (for the very young with Baby Boat). Free use of canoes, paddle surf and sailing and windsurfing boats (except during group lessons). Diving Center.
Wellness
The "Bluwellness Club" is an open-air oasis offering beauty and wellness treatments.
Club Card
The club card is compulsory from the age of 3 years gives access to the following services: use of sports fields and equipment, beach services, participation in tournaments and group lessons, Serenino, SereninoPiù Club, Serenup and Serenhappy services.
Paid Services
Serenino Nursery (booking required), individual lessons of the sports provided, horse riding, mini riding school, "Bluwellness Club", sunbeds on the beach, umbrellas and palm trees in the first rows, beach towels rental, all excursions, diving center services, car and stroller rental, transfers, use of safety deposit boxes available at the reception, internet point, medical assistance.
Animals
At the Calaserena you can bring your dog (maximum 10 kg and only if provided with health certification). The animal can stay in the kennel located in the garden, in the Classic room, will have bowls for food and water, and they can circulate in the Village in reserved areas and on dedicated paths (it has no access to the beach, restaurant and square), with leash and muzzle.
No food is provided and the number of places is limited and no other animals are allowed.
Delivery and Release Rooms and Parasols
Stays start with lunch or dinner: if you start your stay with dinner, the price will include lunch on the day of departure (replaceable on request with travel basket); starting with lunch, the stay ends with breakfast.
The delivery of rooms and umbrellas on arrival is scheduled at 16.00. Early delivery is not guaranteed for those who start their stay with lunch. Rooms and umbrellas must be returned by 10.00 am.
It is possible to book the Late Check Out (on payment) which allows you to use the room and umbrella until 2.15 p.m. on the day of departure. The service must be requested within two days of departure.
On arrival and departure days there are changing rooms with showers and unguarded luggage storage in the lobby area.
Blue Serena Loyalty Program
Bluserena offers a Loyalty program, the Club BluserenaPiù, which reserves discounts and benefits to loyal customers.
Short Stays
5 days/4 nights: from Sunday lunch to Thursday lunch, club card and light lunch on the day of departure free of charge (quotation on request).
4 days/3 nights: from lunch on Thursday to lunch on Sunday. Free light lunch on the day of departure. Club card for a fee (quotation on request).
PLEASE NOTE
For payments within the structure it is mandatory to use the Smart Card, a pre-paid rechargeable card.
Rooms Calaserena Village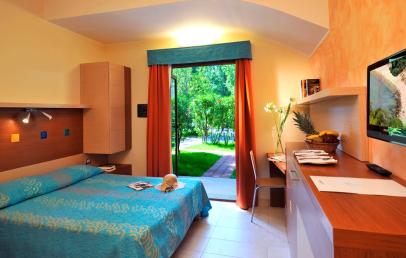 They are equipped with individually controlled air conditioning, TV, mini fridge, safe and bathroom.
read more »»
The comfort rooms are located in the area closest to the hall and the main services.
read more »»
They are equipped with individually controlled air conditioning, TV, mini fridge, safe and bathroom.
read more »»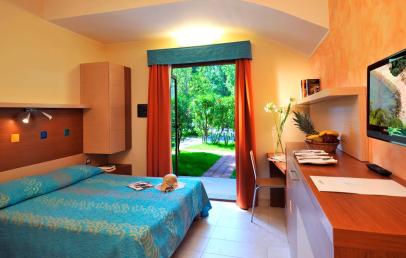 They have a garden and are equipped with individually controlled air conditioning, telephone, TV, mini fridge,
read more »»
Premium rooms are located in the area closest to the hall and main services. They also
read more »»
Internet
Wi-Fi connection
Wi-Fi in common areas
In room / Private Services
Hairdryer
Air conditioning in Room
Digital Terrestrial TV
Phone in Room
Minibar
Safety box in Room
Rooms adapted for disabled people
Food & Drink
Restaurant
Bar
Restaurant for Celiac Disease
Family
Mini Club
Kids Playroom
Kids Playground
Baby Sitting
Baby service
Children's pool
Children's Restaurant
Baby buggies on demand
Common areas
Garden / Park
Swimming pool
Sport
Tennis
Gym / Fitness room
Water Sports
Bocce field
Five-person soccer field
General information
Access for guests with disabilities
Entertainment
Night entertainment service
Other services
Supermarket / Mini market / Bazaar
Air conditioning
*NB: The services may not be fully available / working and subject to change for reasons beyond the control of CharmingItaly.com who declines every responsibility.
Map Calaserena Village
Please select the points of interest you want to display on the map