Conti di San Bonifacio Wine Resort
Useful Info
Rooms – 7
Pisa Airport – 135 km
Massa Marittima – 19 km
Distance beach – Follonica 27 km
Small pets allowed
Charming's opinion
Conti di San Bonifacio is a relatively unknown pearl of Tuscan hospitality – a stunning hotel in which the refined simplicity of the indoor areas echoes the now rare authenticity of the rural Maremma setting. The Wine Resort is a wonderful
Check In:
12-12-2023
Check Out:
13-12-2023
Nights
1
Clients:
0 Adults
Modify
Opening Period : Conti di San Bonifacio Wine Resort
Open all year round
Location
As if foretelling the sense of wonder that it will awaken in its guests, Conti di Bonifacio Wine Resort is a perfect picture postcard. Majestically set in the heart of the Maremma countryside, the Wine Resort stands on the peak of a hill from where it overlooks the surrounding countryside: woods, olive groves and vineyards scatter the landscape and offer up the excellence from which the local cuisine is born.
Hotel
Result of the love between Count Manfredo and Countess Sarah, Conti di San Bonifacio fully embodies their shared passion for Tuscany, going above and beyond the classic concept of hospitality to create a destination in its own right. 
Designed and built by local workers, this small jewel of Italian hospitality has a rustic and elegant style that acts as the backdrop to designer pieces and elegant antique items. The search for excellence shines through in every individual detail, and stems from the outstanding coming-together of high-level service and the warm and relaxing atmosphere of Tuscany. 
The highlight of the hotel is the spectacular outdoor pool offering 360° views of the countryside of Maremma.
Rooms
Lovingly designed by the Countess herself, the 7 rooms at Conti di San Bonifacio Wine Resort differ from one another in the furnishings and finishing touches while sharing the philosophy of the estate as a whole. 
Chestnut beams, Egyptian cotton linen, tiled floors, rustic style furnishings and designer pieces, combined with superior comfort pillows and mattresses and the most up-to-date mod-cons… Every detail contributes to maintaining the balance between exclusive hospitality and the spirit of the location.
Conti di San Bonifacio Suite with Terrace – 70 sq.m., double canopy bed, fireplace, bathroom with bathtub and shower, private terrace and countryside view.
Vineyard Suite – 50 sq.m., king-size bed, large bathroom with bathtub and shower, private terrace, vineyard view.
Olive Grove Junior Suite – 35 sq.m., double bed, bathroom with bathtub, sun terrace with garden, olive grove view.
Hilltop Terrace Deluxe – 30 sq.m., double bed, bathroom with shower and free-standing bathtub, private terrace, olive grove and garden view.
Courtyard Club – 20 sq.m., double bed, bathroom with shower, terrace and garden view.
Restaurant
The Maremmana restaurant offers the very best of Tuscan cuisine, bringing to the table exclusively local products and traditional recipes embellished with a creative twist.
The chef's philosophy is based on the ongoing search for local excellence and organic farming practices, and the chef personally selects the best producers while serving the estate's excellent wines and olive oil. Many of the products and aromatic herbs are picked directly from the organic garden of the property, following the philosophy "from garden to plate".
The restaurant is perched on the top of the hill providing spectacular views and an unforgettable experience.
The Tree Lounge Bar is an outdoor space where guests meet Tuscan traditions. Theme evenings with local producers, wine tastings, live cooking, cinema evenings and much more are organized.
Services & Activities
Conti di San Bonifacio Wine Resort has a wide range of activities on offer to provide guests with an authentic experience of farm life: guests can take part in cheese production, beekeeping, animal slaughter, distillation, grape harvesting and wine production.
The hotel's concierge can also arrange and reserve other activities such as a Ferrari driving experience, balloon flights, day trips by boat or excursions out into the local area.
<< Tuscan Countryside Accomodation
Rooms Conti di San Bonifacio Wine Resort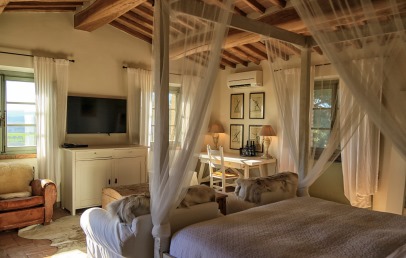 70 m² / double canopy bedA large room located in the heart of the main building,
read more »»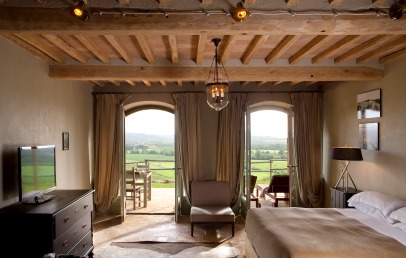 50 m² / king size double bedLarge spaces and breath-taking views, Vineyard Suites offer impressive chestnut
read more »»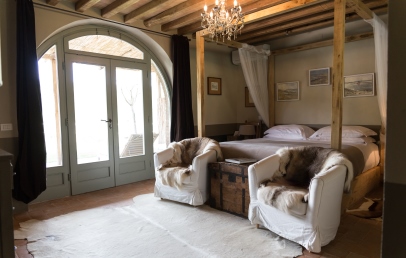 35 m² / double bedPerfect for nature lovers, Olive Grove Junior Suites overlook the estate's olive
read more »»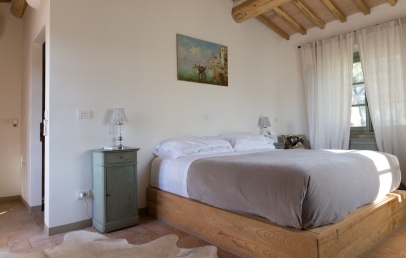 30 m² / double bedLocated at the heart of the main building, the Hilltop Terrace Deluxe
read more »»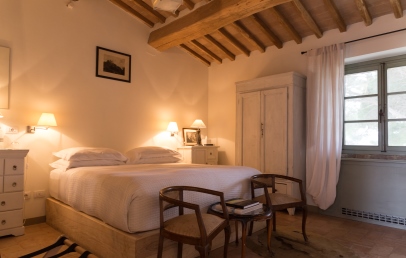 20 m² / double bedA welcoming room furnished in classic style, the Courtyard Club has chestnut
read more »»
Common areas
Swimming pool
Sun terrace
Garden / Park
Outdoor lounge areas
Activities
Excursions/Guided tours
Wine tastings
Cooking classes
Boat trips
Internet
Wi-Fi in the whole structure
Other services
Valet Parking
Concierge
Laundry service
Transport
Bike rental
Scooter rental
Transfers / Shuttle Service
*NB: The services may not be fully available / working and subject to change for reasons beyond the control of CharmingItaly.com who declines every responsibility.
Map Conti di San Bonifacio Wine Resort
Please select the points of interest you want to display on the map
Video Conti di San Bonifacio Wine Resort
Get More Conti di San Bonifacio Wine Resort
01-01-2023 - 31-12-2024
Only for Charming's customers: free upgrade in the higher room category (upon availability); welcome drink upon arrival; early check-in/late check-out (upon availability)
*NB: The offers are not valid for all rooms. To find out, which rooms and periods the offers apply to, please check our online-booking portal.