Useful Info
Rooms - 68
Very good traditional cuisine
Charming Hotel
well suited for a romantic stay
Oliena - 8 km
Cala Gonone - 20 km
Airports - Olbia 100 km, Cagliari 200 km
Charming's opinion
Tourism icon of Sardinia, Su Gologone Hotel is an artistic and culinary laboratory, where the continuous details refinement, both in furnishing and in food, gives the opportunity to live unique experiences to those who choose this heaven of
Check In:
01-06-2023
Check Out:
02-06-2023
Nights
1
Clients:
0 Adults
Modify
Opening Period : Hotel Su Gologone
From 06 April 2023
-
to 05 November 2023
From 01 January 2024
-
to 31 December 2024
Location
In the heart of Sardinia, in the cool Supramonte countryside, wrapped in the ancient quietness of vineyards and olive groves, where the air smells of myrtle and rosemary. The Hotel Su Gologone is one of the legends of Sardinian hospitality and is absolutely very suggested for a romantic holiday.
Hotel
The charm of the Hotel Su Gologone, in the countryside of northern Sardinia, resides all in its unique blend of suggestive atmosphere, quality, service, comfort and tradition. In the green, silent park, the buildings are scattered amid gardens, arcades, courtyards and stone alleys shaded by lentisks, olive and medlar trees, next to a large swimming pool of spring water overlooking the soft, slivery horizons.
Rooms 
All rooms are comfortable and unique in its own style, as well as the different Junior Suites and fascinating Suites, also with whirlpool. The room characters are full of enchanting atmosphere, whitewashed walls, clear-blue wooden doors, antique furniture, traditional Sardinian fabrics and carpets, wooden chests, precious paintings, visible old beams of juniper wood... a real romantic refuge.

Restaurant 
In the lavish atmosphere of the restaurant Su Gologone, the guests are welcomed in front of a hundred-year-old fire-place, amid ancient farming tools, copper utensils and tableware, precious paintings and old ceramics; or, on a milder day, on the charming terrace frescoed by cascades of flowers. Each season has its own specialities.
At the Hotel Su Gologone what once was reserved for special occasions only, can now be enjoyed every day. A rich heritage of gastronomic culture reinterpreted by employing exclusively products of the generous Oliena territory: bread and vegetables, meat, cheese, olive oil and wine.
Here our guests can taste that expert hands knead, fold and unfold into dough, caskets of delights that unveil unique flavour to the palate. And roasts of meat made golden and succulent in the aromatic fire of the huge fire-place. And sweet temptations, innumerable short pastry and almond delicacies whose secret recipes are jealously kept.
Here finally, the joy of the palate and that of the spirit are combined in a wine of great character: the Cannonau.
Services & Activities 
Several restaurants and bars are available as well a nice spring water swimming pool with relaxing areas, bicycles, children's playground, excursions on 4-wheelers, wellness treatments at the Spa, Art exhibitions, cooking classes, art & craft classes and a lot more, to fully satisfy your stay at the Su Gologone.
Moreover at guests' disposal are a tennis court, mini soccer court, fitness area, mini golf.
Pets are welcome, on request, with a supplement of approx. € 10 per day. 
<< Slow & Chic Sardinia
Rooms Hotel Su Gologone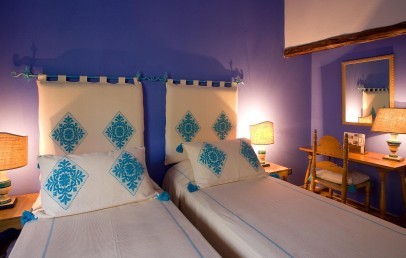 Double or twin beds Double rooms, all difference each others and finest furnished. Elegant with their whitewashed
read more »»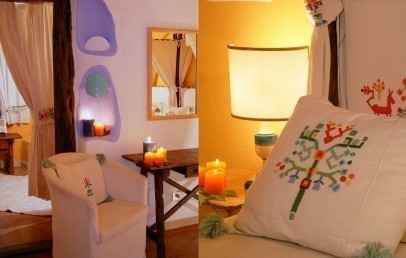 approx. 18-22 sq.m. / double bed or twin beds Spacious double rooms with the possibility of 3rd
read more »»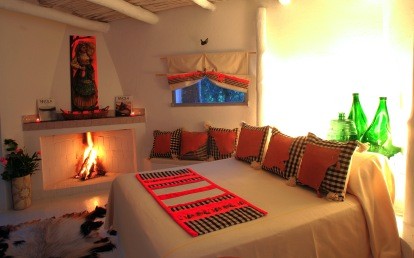 approx. 40 sq.m. / double bed Suites for a romantic stay. The double room and the living
read more »»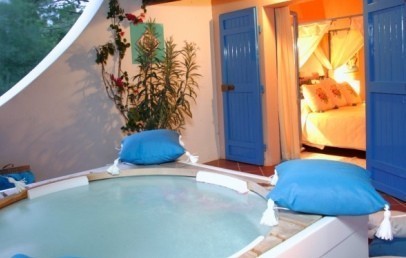 approx. 40 sq.m. / double bed Very romantic Suites. A double room and the living room with
read more »»
min. 40 sq.m. - double bed or twin bedsOpen space. Some have a sitting area separated
read more »»
In the surroundings
Cultural Centres
Tourist Centres within 30 mins. by car
Food & Drink
Restaurant
Bar
Dinner
Lunch
Breakfast
Common areas
Swimming pool
Sun terrace
Garden / Park
Outdoor lounge areas
Wellness
Whirlpool in a relaxing area
Wellness treatments
Beauty treatments
Sport
Five-person soccer field
Fitness center
Tennis
Activities
Excursions/Guided tours
Natural trails
Cooking classes
Art and Culture activities
Transport
Transfers / Shuttle Service
Other services
Shop with local products 
Billiards
In room / Private Services
Hairdryer
Air conditioning in Room
Phone in Room
Safety box in Room
Digital Terrestrial TV
*NB: The services may not be fully available / working and subject to change for reasons beyond the control of CharmingItaly.com who declines every responsibility.
Map Hotel Su Gologone
Please select the points of interest you want to display on the map
Extra Hotel Su Gologone
06-04-2023 - 31-12-2023
€ 50 per person per day/ € 25 for children aged 3-11 years
*NB: The offers are not valid for all rooms. To find out, which rooms and periods the offers apply to, please check our online-booking portal.