Via Padula Piatta 3/5 (Loc. Barrabisa) -
Useful Info
Nearest beach – 400 m from the main services
Olbia airport - 45 kms
Nursery, Baby Club, Mini Club, Junior Club, Young Club
Pets not allowed
Charming's opinion
Just a few hundred metres from the crystal-clear sea of northern Sardinia, this resort is in typical Mediterranean style, with architectural features and colours blending in perfectly with the surrounding scenery. Recommended to families with kids
Check In:
24-09-2023
Check Out:
25-09-2023
Nights
1
Clients:
0 Adults
Modify
Opening Period : iGV Club Santaclara

Location
On the north-eastern coast if the island, 8 km from Palau, iGV Club Santaclara overlooks a splendid bay, and faces the islands of Spargi and La Maddalena.
Olbia Airport is just 45 km distant and the port 40 km. 
Hotel
Perfectly set amidst lush plant growth, iGV Club Santaclara is a resort with zero environmental impact, with ISO 14001 certification. It offers a total of 290 rooms and a host of services for adults and kids alike.
Rooms
The resort iGV Club Santaclara consists of several buildings set in the garden, for a total of 290 rooms. All of them have an external area (balcony, veranda or patio), AC and small safe. Wi-Fi not available.
The cost of your room includes: group sports classes and the use of sports facilities as specified under the heading "Sport", the Nursery and entertainment (Baby Club, Mini Club, Junior Club, Young Club), beach service (with the exception of beach towels, which attract payment).
Check-in is from 17.00 hrs and check-out by 10.00 (possibility of late check-out, on request and subject to availability). 
Beach
The beach can be easily reached with a ten-minute walk, by following a pathway winding through bushes, or by using the shuttle bus; it offers a clear blue sea with softly sloping depths, ideal for children. The distance from the beach to central services is about 400 m. The shuttle bus has 12 seats and runs throughout the day.
The beach service (a beach umbrella and two sun beds per person) is free of charge, subject to availability, while the beach towels attract payment: the cost is € 10.00 for the deposit and € 5.00 for rental. 
Wellness Centre
The resort has a small wellness centre, offering massages and beauty treatments, for relaxing self-care breaks. 
Sport
At the iGV Club Santaclara there are numerous sports activities on offer and guests have the opportunity of taking part in many group activities, throughout the day: free group classes include sailing (catamarans), windsurf, daytime tennis, archery, fitness, aqua fitness (in July and August spinning is usually on offer too). The sports courts and equipment may be used free of charge (5-a-side football, two tennis/basket/volley ball courts) beach volley, ping pong, bowls, canoeing, SUP. There is no equipped gym. 
The following activities require payment: underwater sports offered by an external diving centre, use of the tennis courts by night, tennis lessons with an instructor, swimming group and individual lessons (in July and August). 
Families
One of the outstanding features of the great iGV family is the exclusive service AIGO, designed for kids and teens, with a rich activity programme available from 09:00 to 23:00.
The Nursery (0-2-years of age) has a bottle preparation facility open round the clock, a nap room, a play room and a specialist doctor (available during surgery hours, or by phone at all hours).
The Baby Club (3-5 years of age) offers a host of day and evening activities, and the chance to eat with the activity staff. 
The Mini Club (6-10 years of age) has a series of activities divided by age bracket. Play area, activities, reserved area on the beach. 
The Junior Club (11-13 years of age) offers many activities including sports, excursions, dancing and theatre. 
The Young Club (14-17 years of age) offers a wide range of activities, courses and get-togethers for the youngsters. 
Restaurant
Breakfast, lunch and the evening meal have buffet service and are served in the main restaurant. 
The full-board service offered by the resort includes the evening meal on the day of arrival and lunch on the day of departure (it is not possible to make any changes, nor is reimbursement offered for meals not taken). Main meals include bottled water and a jug of wine. The assignment of a fixed table is not available, with the exception of guests purchasing the Platinum Plus Card.
Alternatively, guests can eat at the Ristorante Terrazza, open during the high season (booking required).
Services & activities 
iGV Club Santaclara offers a rich and varied programme of day-time and evening entertainment, including sports tournaments, games, cabaret, piano-bar, comedies and shows. It is also possible to organise excursions and tours to visit the main centres of northern Sardinia and the smaller islands. The resort has two bars, a small bazaar-boutique, open-air vehicle parking (not staffed) and several pools for the free use of guests, as well as a cinema screening films catering for a range of tastes and ages.
The Platinum Plus Card can be booked at the same time as your room and paid for at the resort; it costs €300.00 per week and includes a reserved beach umbrella on the beach; early check-in and late check-out subject to availability; a daily paper; beach towel service without deposit and with a daily change; an assigned table in the restaurant: limited availability.
Sorry – no pets. Wi-Fi connection is available in the Hall, at a cost of € 15.00 per week.
<< Budget Family Hotel
Rooms iGV Club Santaclara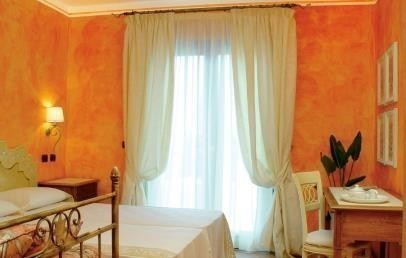 17 sq.m. - Double bed or twin bedsStandard rooms are located on the ground floor or
read more »»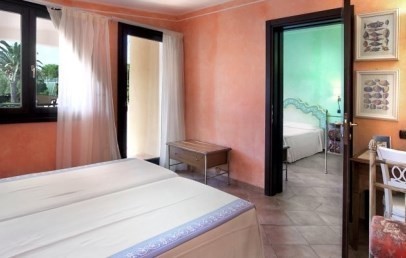 17 sq.m. - Double bed or twin bedsInterconnecting Standard rooms, located on the ground floor or
read more »»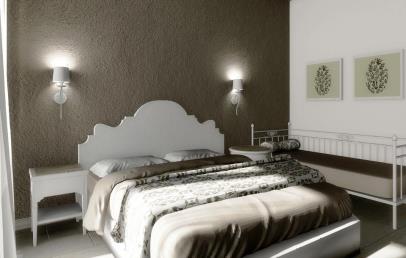 23 sq.m. - double bed + twin bedsThe Suites have two different arrangements but always with
read more »»
17 sq.m. - Double bed or twin beds Deluxe with sea view rooms, totally refurbished, are located
read more »»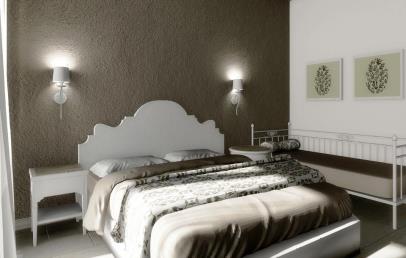 23 sq.m. - double bed + twin bedsThe Suites have two different arrangements but always with
read more »»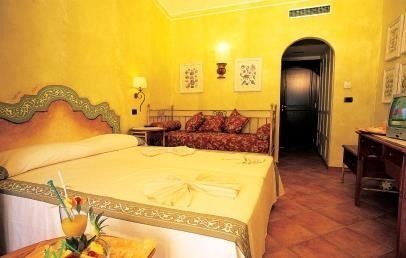 17 sq.m. - Double bed or twin bedsThese rooms can have up to three beds (some
read more »»
17 sq.m. - Double bed or twin beds2 Standard adjacent rooms. Standard rooms are located on
read more »»
Family
Nursery
Baby Club
Mini Club
Junior Club
Entertainment
Night entertainment service
In room / Private Services
Hairdryer
Air conditioning in Room
Phone in Room
Safety box in Room
Digital Terrestrial TV
Minibar
*NB: The services may not be fully available / working and subject to change for reasons beyond the control of CharmingItaly.com who declines every responsibility.
Map iGV Club Santaclara
Please select the points of interest you want to display on the map
Get More iGV Club Santaclara
01-01-2023 - 31-12-2023
Only for our customers: no iGV handling fee (you save: € 60,00 per each adult, € 35,00 for children 2-11 y.o.)
*NB: The offers are not valid for all rooms. To find out, which rooms and periods the offers apply to, please check our online-booking portal.