Via Civita, 28 -
Matera (Basilicata) (Matera) Puglia
Useful Info
Bari-Palese Airport – 65 km
Town – Matera 
Nearest beach – 50 km 
Rooms – 18
Lunch and dinner – not available  
Small pets allowed – yes 
Charming's opinion
Staying at Le Grotte della Civita, offers a truly unique and worth telling experience. Created inside the caves themselves, in the heart of Matera – the city of the famous "stones". The hotel looks like a movie set, becoming the
Check In:
12-12-2023
Check Out:
13-12-2023
Nights
1
Clients:
0 Adults
Modify
Opening Period : Le Grotte della Civita
Open all year round
Location
Le Grotte della Civita hotel is located in the heart of the old town of Sassi di Matera, a place of great historic and architectural value, recognized and protected by the UNESCO as a World Heritage. La Civita is the oldest part of the Sassi, considered as the hidden heart of ancient pastoral communities, which now houses, in its caves, a particularly popular and charming compound hotel with its rooms spread across different buildings.
Charming suggests you to rent a car to reach your desired hotel.
Hotel
Le Grotte della Civita is a compound hotel that was built thanks to a unique project that has preserved the original spaces, with respect, through extreme choices. The 18 rooms were obtained from cliff caves and the common area was once a rupestrian church. The hotel is characterized by the unique shape of its spaces and for the minimalist furniture embedded into the rock that doesn't create an excessive contrast, but enhances the large size of individual rooms. The irregularities of the surfaces welcome the few pieces of furniture made with simple shapes and secular material recovery. The hotel Le Grotte della Civita is an intriguing dwelling of unique charm, that offers its guests an unforgettable experience.
Rooms
Le Grotte della Civita is composed of 18 rooms spread over eighteen different caves. The rooms are large and characterized by special light effects. The decor is basic and simple, made with recycled materials.You may choose between the Classic and the Superior rooms, the Suite and the Executive Suite which differ in the square footage and include a fresh fruit basket in room upon arrival, fresh water every day and a delicious breakfast with local products served in a thirteenth century rupestrian church.
Restaurant
Guests of Le Grotte della Civita can have breakfast in the rupestrian church of the thirteenth century beside the hotel. In the evening, the church becomes an even more soft and beautiful place and, on request, you can participate in wine tastings and dinners with local products with classical music playng in the background.
Services & Activities
At disposal of the guests there is the Cripta della Civita, a common space converted from a rupestrian church. Le Grotte della Civita organize exclusive guided tours (Sextantio), bike tours and trekking paths in order for you to get to know the beautiful city of Matera. For wine and food lovers it will be possible to request exclusive dinners and tastings.

<< Slow&Chic Apulia
Rooms Le Grotte della Civita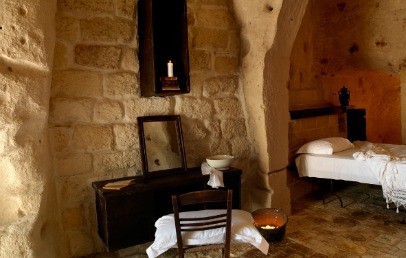 35 sqm - Double bed Double rooms with double bed. Obtained from different caves of
read more »»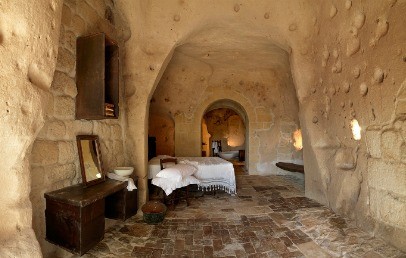 70 sqm - Double bed Double rooms with double bed. Obtained from different caves of
read more »»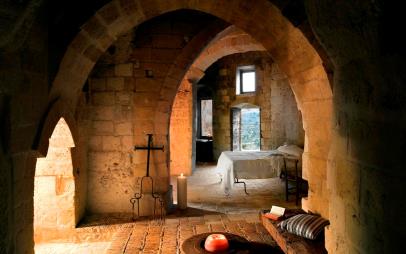 up to 100 sqm - Double bed Double rooms with double bed. Obtained from different
read more »»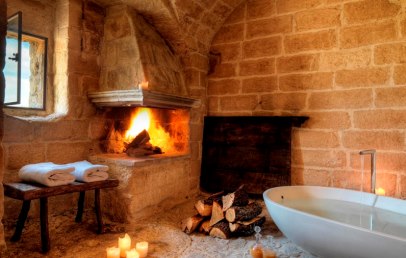 up to 160 sqm/Double bed Obtained from different caves of which the compound hotel is composed,
read more »»
Internet
Wi-Fi in the whole structure
In the surroundings
Cultural Centres
Tourist centers within walking distance
Tourist Centre within 10/15 mins. by car
Nightlife / Clubs / Bars Lounges
Activities
Excursions/Guided tours
Trekking
Guided tastings
*NB: The services may not be fully available / working and subject to change for reasons beyond the control of CharmingItaly.com who declines every responsibility.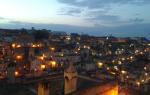 Why should you put a visit to Matera on your to-do list?Italy is home to the largest number of UNESCO World Heritage Sites in the world, with a great selection of them down in southern Italy
read full article >>
Map Le Grotte della Civita
Please select the points of interest you want to display on the map
Video Le Grotte della Civita
Get More Le Grotte della Civita
01-01-2023 - 31-12-2024
Only for Charming customers: a fruit basket in the room upon arrival
*NB: The offers are not valid for all rooms. To find out, which rooms and periods the offers apply to, please check our online-booking portal.