Contrada Porto Ponente - Vulcano -
Isola di Lipari (Messina) Sicily
Useful Info
Nearest beach – Sabbie Nere (direct access from the hotel, 50 m)
Equipped beach – YES, at 350 m distance 
Rooms – 89  
Suites with sea view
Breakfast buffet, dinner served at the table
Milazzo Port – 45 min. by hydrofoil
Catania Airport – Milazzo, 145 km
Check In:
12-06-2023
Check Out:
13-06-2023
Nights
1
Clients:
0 Adults
Modify
Opening Period : Mari del Sud Resort
From 01 June 2023
-
to 01 October 2023
From 01 January 2024
-
to 31 December 2024
Location
A spectacular location on the magnificent island of Vulcano, one of the Aeolian Islands: a timeless place with unspoilt, luxuriant nature. The Mari del Sud Resort means peace, flavours, traditions and extraordinary beauty, between the deep blue of the sea and the volcanic Crater. The resort has direct access to the famous 'Sabbie Nere' (Black Sands) beach.
Hotel
Large, bright spaces, elegant and unpretentious; the Mari del Sud Resort is an invitation to relax and a delight to the eyes: every corner offers glimpses of the sea, the islands, the Volcano and the garden the resort is immersed in.
A Mediterranean garden with great naturalistic worth, where you can wander among native species of the isle of Vulcano, aromatic herbs and prickly pears, bougainvillea and plants of African origin, each with an explanatory label and details.
Rooms
The facility has 89 rooms, 84 of which are Classic rooms and 5 Suites. The furnishings and atmosphere are typically Mediterranean; a special feature of the rooms is the beautiful, hand-painted ceramic tiles, which are part of the Sicilian-Arabic culture in typical Aeolian fashion.
Classic – can be double, triple or quadruple rooms and are composed of a single room.
Suites – are the most spacious of the hotel and can accommdate up to 4 people. 
Beach
The Mari del Sud Resort is on the Baia di Ponente, better known as "Sabbie Nere" due to its volcanic origins. On this beach, at approximately 350 m distance, is the beach facility for the hotel guests with special price conditions to rent umbrellas and sunbeds. If you walk through the little streets with their shops and stalls you'll come to the Baia di Levante, also called "warm sea" due to the volcanic gases that bubble under water.
Wellness Centre
At the resort's Beauty Point guests can book various kinds of massage and beauty treatments, some of which use local natural resources.
Sports
Close to the hotel you can rent canoes, go diving, sailing and windsurfing, go for bike-rides, guided excursions and take kayak courses; a breath-taking trek will take you to the top of the Great Crater; you can take trips inland or underwater, or discover the island by mountain bike.
Families
The Resort is suitable for holidays with children as it provides also special kids amenities, so as to make the holiday pleasant and relaxing for parents, too. The swimming pool has a special zone for them which is only 50 cm deep; they can also play in the garden and do sports like mini-volleyball, basketball, treasure hunts and more. At the restaurant there are high chairs, baby menus, baby food, small cutlery and children's plates. Plus: swings, wooden gym apparatus and games for toddlers. Table football, ping-pong, an amphitheatre, trips to the volcano and diving courses for older children.
Restaurant
At the Baia di Ponente panoramic restaurant guests can taste the delights of creative cookery linked with traditional dishes. Thanks to the traditional wood-oven, tasty pizzas and focaccia can be eaten straight out of the oven. The Resort also has three refreshment facilities: 
Le Sabbie Coffee Corner – in the hall, open all through the day.
Baia di Ponente Bar, a place for guests to meet and a splendid terrace overlooking the sea.
American Bar Tramonto, with high-class cuisine, sometimes accompanied by jazz concerts.
Services & Activities
A delightful swimming pool is to be found in the Mediterranean garden, not far from the equipped beach with umbrellas and sun-beds. It has a whirlpool corner and two depths, the shallowest at 50 cm being suitable for the smallest guests.
Throughout the entire season a soft entertainment program will be provided, focusing on some sports activities: muscle toning, gymnastics, sports activities (4 during the day).
From June 15th to September 15th there will be an animation program for adults and children. 

 
<< Hotels on the islands
Rooms Mari del Sud Resort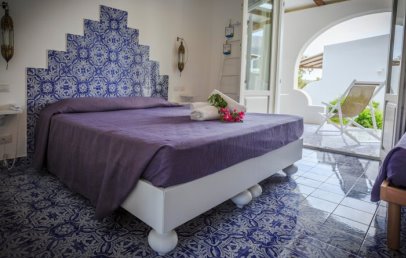 Double bed or separate beds Classic rooms have furnishings and appeal that is typically Mediterranean; they consist
read more »»
Common areas
Lounge areas indoor
Outdoor lounge areas
Sun terrace
Garden / Park
Swimming pool
Entertainment
Night entertainment service
Sport
Diving center
Surf/windsurf/kite lessons
Water Sports
Wellness
Beauty treatments
Massages
Activities
Trekking
Excursions/Guided tours
Natural trails
Rubber boat rental
*NB: The services may not be fully available / working and subject to change for reasons beyond the control of CharmingItaly.com who declines every responsibility.
Map Mari del Sud Resort
Please select the points of interest you want to display on the map
Extra Mari del Sud Resort
01-01-2023 - 31-12-2024
Baby cot for the child up to 2 years old to be requested upon confirmation of the booking and to be paid locally: € 10,00 per day
*NB: The offers are not valid for all rooms. To find out, which rooms and periods the offers apply to, please check our online-booking portal.