Cala di Lepre Park Hotel and SPA
Useful Info
Dine at
Rooms – 160
Distance beach – approx. 70 m from the pool, free beach
Beach service – YES (extra charge)
Olbia airport – 42 km
Nearby – Palau 3 km 
Pets allowed – NO
Charming's opinion
The Cala di Lepre Park Hotel & SPA is located on two small hills that slope gently toward the sea and close to Palau, in a very quiet area. The view is spectacular and the atmosphere is cheerful and relaxed. We recommend the Cala di Lepre
Check In:
19-10-2018
Check Out:
20-10-2018
Nights
1
Clients:
0 Adults
Modify
Opening Period : Cala di Lepre Park Hotel and SPA

Location
The Cala di Lepre, part of the Hotel Chain Delphina Hotels & Resorts, is located in the enchanting site of Capo d'Orso, almost in front of the National Marine Park of the Archipelago of La Maddalena, at the limits of Costa Smeralda, 3 km far from Palau, 39 km far from Olbia. It is set on a hillside immersed in Mediterranean maquis and whose main inhabitants are little wild animals such as tortoises, hedgehogs, weasels, red partridges, turtle-doves and hares, etc..
Hotel
The Cala di Lepre is a perfect choice for nature lovers and guests who love walks on the countryside or any excursions by horse or bike. Small bays and promontories do colour the scenery, changing between sea, hills and rocks sculptured – over the years by the wind – a good example is the "Bear Rock" (Roccia dell'Orso), just a short walk away.
The Snack bar with grill with covered ample veranda is nearby.
Rooms
160 rooms and suites, with independent entrance and equipped terrace, all situated on the ground floor in two diffrent zones.
"Parco Rooms" are situated in a particularly quiet area, rich in vegetation, perfect for nature and relax lovers (approx. 400-600 m from the sea). Breakfast served at the close restaurant "Le Terrazze".
"Golfo Rooms" are situated closer to the main part of the hotel and approx. 200-400 m from the sea. Breakfast served at the main restaurant "Arcipelago".
Standard – bedroom with a double bed (twin beds only on request). For 2 adults + 3rd person in an inbuilt bed on the wall.
Suite – bedroom with double bed plus a separate lounge area with 2 single sofa beds, ideal for two adults with the possibility of a 3rd and a 4th person.
Senior Suite – same as the suite, additionally a second bedroom with twin beds (double bed only upon request).
All the rooms have a terrace with 2 deckchairs (or 2 chairs + table), shower, air condition, TV with satellite channels, hairdryer, minibar, safety box and beach towels. The Suites and Senior Suites have moreover a patio on the backside with table and chairs, 2 TVs and 2 air conditioners, one in each room.
Beach
The beach and sea is approx. 70 m away from the swimming pool area and 200-600 m from the rooms. The beach is public, umbrellas and sunbeds are available against payment.
Sunbeds by the swimming pool and a wooden sun terrace by the sea are available free of charge. The sun terrace around the seawater-pool with a small adjacent pool for children is equipped and only a few steps from the beach away.
Wellness Centre
The Wellness Centre "d'Ea Marina Spa" offers thalasso-therapy in harmony with the surrounding nature and the perfumes of the flowers and the junipers. A place where you can relax and regenerate with relaxing and reinvigorating treatments, it is equipped with multifunctional cold and heated sea water pools for thalasso circuits and special water gym exercises, Turkish bath, sauna, fitness centre, relaxation room, elegant cabins equipped for specific beauty and relaxation treatments, gazebo for open air massages.

PS: An self-certification of "good health" is required to complete on-site, before attending any kind of treatments and for use all facilities. Packages for pregnant ladies exclude some kind of treatments. The access is not allowe to guests under 18 years old; guests from 14 years on are allowed if they enter with a parent or have a written permission signed by them.

Upon booking you may request to our booking assistants further information about all the available packages at "d'Ea Marina Spa", it will be our pleasure to advice and book for you the best treatment that will complete your wellness holiday package.
The Spa is open 6 days a week during the afternoon.
Families
Free assistance to children from 3 to 14,99 years from 20-05 to 14-09, 7 days a week from 9.30 am to 11 pm, excluding the sport activities on Saturday. Upon reservation it is possible to have lunch and dinner with the staff of the animation in a reserved area of the restaurant (with supplement for children on half board basis). A large play area is available for youngest children and an equipped nursery is available 24 hours a day.
Several sport activities are available for the older children (tennis, beach volley, soccer, arch and dance), further more they have the opportunity of getting free riding lessons (age between 8-14) in the hotel horse riding school with a minimum of 3 partecipants.
Restaurant
Delphina Hotels & Resort is renowned in Sardinia for its high-quality restaurants and Cala di Lepre Park Hotel & Spa follows this tradition, offering a genuine and tasty cuisine and 2 different alternative choices: L'Arcipelago the main restaurant with view on the Gulf of Saline and Le Terrazze a panoramic restaurant, for dinner with candlelight setting (with supplement).

Breakfast for guests staying in the "Parco" area is the restaurant Le Terrazze from 08.00 to 10.30 am available (or at L'Arcipelago from 07.30 to 08.00 am) – for guests staying at the "Golfo" area is the main restaurant L'Arcipelago is available from 07.30 to 10.30 am.
Lunch
In the main restaurant the Brunch Mediterraneo® from 13.00 to 14.30 is opened for a light lunch (€ 26,00 p.p.) without giving up the pleasure of a good cuisine: a buffet of hot pasta dishes, delicious cold dishes based on cereals, legumes and vegetables, salads, fruits and local cheeses. The traditional second courses of meat and fish and sweets are not served at this buffet.
Or as an alternative grill dishes, rich salads, sandwiches and ice creams at the pool bar.
Dinner (19.30-21.30 in low season; 19.30-22.00 in high season) – a rich buffet of Mediterranean cuisine on the terrace of the main restaurant L'Arcipelago – theme menus with table service on the panoramic and romantic terrace of the restaurant Le Terrazze (on reservation, with a supplement of € 10 p.p.).
Furthermore, you will have the chance to take advantage of the Brunch Around, in some others Delphina Group Hotels (details and prices on request).
Upon request, at the moment of the reservation, personalized gluten-free menus.
The opening of the restaurants and bars is at the discretion of the Management.
Services & Activities
Private parking of the hotel (unattended). Reception open 24 hours. After dinner live music, amphitheater with entertainment for children and occasionally evening shows. Beach volleyball field, 2 tennis courts, archery, soccer field on synthetic grass.
The Wi-Fi connection is complimentary available at the reception, pool area and around the restaurant "Le Terrazze".

<< Family Hotels Sardinia
Rooms Cala di Lepre Park Hotel and SPA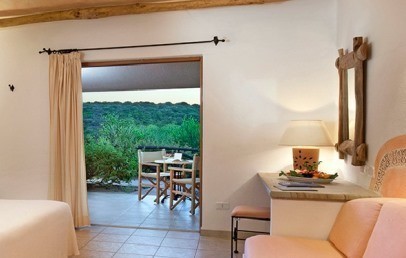 Double bed Double room located in the park area, a particularly quiet space, rich in vegetation and
read more »»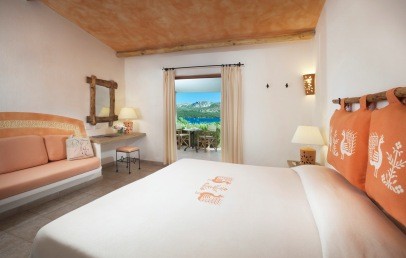 Double bed (twin beds on request) Double room located in the park area, a particularly quiet space,
read more »»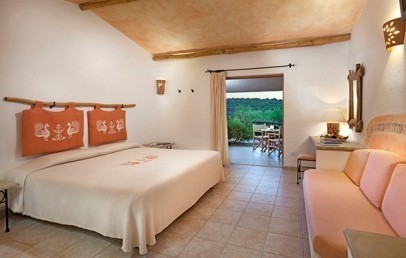 Double bed (twin beds on request)Double room located in the Golfo area, closer to the main
read more »»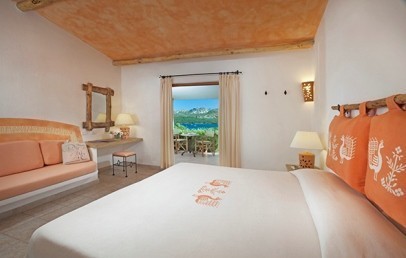 Double bed (twin beds on request) Double room located in the Golfo area, closer to the main
read more »»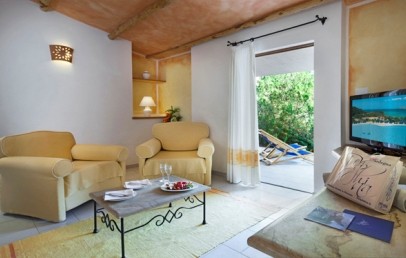 37 s.qm. - Double bed and two armchair foldout beds Large Suite located in the Parco area,
read more »»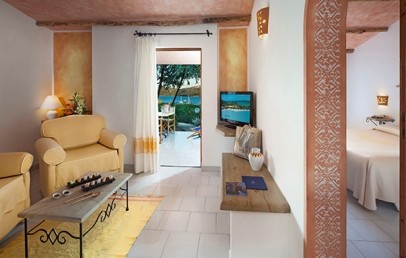 37 s.qm. - Double bed and two armchair foldout beds Large Suite located in the Parco area,
read more »»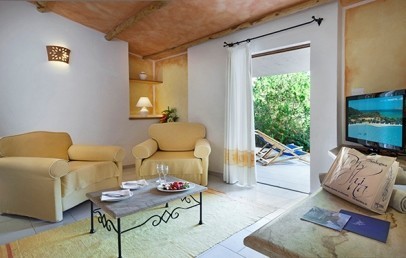 Double bed and two armchair foldout beds Large Suite located in the Golfo area, closer to
read more »»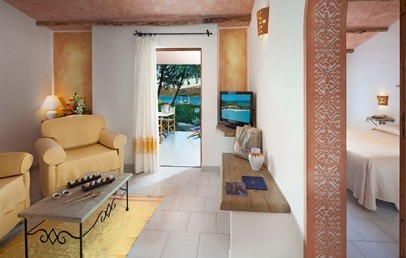 Double bed and two armchair foldout bedsLarge Suite located in the Golfo area, closer to the
read more »»
In the surroundings
Selection of beaches
Tourist Centre within 10/15 mins. by car
Nightlife / Clubs / Bars Lounges
Family
Mini Club
Junior Club
Baby service
Kids Playground
General information
Swimming pool
Sun terrace
Garden
Outdoor lounge areas
Beach
Beach service
Equipped Beach
Beach towels
Sport & Wellness
Wellness centre
Sauna
Turkish bath
Fitness room
Beauty treatments
Wellness treatments
Tennis court
Five-person soccer field
Volleyball court
Archery
Diving center
Surf/windsurf/kite lessons
Other services
Parking
Internet in room
Car rental
Scooter rental
Night entertainment service
Internet at the reception
*NB: The services may not be fully available / working and subject to change for reasons beyond the control of CharmingItaly.com who declines every responsibility.
Map Cala di Lepre Park Hotel and SPA
Please select the points of interest you want to display on the map
Video Cala di Lepre Park Hotel and SPA