Via San Pietro Caveoso 66 -
Matera (Basilicata) (Matera) Puglia
Useful Info
Bari Palese Airport - 60 km
Nearby location - in the heart of Matera; Bari 60 km
Nearest beach - 40 km
Rooms - 7
Check-in - 13.00
Check-out - 10.30
Late check-out - on demand
Breakfast - 07.30-10.30
Lunch - 13.00-15.00
Dinner - 20.00-23.00
Pets allowed - NO
Charming's opinion
Old historic mansion of the 1600 refurbished in a modern but traditional way, this hotel is in the heart of Matera and the rooms, in the caves, are very peculiar. Suitable for dynamics couples with a taste for adventure and always looking for new
Check In:
25-09-2023
Check Out:
26-09-2023
Nights
1
Clients:
0 Adults
Modify
Opening Period : La Casa di Lucio
Open all year round
Location
Located in the center of Sasso Caveoso, in the beautiful town of Matera, La Casa di Lucio is only a few meters from its historic center. The nearest airport is Bari Palese, which is about 60 km far from the hotel.
Hotel
Born from the renovation of an ancient house of the 16th century, La Casa di Lucio immediately transmits the feeling of being in another dimension, such is the fascination that the ancient walls can inspire. This charming historic house is decorated with light colors, with a mix of modernity and tradition that makes it truly unique.
Rooms
Guests are welcomed in the fascinating cave dwellings, simply furnished and decorated with light colors. Formerly, these cave dwellings were inhabited by large families and sometimes even by animals. One of the houses, surveyed as a rupestrian church, was once one of the 23 parishes where the mass was celebrated until 1625. All the seven rooms have a separate entrance. The typologies of room available are the following ones:
Deluxe - carved into the rock, are minimum 35 sqm wide and have a shower. The smallest one is completely dug out of tufa
Junior Suite - 40 sqm with shower and color therapy
Suite - are 55 sqm wide. Some are carved into the rock and have a bath with color therapy. Those which are not carved in stone, however, have a bath and a small balcony
Restaurant
The Restaurant "Regia Corte", entirely carved into the tufa, is about 100 meters from the hotel. Here, guests can taste the typical dishes of the Mediterranean tradition. The restaurant has a panoramic terrace, the Lounge Terrace, which offers a stunning view of the Murgia Park. Breakfast at La Casa di Lucio is served in a large and very charming room in tufa, and is based on own production products such as jams, cakes, pies and various omelettes.
Services & Activities
Small courtyard with tables and sofas, where guests can have a coffee and read newspapers enjoying absolute peace of mind. Internet is free and available at the reception or via cable in the rooms.


<< City Hotels

Rooms La Casa di Lucio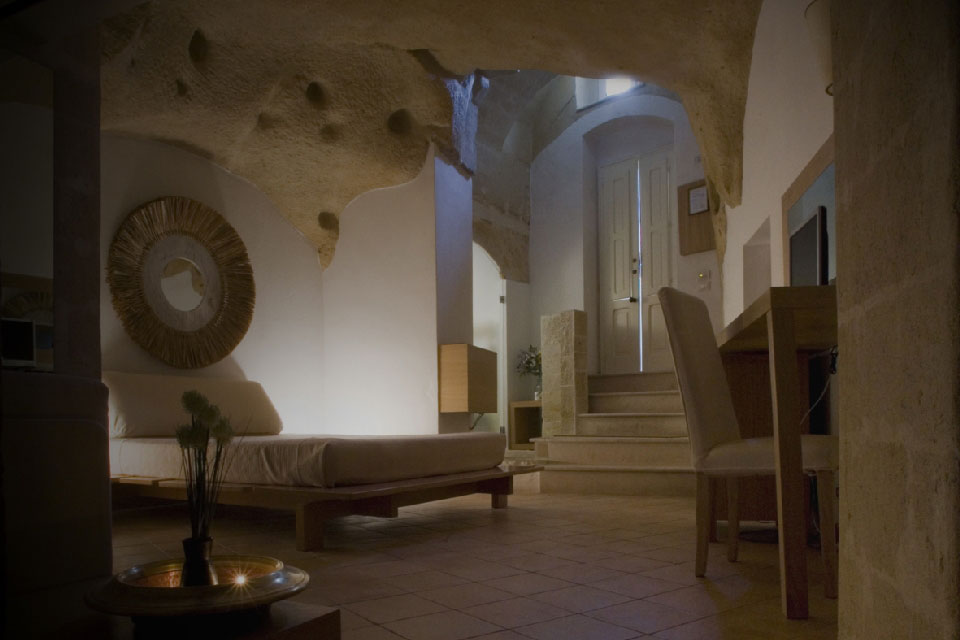 approx. 35 sqm - double bed Deluxe rooms are carved into the rock. The decor
read more »»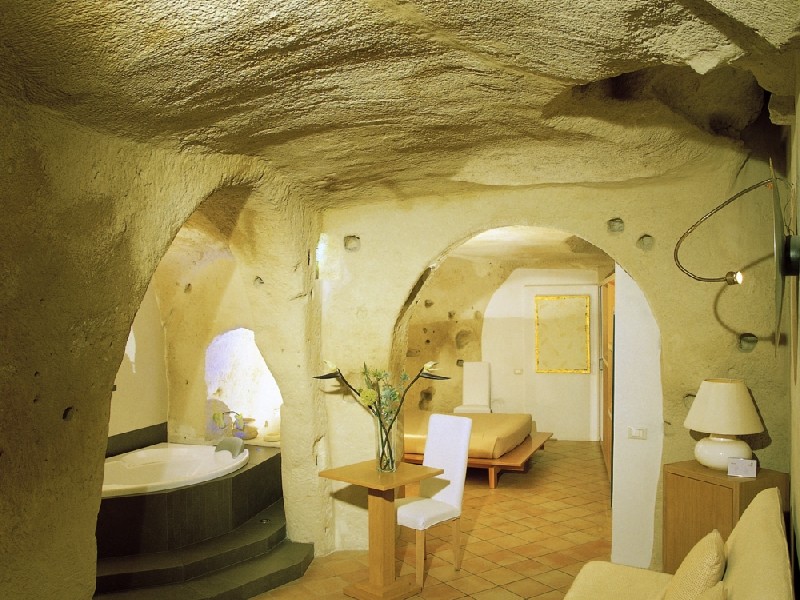 approx. 55 sqm - double bed Suite with double bed. Some are carved into the
read more »»
In the surroundings
Cultural Centres
Tourist centers within walking distance
Tourist Centre within 10/15 mins. by car
Tourist Centres within 30 mins. by car
Transport
Transfers / Shuttle Service
*NB: The services may not be fully available / working and subject to change for reasons beyond the control of CharmingItaly.com who declines every responsibility.
Map La Casa di Lucio
Please select the points of interest you want to display on the map