Useful Info
Rooms – 36
Check-in from 15h00
Check-out until 12h00
Breakfast – 07h30-10h30
Lunch/Light Lunch from 12h30 to 14h30 
Snack Area by the external pool (Al Fresco Pool Bar) from 14h30 to 19h00 
Dinner – 19h30-22h00 (dress code: long trousers for man requested)
Small pets allowed – yes, with supplement of approx. € 30 per day 
Charming's opinion
An ancient building, overlooking the enchanting Tuscan countryside. The ideal place for those who want to alternate moments of peace and relaxation with the visit of the villages and towns of the region.
Check In:
06-06-2023
Check Out:
07-06-2023
Nights
1
Clients:
0 Adults
Modify
Opening Period : Hotel Le Fontanelle
From 12 April 2023
-
to 01 November 2023
From 01 January 2024
-
to 31 December 2024
Location
Hotel Le Fontanelle overlooks, like a large panoramic terrace, on one of the most fascinating views of the Tuscan countryside. Surrounded by lush vineyards and olive groves, secluded in an exclusive corner of the valley of Chianti Classico, it enjoys an enviable position. Ideal for those looking to getting away from the fast-paced world we live in to indulge in pure relaxation, not missing the chance to visit great cultural attractions and have great gastronomic experiences. In fact it is located only 20 km from Siena and 80 km from Florence, offers the opportunity to discover the charm and richness of the Italian Middle Ages and Renaissance.



Hotel
The property is an ancient country estate. The main building dates back to the thirteenth century. It is named after an ancient stine fountain used to collect water from a spring, which have been preserved until today. The wise renovation of the residence has revived its ancient architectural splendour without losing sight of certain details and surely paying attention to provide all the modern amenities. The stone facade is in harmony with the surrounding nature, while the interiors are bright and furnished in typical Tuscan style. The Hotel Le Fontanelle is divided into two areas: the main one and Villa Il Mandorlo. In the main building are located the reception, the gourmet restaurant, the bar, the two swimming pools and small spa. The furniture has been accurately chosen to make every corner as compfrtable as possible. For example the common areas of the house where guests can relax and enjoy the breathtaking view and sit in front of the fireplace. This petit hotel has become one of the most renowned boutique hotels in Tuscany, where you can still spend your holiday completely abstracted from everyday life and reconnect with your natural primitive dimension.
Rooms
The 36 rooms of Hotel Le Fontanelle are divided in 5 different categories: Classic, Prestige, Deluxe, Junior Suites and Suites, located into the several locations of the property, some overlooking the pool, or the vineyard or the garden. All rooms are decorated with a charming Tuscan style and feature ceilings with wooden beams and terracotta tiled floors. They are all characterized by great style where simplicity and elegance blend to form bright and warm environments in which to enjoy of a familiar harmony. All are equipped with modern comforts such as safe, hairdryer, satellite TV with LCD screen, wireless internet, minibar.
Some rooms are located in the annex 450 meters away from the main area of the facility. The allocation of rooms is at the discretion of the hotel.
Included in the price: parking, use of the panoramic outdoor swimming pool, indoor swimming pool, Mountain Bikes, Wellness Corner with gym, sauna, Turkish bath and Jacuzzi.
Wellness Centre
For those who want to be pampered by different wellness treatments, the hotel offers (included in the price) a panoramic outdoor swimming pool, indoor heated pool with Jacuzzi area, sauna, the Turkish bath and large windows overlooking the breathtaking panorama of the surrounding valley. 
Restaurant
The day begins with a traditional Tuscan breakfast, with a variety of products including pastries, croissants, sandwiches, fresh fruit and juices, eggs, cheeses and cold cuts.
At lunch and dinner let the Chef will let you discover the authentic traditional Italian cuisine, with genuine flavours and local ingredients. Located in the main building, La Colonna Restaurant is a finely furnished environment with a magnificent panoramic view of the Chianti hills. A few steps away from the restaurant, the Belvedere Terrace is the perfect setting during the summer to enjoy a romantic outdoor dinner.

Guests can also use the room service and enjoy the gourmet cuisine of La Colonna Restaurant directly in their room. 
At Al Fresco Pool Bar guests can enjoy light meals and snacks , sipping some prestigious local wines, surrounded by the vast gardens and oilive trees while enjoying the spectacular views of the Tuscan countryside. Proper wine tasting can be arranged at the nearby Vallepicciola Estate.
Services & Activities
Reception 24-hour; Concierge service; free Wi-Fi available throughout the hotel Le Fontanelle; panoramic outdoor swimming pool, Wine/Gift shop where you can buy olive oil and wine produced on the estate; Vespa rental, free, private and covered garage; free use of mountain bikes. Nature lovers can spend their time on a mountain bike or take long walks on the paths around the villa and thereby discover the beauty of the surrounding countryside. Lovers of good food have at their disposal a range of food and wine tours and tasting organized in various wineries in the valley of Chianti. The gym with "Air Machine" equipment combined with massages and beauty treatments complete the offer at the Hotel Le Fontanelle, where the physical and spiritual regeneration of your body will be the natural and spontaneous consequence of a stay in this corner of paradise.
Tourist tax – The municipality of Castelnuovo Berardenga requires the payment of € 5,00 per person/overnight for the first 7 nights stay (excluding children under 13 years) to be paid on spot. 
<< Tuscan Countryside Accomodation
Rooms Hotel Le Fontanelle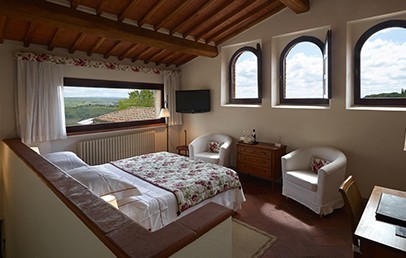 22-28 sq.m. / Double bed or twin beds (only in some rooms, possibility of baby cot
read more »»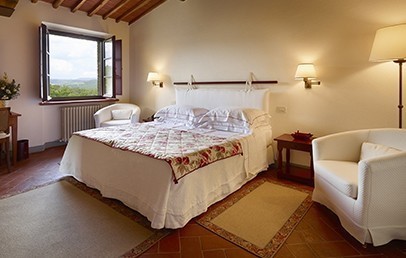 25-30 sq.m. / Double bed or twin beds (baby cot on request)Double room located in the
read more »»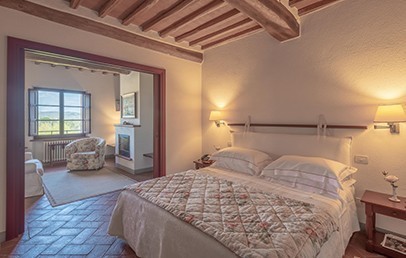 30-40 sq.m. / Double bed or twin beds (extra bed or cot on request)Deluxe rooms can
read more »»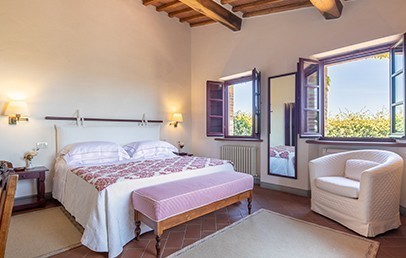 30-40 sq.m. / Double bed or twin beds (extra bed or cot on request) Cosy double rooms
read more »»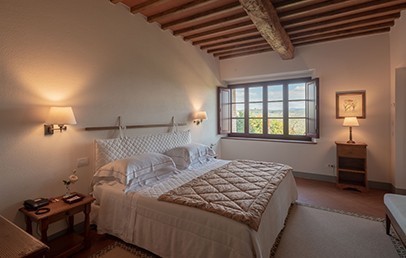 45/50 sq.m. / double bed or single beds (extra bed or cot on request)The suites are
read more »»
In the surroundings
Cultural Centres
Tourist Centre within 10/15 mins. by car
Tourist Centres within 30 mins. by car
Nightlife / Clubs / Bars Lounges
Common areas
Swimming pool
Sun terrace
Garden / Park
Outdoor lounge areas
Indoor swimming pool
Wellness
Wellness centre / Spa
Sauna
Turkish bath
Wellness treatments
Massages
Beauty treatments
Activities
Excursions/Guided tours
Natural trails
Wine&Food tours
Guided tastings
Horse riding
Internet
Wi-Fi in the whole structure
Other services
Concierge
Porter service
Shop with local products 
Laundry service
*NB: The services may not be fully available / working and subject to change for reasons beyond the control of CharmingItaly.com who declines every responsibility.
Map Hotel Le Fontanelle
Please select the points of interest you want to display on the map
Get More Hotel Le Fontanelle
01-01-2023 - 31-12-2024
Complimentary dinner on arrival day with: 3- courses à la carte menu (one course is always a dessert), water and coffee (wines not included).
The dinner must be used on the day of arrival and cannot be converted into lunch. Offer valid for stays of minimum 4 nights in Deluxe, Junior Suite and Suite.
01-01-2023 - 31-12-2024
Complimentary Massage of 30 minutes per person (adults only) the day after the arrival according to hotel availability. The appointment for the free massage will be proposed by the Hotel according to availability. Offer valid for stays of minimum 3 nights in Classic and Prestige room.
01-01-2023 - 31-12-2024
1 bottle of Chianti Red Wine of Vallepicciola (0.75 litres) with sweet surprise in the room on arrival
01-01-2023 - 31-12-2024
1 bottle of Chianti Red Wine of Vallepicciola (0.75 litres) with sweet surprise in the room on arrival +
Complimentary soft drinks from the minibar
01-01-2023 - 31-12-2024
-1 bottle of Chianti Red Wine of Vallepicciola (0.375 litres) with sweet surprise in the room on arrival
-Minibar complimentary
-Sunset aperitif with canapés served on the day of arrival at the Hotel Bar with: 1 glass of Vallepicciola wine (white or red) or 1 glass of sparkling wine or 1 cocktail per person.
Extra Hotel Le Fontanelle
14-05-2023 - 01-11-2023
Half-board supplement (to be paid on spot):
€ 70 per adult
€ 40 per child from 4 to 13 years old
€ 20 per child under 3 years 3-course à la carte menu, water and coffee included, wines NOT INCLUDED.
One course always corresponds to dessert.


01-01-2023 - 01-11-2023
Small dogs allowed: € 30 per dog/night.
A Pet Menu with room service on request from 11:30 to 22:00 is also available at an extra charge.
Dogs are not allowed in the pool and restaurant areas.
*NB: The offers are not valid for all rooms. To find out, which rooms and periods the offers apply to, please check our online-booking portal.