Masseria Corda di Lana Hotel and Resort
S.P. 110 Veglie - Torre Lapillo km.5 -
Useful Info
Brindisi Airport – 69 km 
Distance to nearby city centre – Veglie 5 km, Porto Cesareo 10 km, Lecce 30 km
Nearest beach – Torre Lapillo 6 km
Equipped beach – Yes 
Rooms – 14
Pets allowed – NO
Check In:
02-06-2023
Check Out:
03-06-2023
Nights
1
Clients:
0 Adults
Modify
Opening Period : Masseria Corda di Lana Hotel and Resort
From 01 June 2023
-
to 01 October 2023
From 01 January 2024
-
to 31 December 2024
Location
This hotel is set deep in the countryside, less than 10 km from the beaches of Torre Lapillo and Punta Prosciutto, both suburbs of Porto Cesareo. Engulfed by the silence of the Salento landscape, Masseria Corda di Lana is located about 30 km from Lecce and 69 km from Salento (Brindisi) airport.
Hotel
The farm most likely dates as far back as Mediaeval times, but the first historical records of its existence date back to the end of the 18th century with a text documenting its use as a place designated for work with huts for animals, troughs, straw, a storehouse for wares, a house for the shepherd, bread oven, a cistern and a well.
After several transformations, today Masseria Corda di Lana is a place of peace and revival; a place where you can recharge the batteries and feel at home, all the while enjoying dedicated and professional service.
Rooms
The 14 rooms at the Corda di Lana farmhouse all overlook the inner court which is presided over by a century-old fig tree and a silence only interrupted by the calls of the cicadas.
Standard – 21 sq.m. entrance from the inner court, queen-size bed, bath with shower.
Junior Suite – 42 sq.m., one large room split into day and night areas; bath with shower.
Superior – 36 sq.m., lounge area with sofa and armchairs, desk, bath with shower.
'Terrazzo' Suite – 40 sq.m., day and night areas, small private terrace, bath with shower.
Suite 'del Conte' – 55 sq.m., the hotel's most exclusive room; living room with 17th century fireplace, a king-size canopy bed; hydromassage tub and shower; small terrace.
Beach
The closest beaches are the ones in Porto Cesareo and its suburbs: Torre Lapillo and Punta Prosciutto – a marine area where guests can explore underwater life on guided tours to see coral formations and Neptune Grass.
Along the coast, guests will find a serviced beach as well as several public bathing spots. Other beaches that are well worth a visit include the stunning beaches of Salento, like Porto Selvaggio and Torre Colimena.
Restaurant
Masseria Corda di Lana's restaurant – La Capriate – has a large white-coloured dining room that boasts a country-chic style with exposed beams and stones. On summer nights, the restaurant moves to the inner court where guests can dine engulfed by the fragrance of Mediterranean plants.
The chef's creative streak – his ongoing search for new experiments – delights guests' palettes by mixing traditional flavours with modern elements. Fresh seasonal products purchased daily from local producers and fishermen are always first choice. The extra-virgin olive oil is, of course, locally produced.
Mornings at Masseria Corda di Lana kick off with a breakfast buffet of local, handcrafted products. The sweet delights on offer include pies, cakes, doughnuts, artisanal jams, bread, fresh yoghurt and freshly-squeezed orange juice, while on the savoury side there are traditional products from local producers like tomato friselline as well as a selection of cured meats and cheeses.
For the year 2021 the Hotel's Restaurant will be closed for both lunch and dinner. Guests can enjoy the Brunch service by the pool during the day, with cold dishes.
Services & Activities
Nestled in the ancient olive groves, the two stunning pools, one with a hot tub, are available for guests' enjoyment.At sunset, guests can sit back and sip on excellent cocktails prepared with fresh fruits, served at the pool side.
Guests can also take advantage of the tennis court surrounded by Mediterranean vegetation, or go jogging among the olive trees.
The pool is open from May to the end of September and access is at the management's discretion, dependant on weather conditions. 
<< Masserie Apulia 
Rooms Masseria Corda di Lana Hotel and Resort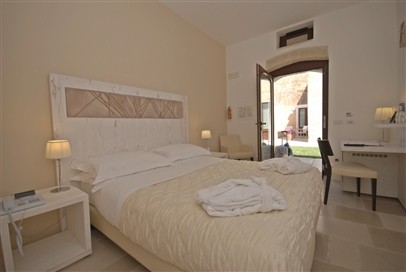 21 sq.m. / Queen-size bed Furnished in a modern style with one eye firmly fixed on tradition,
read more »»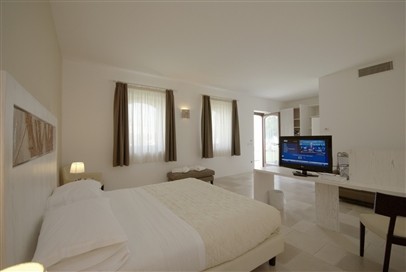 42 sq.m. – King-size bed Elegant and spacious, the Junior suites offer a king-size bed with
read more »»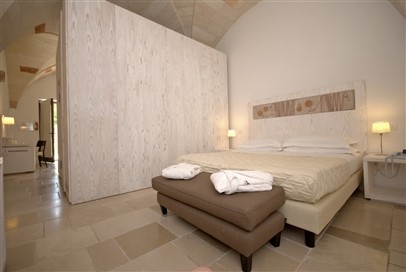 40 sq.m. / King-size bed The perfect mix of modern and traditional: these suites combine the
read more »»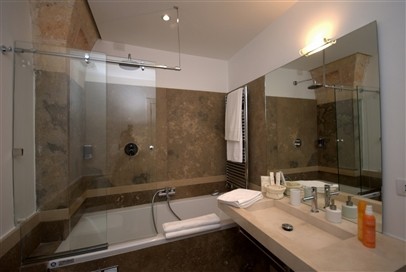 55 sq.m. – King-size canopy bed The most exclusive suite in the resort offering a bedroom
read more »»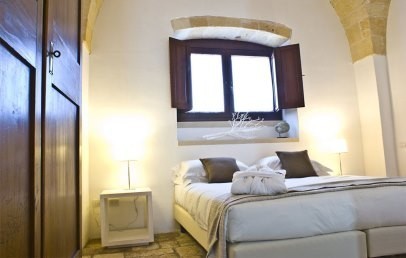 36 sq.m. / Queen-size bed It furnished in modern style with an eye turned to the
read more »»
Beach
Beach with special concession
Equipped Beach
Beach Towels provided
Beach Shuttle-bus
Common areas
Swimming pool
Sun terrace
Garden / Park
Outdoor lounge areas
Wellness
Whirlpool in a relaxing area
Internet
Wi-Fi in the whole structure
In the surroundings
Selection of beaches
Tourist Centre within 10/15 mins. by car
*NB: The services may not be fully available / working and subject to change for reasons beyond the control of CharmingItaly.com who declines every responsibility.
Map Masseria Corda di Lana Hotel and Resort
Please select the points of interest you want to display on the map
Offer Masseria Corda di Lana Hotel and Resort
Minimum stay PERCENTUALE
Special 5% reduction on your stay!
Minimum stay PERCENTUALE
15% reduction for stays from June 1st to June 30th!
Get More Masseria Corda di Lana Hotel and Resort
01-01-2023 - 31-12-2024
Only for Charming customers: one aperitif is included!
Extra Masseria Corda di Lana Hotel and Resort
01-01-2023 - 31-12-2024
Extra charge for animals in the room: € 10.00 per night
*NB: The offers are not valid for all rooms. To find out, which rooms and periods the offers apply to, please check our online-booking portal.