Piazza Umberto I, Vignacastrisi -
Useful Info
Rooms – 12 + 2 apartemts 
Rooms without TV
Nearby – Vignacastrisi  
Brindisi Airport – 95 km
Bari Airport – 210 km
Nearest beach – 3 km
Charming's opinion
Near the famous Vignacastrisi in Salento, this historical palace is outside the typical circuit for traveller but set like a gem in the beautiful Apulian village full of history and enchanting places that you wouldn't expect to find. The Palazzo
Check In:
12-12-2023
Check Out:
13-12-2023
Nights
1
Clients:
0 Adults
Modify
Opening Period : Palazzo Guglielmo
From 01 January 2024
-
to 31 December 2024
Location
In the small town of Vignacastrisi, in the Salento area, a few kilometers from the Adriatic Sea, lies the charming Palazzo Guglielmo, located in the main square. The beautiful city of Otranto is only 15 km far from Vignacastrisi, while the city of Lecce is 45 km from Palazzo Guglielmo. The airport of Brindisi is about 95 km away.
Charming suggests you to rent a car to reach your desired hotel.
Hotel
Located in the heart of the town, Palazzo Guglielmo has been for years at the center of economic and social life of the small village. Fully restored to new life in 2008, but still preserving its historical structure, the Palazzo Guglielmo is now a charming place of rest and an ideal base to visit the Salento area, just a few steps from the sea. The service is very attentive, informal, and it will make its guests feel at ease.
Rooms
Guests of Palazzo Guglielmo can choose among 8 Standard, 4 elegant Suites and 2 Apartments. Some overlook the courtyard on the inside of the Palazzo, some the small garden and others have a small terrace. All are equipped with a small sitting area, furnished with chairs/loungers and small table.
Standard – Double rooms, some with the possibility to add 1 or 2 people accommodating in a single or double sofa bed. The major part of the rooms have a bathroom with Jacuzzi tub with shower or with separate shower, some with tub and shower and some only shower. The room surfaces are from 16 sq.m. to 40 sq.m. 
Suite – The Suite are called Simeon, Fante, Tito and Lucia and can accommodate up to 4 or 5 people. They have a double bedroom and a second room with sofa bed single or double or two single beds. The bathroom has tub/shower. The room surfaces are from 40 sq.m. to 55 sq.m. 
Apartment – The apartments are the Grand Suite Sonia and Casa Margherita and can accommodate up to 5 to 6 people. One has 2 double rooms and 1 single bedroom and the other has 3 double rooms. The 6th person is accommodated in the living room. Both have 2 bathrooms, full equipped kitchen and living room. The Grand Suite Sonia is situated on the noble floor of the Palazzo with a terrace. Casa Margherita instead on the ground floor with private garden.
Palazzo Guglielmo has deliberately not included the TV in its rooms, to ensure guests the most complete tranquility.
Beach
The sea of Salento is just 3 km away from the Palazzo Guglielmo and it is easily reached by the hotel shuttle service, to book on spot.
Wellness Center
The small wellness center of the Palazzo Guglielmo has been found in the old barn and has a Turkish bath, emotional shower and a heated whirlpool. Guests can choose from various massages for body, well-being and beauty.
Guests have one complimentary afternoon access of a duration of approximately one hour, subject to availability. 
Restaurant
Palazzo Guglielmo offers breakfast to its guests included in the price and served on the ground floor lounge. The restaurant of the Palazzo is called "Casa dell'Angelo" and is open every day at lunch and dinner time. The guests have a direct access to it through the garden of the Palazzo. The meals are based on seafood and provides also light lunches with salads and sandwiches as well as menu for kids. 
Services & Activities
Palazzo Guglielmo has several areas, both indoors and outdoors, where guests can relax and enjoy quietness. Comfortable lounge areas are to find under the orange grove of 2000 sqm, the small pool and the court itself are havens of peace, outdoor and in contact with nature. Inside the building, on the first floor there are common areas, where guests can spend some time together: here are available a small reading room, a library and a corner bar. In the beautiful terraces guests can have a drink with friends, relax in the Jacuzzi and participate in cooking classes of typical cuisine.
<< Boutique Hotels Puglia

Rooms Palazzo Guglielmo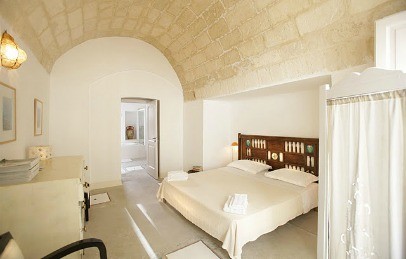 16-40 sq.m. – Double bed Rooms with double bed and some have the possibility to add a
read more »»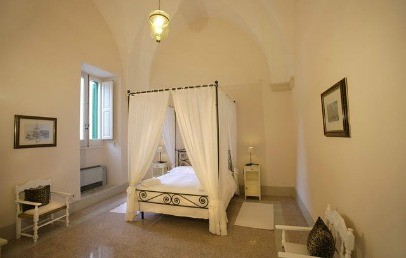 Double bed + 1-2 single beds Suites are comfortable and decorated with soft colors with white
read more »»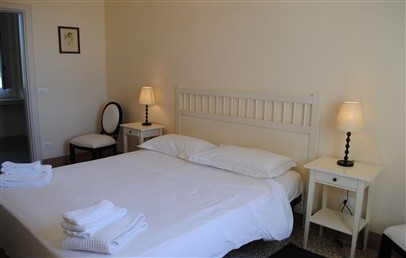 Two apartments are available at Palazzo Guglielmo: Casa Margherita and Gran Suite Sonia. Casa Margherita has
read more »»
Internet
Wi-Fi in the whole structure
Internet in room
In the surroundings
Selection of beaches
Cultural Centres
Tourist Centre within 10/15 mins. by car
Tourist Centres within 30 mins. by car
Nightlife / Clubs / Bars Lounges
Food & Drink
Restaurant
Bar
Dinner
Lunch
Breakfast
Common areas
Swimming pool
Sun terrace
Garden / Park
Outdoor lounge areas
Lounge areas indoor
Wellness
Whirlpool in a relaxing area
Wellness centre / Spa
Transport
Bike rental
Scooter rental
Activities
Cooking classes
Boat trips
Wine tastings
Horse riding
*NB: The services may not be fully available / working and subject to change for reasons beyond the control of CharmingItaly.com who declines every responsibility.
Map Palazzo Guglielmo
Please select the points of interest you want to display on the map
Get More Palazzo Guglielmo
01-01-2023 - 31-12-2024
Special for Charming's guests: a bottle of wine on arrival.
15-03-2024 - 15-05-2024
Only for Charming's customers: free upgrade to a higher room category (upon availability).
*NB: The offers are not valid for all rooms. To find out, which rooms and periods the offers apply to, please check our online-booking portal.