Strada Comunale Mulicchio Prima -
Useful Info
Brindisi Airport - 106 km
Nearby - Specchia 1,5 km
Distance beach - Pescoluse 14 km
Rooms - 14
Pets allowed - small dogs
Check In:
01-12-2023
Check Out:
02-12-2023
Nights
1
Clients:
0 Adults
Modify
Opening Period : I Mulicchi
From 01 January 2024
-
to 31 December 2024
Location
Perched high up at 180 metres above sea level, the highest point in the Salento region, I Mulicchi is located just 10 minutes from the Ionian Sea and the Adriatic Sea. A perfect starting point for exploring the treasures of the Salento region – from its sheer cliffs to its long expanses of beach – I Mulicchi can be found 106 km from Brindisi airport, 14 km from Pescoluse beach and just 1.5 km from the village of Specchia – renowned as being one of Italy's most stunning villages.
Hotel
Surrounded by an expanse of ancient olive trees, I Mulicchi offers guests the opportunity to enjoy the silence and tranquillity of Salento's nature, far removed from urban noise, fully immersed in beautiful countryside. Guests stay in pajare, stone buildings with thick walls and barrel-vaulted ceilings, typical of rural areas in the Salento region and which keep the indoor temperature mild in the winter and cool in the summer.
Rooms
Each pajara has two separate guest rooms, each with its own private entrance on opposite sides of the building, and both with a private patio where guests can relax in the shade of reeds. Light colours, Leccese stone flooring and local handcrafted linen are defining feature of all rooms. The rooms are simple and functional furnishings, discreet and relaxing ambiance.
Classic – 25 sqm, for two guests, private patio with table and two chairs
Comfort – 33 sqm, for up to three guests, large patio with table, two chairs, two sun loungers
Superior – 36 sqm, for up to three guests, double wardrobe, kettle with a selection of organic herbal teas
Beach
Positioned between the Ionian Sea and the Adriatic Sea, I Mulicchi boasts a huge range of beach options for beach aficionados. The Ionian coast (14 km away) is known for its long sandy beaches, while the northern part of the Adriatic coast (12 km away) offers sandy stretches with towering cliffs that fall away to jagged rocky inlets overhanging the sea and exploding with caves and small coves as you head further south.
Restaurant
The hotel doesn't have its own restaurant serving lunch and dinner. A home-made breakfast of local products is served in the hotel offering both sweet and savoury options.
Services & Activities
I Mulicchi has a stunning pool surrounded by the greenery of almond and fig trees, offering guests a wonderful place to lie back and relax. Free Wi-Fi connection is available throughout the resort. There is also an area set aside for guests to taste typical Salentine delicacies. Free on-site outdoor parking is available.
<< Masserie Apulia
Rooms I Mulicchi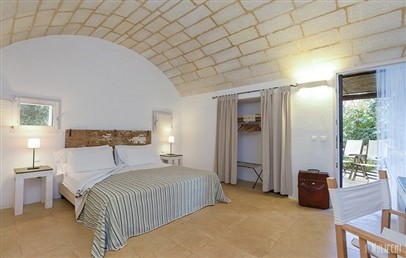 25 sqm – double bed Rooms with simple furnishings, light colours and Leccese stone flooring. Local
read more »»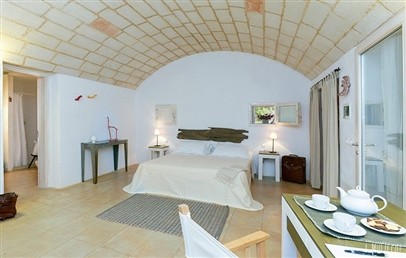 33 sqm – double bed or twin beds Rooms with simple furnishings, light colours and Leccese
read more »»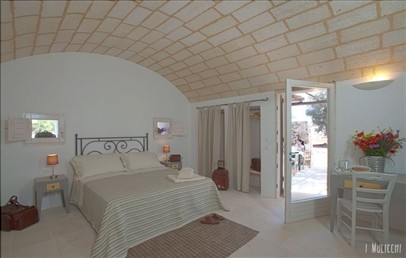 36 sqm – double bed or twin beds Rooms with simple furnishings, light colours and Leccese stone
read more »»
Internet
Wi-Fi in the whole structure
Common areas
Swimming pool
Sun terrace
Garden / Park
Outdoor lounge areas
Sport
Tennis
Water Sports
Five-person soccer field
Diving center
Wellness
Beauty treatments
Massages
Activities
Horse riding
Excursions/Guided tours
Boat trips
*NB: The services may not be fully available / working and subject to change for reasons beyond the control of CharmingItaly.com who declines every responsibility.
Map I Mulicchi
Please select the points of interest you want to display on the map