Useful Info
in Taormina
New Beach Club - reserved access for guests
Gourmet Restaurant 2 Michelin Stars
Check In:
30-09-2020
Check Out:
01-10-2020
Nights
1
Clients:
0 Adults
Modify
Opening Period : San Domenico Palace
From 01 January 2019
-
to 31 December 2020
Location
The luxurious 5 stars San Domenico Palace Hotel, set in a beautiful flower garden, is located in the charming historic centre of Taormina, picturesquely perched on the sea.
Hotel
San Domenico Palace Hotel has been obtained in 1896 by a convent of 1430, of which preserves the original structure. Inside you can still feel the ancient monastic atmosphere, including the cloisters, images of saints, the choir stalls, the sacristy and the rooms once quiet cloistered cells, all in strong and seductive contrast with the luxury hotel comforts and services.
Many prominent figures of the politics, show-biz, culture and science have been fascinated by the magic of San Domenico Palace Hotel and have left a sign of their passage in the precious gold-decorated parchment book, jealously hedged in by the owners.
The book begins with a picture of the Kaiser; in the book you can find, among others, the testimony of King Edward of England, Guglielmo Marconi, Luigi Pirandello, Thomas Mann, Richard Strauss, Marlene Dietrich, Ingrid Bergman, Audrey Hepburn and Michelangelo Antonioni.
Rooms
San Domenico Palace Hotel has 105 rooms, including 15 suites, spread over two wings of the building: the first one is the oldest and contains the "Ancient Convent Rooms" which were once monks' cells, small but charming; the second annex, called "Grand Hotel" (dating back to 800) contains the large, sunny rooms and suites, decorated with warm colours and typical materials of this sunny land.
All rooms are equipped with air conditioning, colour satellite TV, mini bar, Wi-Fi connection. Among the suites, particularly worthy of note is undoubtedly the Truman suite, furnished with brass beds and Chinese lacquer, for an even more exclusive stay.
By booking one of the Suite (Junior Suite, Suite Monastery/Garden Wing, Suite Grand Hotel Wing, Garden Suite with Mini Pool) the access to the Beach Club and following benefits are included:
- Sun beds, umbrellas, towels and access to the lounge bar
- Shuttle service, leaving from the hotel on regular basis, with scheduled times
- Private parking
- "Granita"-Drink served for a refreshment during the afternoon
Beach
The summer begins, San Domenico Palace Hotel Taormina launches its first-ever Beach Club the former Lido Stockholm – located in one of the most beautiful bays of Taormina "Baia delle Sirene", only 10 minutes from the hotel and with complimentary shuttle service, leaving on regular basis, with scheduled times. The Club is for exclusive use of the hotel guests and a selected external clientele.
Our Executive Chef Massimo Mantarro, leading the 2 starred Michelin Restaurant "Principe Cerami" has designed the menu of the Beach Club to ensure the greatest quality of our offering.
The access to the beach club and beach service is included for guests staying in a Suite. Reserved rates for hotel guests (not staying in a Suite) are: Euro 40.00 per day/room (double occupancy), extra person Euro 15.00, Single room occupancy Euro 30.00 per day/room.
Private parking area available.
Wellness Centre
The modern spa is the ideal choice for those who want to spend some time taking care of themselves and for those who wish to relax with massages and customized beauty treatments to regenerate body and mind.
Restaurant
The main restaurant is "Les Bougainvillèes" where breakfast and dinner are served during the summer months and with good weather conditions with a variety of dishes, ranging from traditional to international cuisine.

The Gourmet Restaurant with 2 Michelin Stars "Principe Cerami" offers a modern interpretation of the Sicilian and Mediterranean cuisine (not included in the half board treatment) with à la carte service. At the Principe Cerami only children from 6 to 8 years are welcome.
At the restaurant
"Blooming Perlè"
by the pool are served several low calories specialties for those who search a tasty and healthy meal.
Furthermore the
"Antico Refettorio"
is
open from November to March, offering a mostly international cuisine but strongly related to the typical island products.

Dinner is followed by piano bar entertainment at the lounge bar "Oratorio dei Frati" which also offers quick meals throughout the day.
Service & Activities
The ancient church of the convent has been renovated while keeping its original architecture, to host the Congress Centre, consisting of a big hall and other smaller rooms. The Centre can accommodate up to a maximum of 400 people and is equipped with the latest technologies; it sets itself as the ideal location for conferences, conventions and congresses in a charming and refined setting.
The beautiful outdoor pool is available to guests of San Domenico Palace Hotel. Free Wi-Fi in common areas; paid internet in room (except in the suites).
City tax – The municipality of Taormina requires the payment of a tourist tax of € 5,00 per person, per overnight and has to be paid cash on-site.



<< Luxury Hotels Sicily
Rooms San Domenico Palace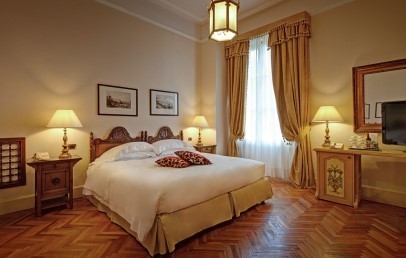 20-26 sq.m. – king-size bed or single bedsThe luminous and sunny rooms have been furnished in
read more »»
15-20 sq.m. – king-size bed or single beds Superior rooms have been built in the wing of
read more »»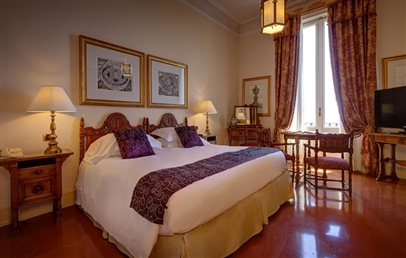 26 sq.m. – king-size bed or single beds These rooms are located in the Grand Hotel wing
read more »»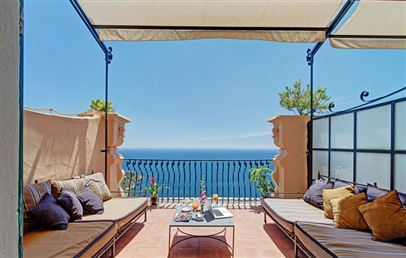 26 sq.m. – king-size bed or single beds The elegant room is held in warm colours and
read more »»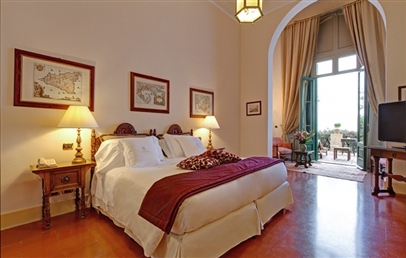 35-40 sq.m. – king-size bed or single bedsThe luxurious Suite is held in warm colours, is
read more »»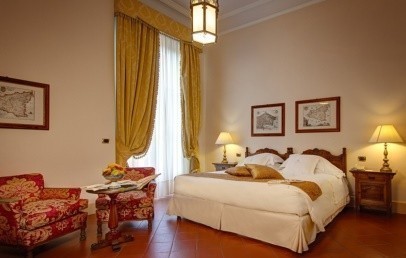 30 sq.m. – king-size bed or single bedsThe room is located in the building of the
read more »»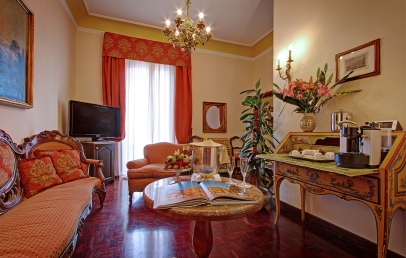 32-69 sq.m. – king-size bed or single bedsThese suites are furnished in an elegant and antique
read more »»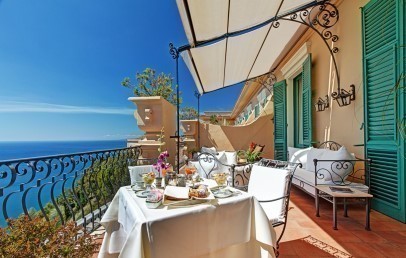 58 sq.m. – king-size bed or single bedsThe elegant and spacious Suite is furnished in a
read more »»
Common areas
Swimming pool
Outdoor lounge areas
Sun terrace
Beach
Beach Shuttle-bus
Equipped Beach
In the surroundings
Selection of beaches
Cultural Centres
Tourist centers within walking distance
Nightlife / Clubs / Bars Lounges
Internet
Wi-Fi in common areas
Internet in room
Wellness
Wellness centre / Spa
Beauty treatments
Massages
*NB: The services may not be fully available / working and subject to change for reasons beyond the control of CharmingItaly.com who declines every responsibility.
Map San Domenico Palace
Please select the points of interest you want to display on the map