Strada Comunale Egnazia -
Useful Info
Airport Brindisi – 45 km
Airport Bari – 60 km
Savelletri – 500 m
Nearby – Fasano 5 km
Distance beach – 700 m
Spa & Golf Club
Rooms and Houses – 183
Charming's opinion
Borgo Egnazia combines the charm and grandeur of its structure – 92 beautiful typical houses in stone - with luxurious and modern furniture, in which the tradition shows itself with style. Borgo Egnatia is a hotel suitable for
Check In:
05-10-2023
Check Out:
06-10-2023
Nights
1
Clients:
0 Adults
Modify
Opening Period : Borgo Egnazia
Open all year round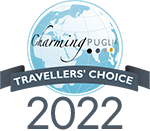 Location
Every day of the year, in every season, Borgo Egnazia is like a breathing tale of Puglia, spoken by the ancient culture of the land and by the sheer beauty of its nonpareil architecture. More than just a a resort, it embodies a brand new concept of hospitality based on local, authentic experiences.
Borgo Egnazia is located in Savelletri di Fasano (Brindisi), a few steps away from the Adriatic coast, the slopes of the Murgia and the Itria Valley and it's easily accessible both international airports Bari (approx. 50 min. by car) and Brindisi (approx. 35 min by car) and from the Fasano train station (approx. 5 min. by car).
Charming suggests you to rent a car to reach better the hotel.
Hotel 
The construction of Borgo Egnazia took several years, but the result is amazing: all the elements have been defined in the smallest details, using materials typical of the villages and benefiting from the skills of local craftsmen. Modern and past elements are smoothly blended in this important testimony of Apulian architecture. The prevailing colors at Borgo Egnazia Hotel 5 star are white and beige, colors that reflect the local custom.
The Case (Houses) and the main central building of the Resort with their elegant and spacious rooms and suites are ideal for those who want to have a holiday of comfort and relaxation. The welfare of your stay will be guaranteed even by the Wellness Center & Spa Vair, 2800 sq.m. in which to take care of yourselves, either alone or in couple. 

The Borgo is ideal for families with children because it is composed of small buildings with large rooms which can accommodate both adults and children in a very comfortable way. The welfare of your stay will be guaranteed by the atmosphere of calm and tranquility that the structure of the village transmits thanks to the relaxed life in its square, church and café. 
Rooms & Houses
La Corte consists of 63 rooms. All of them are spacious and light and are characterized by the relaxed atmosphere created by lanterns and candles, by the private balconies and the stone bathrooms. Some rooms may be connected to another rooms.
La Corte Bella rooms – intimate and comfortable, are ideal for two people but there is the possibility to add a baby cot on request. The balcony offers a view of the pool or of the sea.
La Corte Splendida rooms – are developed on 40 sq.m. They are ideal for 2 people, but it is possible to request a baby cot or bed. The deluxe rooms can be connected to other rooms of the same category or to a Corte Magnifica. From the balcony you can admire the sea or beautiful hills, the swimming pools and the golf course.
La Corte Magnifica room – is spacious, it offers many comforts and a wonderful sea view from its private terrace. The Corte Magnifica rooms can be connected to Corte Bella or Splendida.
La Egnazia – the most beautiful with 125 sq.m. surface, with two separate day zones areas, a bedroom with spacious bathroom. At the outside in the private garden is a small pool. A perfect accommodation dedicated for intimate stays and honeymooners. 


Please note: from June 15th to September 15th, all rooms of La Corte are reserved only for guests over 12 years. Families with children can book at Il Borgo or Le Case.


Il Borgo consists of 92 rooms and suites spread in different typical houses, most of them structured on two floors. Intimate and distinctive, each house has its own really well kept private garden in Mediterranean style. You can choose whether to book a room that belongs to the houses called Borgo Splendida or Borgo Magnifica, while the suites or mini apartments are located at the houses which names are Casetta Bella, Casetta Splendida and Casetta Magnifica.
Borgo Splendida (42 sq.m.) – bright and comfortable, offering a king-size bed, living corner, bathroom with double sink, shower and tub. The rooms located on the ground floor have a private patio equipped with table, chairs and sunchairs, while the rooms on the first floor have a roof terrace. On request a third bed can be added.
Borgo Magnifica (55 sq.m.) – a nice accommodation for a romantic stay with a bedroom with a super king-size four poster bed and a separate living room with sofa and dining table. It offers a roof terrace equipped with table, chairs and loungers.
Casetta Bella (60 sq.m.) – spacious and on two floors, equipped with many comforts. On the ground floor is the living area, a kitchenette, a bathroom and a garden patio. On the first floor there is a double bedroom, a bathroom with double sink, shower and separate a tub. Moreover a nice roof-terrace. It is ideal for two people with the possibility of adding a third bed (infant or child).
Casetta Splendida (90 sq.m.) – spacious and on two floors, it is equipped with many comforts. On the ground floor is the living area, a kitchenette, a bathroom and a bedroom with bunk bed or it can be used as a studio. On the upper floor is the master bedroom, a bathroom with double sink, shower and separate tub.
Casetta Magnifica (90 sq.m.) – spacious and on two floors, with many amenities and can comfortably accommodate up to 4 people (adults) or 2 couples or a couple of friends. On the ground floor is the living room, the kitchenette, one bathroom, a wardrobe/storage room for golf bags, buggy, suitcases. ON the upper floor are two bedrooms and two bathrooms. Morover a sunlit roof terrace with beautiful view over the entire Borgo.

The properties belonging to Le Case (houses) are 27. They have an area of 250 sq.m. divided in three floors (please note that the bedrooms are not located on the ground floor), equipped with all amenities. They are ideal for 6 people, but offer the opportunity to host up to 8 people with an additional cost. All guests staying in the houses can enjoy the exclusive tailor-made amenities such as a Massaia and a Local Adviser and have access to the remaining areas of the Resort through the charming paths.
The houses are differentiated by the size of the garden and the outdoor pool.
Casa Bella has a pool of min. 6.50 x 2.50 m
Casa Deliziosa has a pool of min. 8 x 3 m
Casa Stupenda has a pool of min. 8 x 3 m
Casa Magnifica has a pool of min. 10 x 3.40 m
Casa Meravigliosa has a pool of min. 15 x 7 m
Beach
In the warm months, you can also enjoy a dive or a sunbath at our two private beaches: the rocky Cala Masciola, equipped with a Water Sports centre and fresh fish restaurant Cala Masciola and the sandy beach La Fonte ideal for families.
Wellness Centre
Recently awarded as World's Best Wellness Spa at Boutique Hotel Awards, Vair (the Apulian word for "true") is a 2,800 m2 "spiritual" Spa leveraging a human being's own resources and inner beauty to promote happiness.
Local ancient healing therapies are integrated in Vair Spa's very unique programs, the very heart and engine of our Spa's vision, comprising treatments and "life-changing experiences" that have been specifically designed for Vair and are based on all-natural products (fresh and from our region).
Sport & Golf 
San Domenico Golf is a beautiful 18-hole course, one of Italy's best and a well-established leg for some major national and international tournaments. Totally immersed in the rich Mediterranean flora, it provides a stunning view of the blue Adriatic from every single hole, with the sea wind sweeping all over the course during gameplay. It was designed by architect Andy Haggar for London's European Golf Design in compliance to the highest standards under the USGA specifications.
Borgo Egnazia provides a wide range of opportunities and facilities allowing to pursue all of your preferred relaxation and sports activities. It features three large outdoor pools (one of which is heated), one heated indoor pool, four tennis courts, padel, fitness area, alongside a boutique (Bottega Egnazia), a game room, a cigar room and a reading room.
Families
Borgo Egnazia has a tradition of ensuring good and fun holidays for the whole family. Little guests are welcome into the magical world of Trullalleri Kid's Club, while teenagers can either attend the Marinai or Tarantari Club. So many experiences and activities wait for your children here: a real farm full with animals to take care of, bike trips, cooking  classes, to name just a few. 
Trullaleri Kid's Club – For children from 8 months to 12 years old , the Kids Club is open daily from 9.30 am to 6.30 pm. From children aged 4 an extra service is also available until 8.30 pm. For all children from 7 months to 3 years there is a Baby Sitting service available for a fee, even at night. The Club includes the nursery, the playrooms, a relaxation area with soft activities for children and swimming pools dedicated to them. We organize interesting and fun workshops and sports activities. Prices and special requirements on request.
Marinai or Tarantari Club – For the teenagers, aged 12 years, workstations Wii, Playstation, a multimedia PC and wi-fi are available. We organize special evenings from 8.30pm to 10pm. Prices and special requirements on request.
Kid's Restaurant Da Frisella – a magic and otherworldly place for our younger guests, where every detail and piece of furniture, from chairs to tables or the buffet, is sized to children, who will enjoy great moments of joyful playing and natural and simple dishes that change every day.
Restaurants & Bars
According with the style of the Resort, the restaurants oBorgo Egnazia serve the traditional regional dishes, offering a very wide variety. The presentation of the dishes never disappoints and the four restaurants are in line with the elegance that distinguishes every aspect of the Resort. 
"Due Camini", Michelin-starred restaurant (1 Michelin star) is an à la carte restaurant with a large veranda located in the main building of the hotel. The sleek design and well-stocked cellar are its main features.
"La Frasca" awaits you in the Borgo with a rich buffet, live stations of cooking and barbecues in the central square of the village. 
Mia Cucina offers a new culinary experience with typically Fasano cuisine. 
The Pizzeria offers tasty pizzas with the best local ingredients.
La Calce is the bistro of the I Due Camini restaurant, which reinterprets Mediterranean cuisine on the basis of a healthier model linked to the modern lifestyle.
"Cala Masciola" a restaurant for fish and seafood lovers, it is open for lunch and dinner and located in front of the sea. Guests can pick up fish from the market stall and have it weighed and cooked at their wish or enjoy it according to the Apulian tradition of raw fish.
"Da Frisella" is dedicated to the youngest guests and located at the Kids Club. The attentive staff will follow your children by offering them a healthy and proper diet. It offers a Mediterranean cuisine based on fresh vegetables and healthy, seasonal, simple and tasty dishes. 
As alternatives to the restaurant you can choose among Bar del Portico, the Bar Capanno and L'Angoletto.
Services & Activities
In the main building of the hotel are also available to guests four outdoor swimming pools and an indoor pool, a ballroom, a reading room, a cigar lounge and several meeting rooms for business meetings. We organize cooking courses at La Frasca restaurant and shopping information about a glamorous and elegant mini-shop in the main building.


Small dogs are welcome for free, on request (max 10 kg). They can't access the common areas (restaurant, pool, spa etc.). They can stay in the room or have them walk along the perimeter of the resort. They get: bed for dogs, a toy (a rubber ball, on arrival), absorbent mats, water and food bowl, natural cookie (one per day, served during the turndown service).

City tax – for "La Corte" and the "Houses" the tax is € 5,00 per person, per overnight, for a maximum of 14 overnights.
For the "Borgo" and the "Casette" the tax is € 3,50 per person, per overnight, for a maximum of 14 overnights.
The city tax has to be paid on-site at the check-out.  
 
Check-in from 3 PM, Check-out within 12.00. Late check-out on request.
Rooms Borgo Egnazia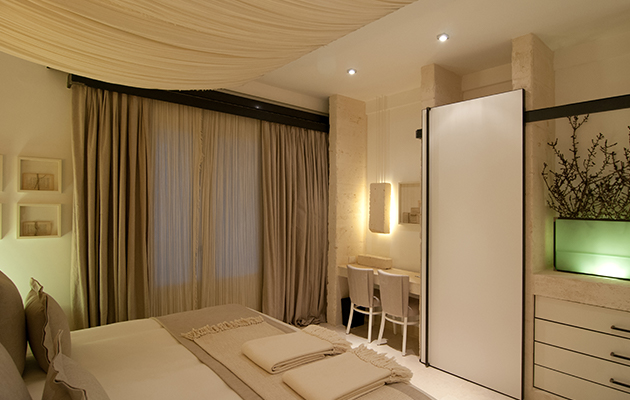 33-37 sq.m. / double bed Double room with super king-size bed, ideal for two people with the
read more »»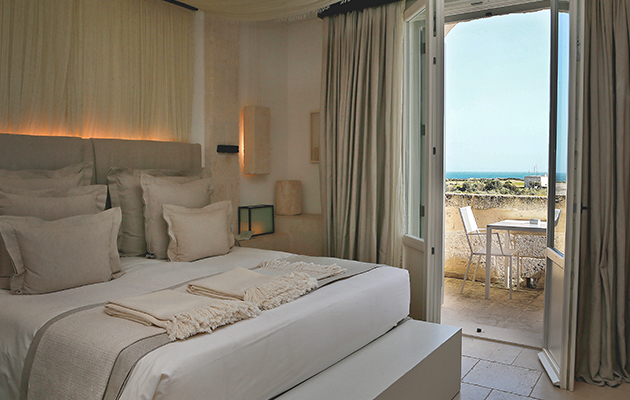 33-37 sq.m. / double bed Double room with super king-size bed, ideal for two people with the
read more »»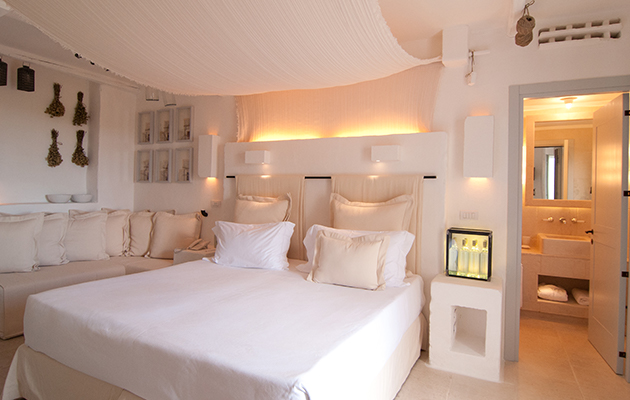 40-46 sq.m. / double bed Double room with double bed, ideal for two people and with the
read more »»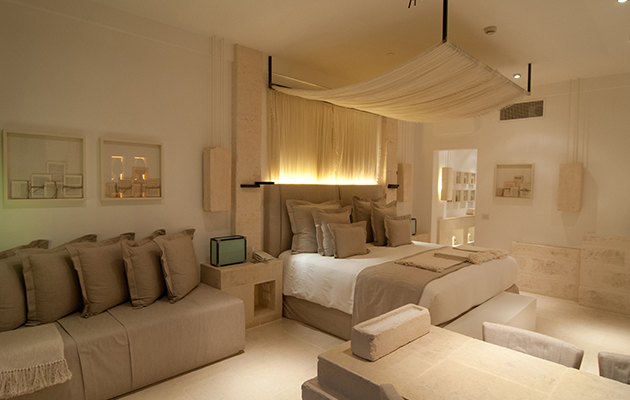 40-46 sq.m. / double bed Double room with double bed, ideal for two people and with the
read more »»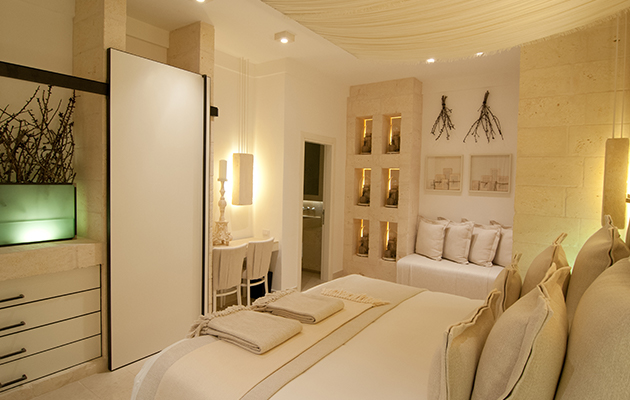 60-75 sq.m. / double bed Double room with super king-size bed, ideal for two people with the
read more »»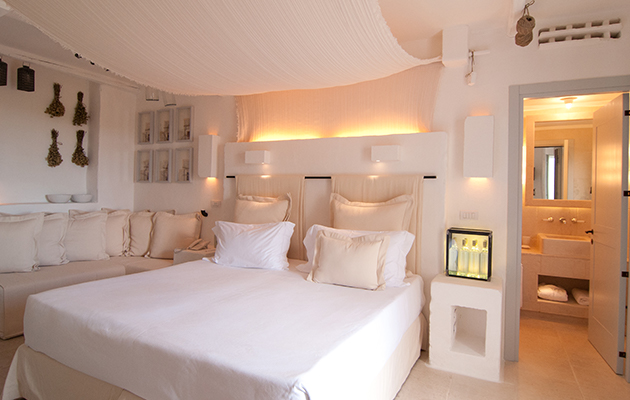 42 sq.m. - double bedDouble room with super king-size bed with the possibility to add a
read more »»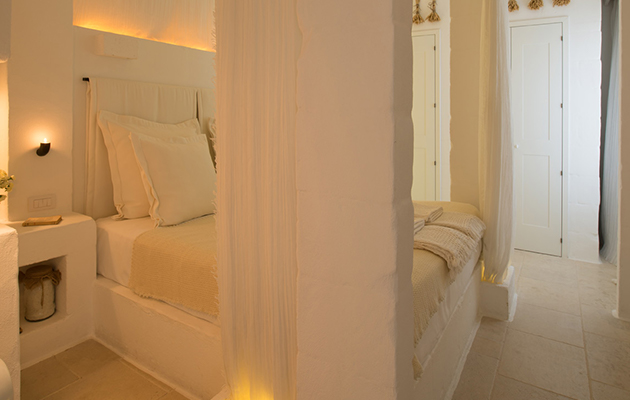 55 sq.m. - double bedDouble room with a four poster super king-size bed, spacious and bright
read more »»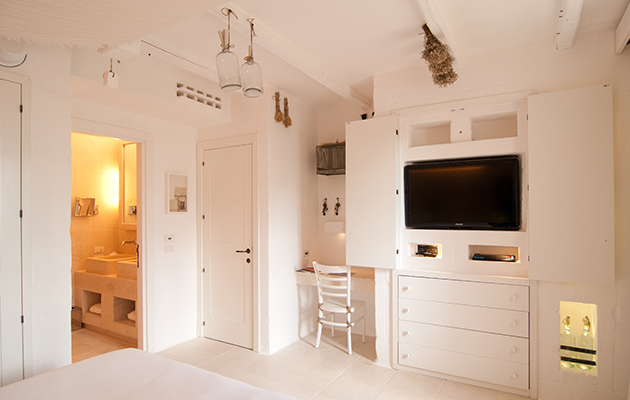 60 sq.m. - double bed Rustic and cozy "house" distributed on two floors, spacious and bright, decorated
read more »»
In the surroundings
Selection of beaches
Tourist Centre within 10/15 mins. by car
Golf Course
Activities
Horse riding
Cooking classes
Common areas
Garden / Park
Swimming pool
Sun terrace
Beach
Private beach
Equipped Beach
Beach Shuttle-bus
Wellness
Turkish bath
Sauna
Beauty treatments
Wellness treatments
Wellness centre / Spa
Sport
Gym / Fitness room
Yoga/pilates lessons
Football field
Diving center
Tennis
Tennis lessons
Water Sports
Internet
Wi-Fi in the whole structure
Family
Baby Club
Mini Club
Junior Club
Baby Sitting
Other services
Hairdresser
Reading room
Boutique
*NB: The services may not be fully available / working and subject to change for reasons beyond the control of CharmingItaly.com who declines every responsibility.
Map Borgo Egnazia
Please select the points of interest you want to display on the map