Isola Bella, Via Nazionale 107/A -
Useful Info
Hotel by the sea
Private beach
Fitness & Spa
À la carte restaurant
Tourist tax to pay on-site
Charming's opinion
Although officially it is a 5-star property, for the quality-price ratio and the offered facilities Charming classifies it as an excellent 4* star hotel which enjoys an enviable position thanks to its private beach.
Check In:
25-09-2023
Check Out:
26-09-2023
Nights
1
Clients:
0 Adults
Modify
Opening Period : La Plage Resort
From 01 January 2023
-
to 31 December 2023
From 01 January 2024
-
to 31 December 2024
Location
Taormina, founded in 358 a. C. on Mount Taurus, enjoys a unique view stretching from the Etna to Catania beach, attracting a million tourists every year thanks to its natural beauty. La Plage Resort is located in the most charming pebble beach of Taormina, in front of the beautiful Isola Bella, today natural heritage site, separated from the mainland by just a narrow sand strip.
Hotel
La Plage Resort completely renovated embracing a new hospitality concept based on "Define your Lifestyle" is set in an ancient pine forest, with pine trees and fragrant gardens, with typical Mediterranean vegetation. The best place for nature lovers, who can immerse in the beautiful marine park of Isola Bella waters, which has become the natural habitat for several organisms: some kinds of algae, colourful fishes, shellfish and many others. Contemporary and minimalist decor are in every room and in all common areas, taking care to every detail. An elegant Asian atmosphere characterizes the entire structure.
Rooms
Several solutions are available for the guests of La Plage Resort, with its 59 accommodation units, which include 46 bungalows. 
Bungalow garden view or sea side or sea side with outdoor whirlpool – (approx. 21 sqm) comfortable and cosy villas, all with small private garden with garden or sea side.
Deluxe Bungalow sea side with outdoor whirlpool – (approx. 21 sqm) comfortable and cosy villas, all with small private garden, wading pool and sea side.
Superior garden view and Deluxe sea view – (about 27/28 sqm) intimate and bright, with a relaxing garden or sea view.
Suite sea view and Suite sea view with outdoor whirlpool – (approx. 60 sqm) spacious and comfortable, featuring an accurate design: all the suites are elegantly furnished and comfortably equipped with contemporary decors. 
Deluxe Suite – (approx. 86 sqm) has a spacious bedroom and bright living room, a privileged position offering a top view on the Isola Bella. They are all equipped with private terrace and outdoors whirlpool.
The room rate includes: private parking for cars/scooters, beach service (2 sunbeds and 1 umbrella per room), free Wi-Fi throughout the hotel, access to the fitness area (no SPA).
Beach
For those who want to spend some time at the beach, the Luxury Beach Club is available: the beautiful unique pebble beach, stretching out on the beautiful natural bay in front of Isola Bella, disposes of 200 beds, 100 beach umbrellas and a bar kiosk.
Wellness Centre
A modern fitness room and Spa, with its 68 square meters of internal surface, offers one box for beauty treatments, two boxes for water massages, a box massage and an indoor fitness area (open from April until October).
Sport
La Plage Resort offers a wide range of sporting activities in the nearby sports centres. The reception will explain the options, ranging from golf, tennis, diving, to paragliding.
Restaurant
The cuisine of the Restaurant "Fusion" concentrates in the taste and in the elegance of the presentation; its harmony introduces the concept of "balance of Zen flavours", that is the soft perception of their tastes on the palate that leads to completeness. The restaurant "Fusion" comes from the skilful mixture of regional tastes with oriental methods, getting an alternative cooking but keeping the passion and dedication for this art. Guests can also relax at the Fusion Bar (only open from April to May, located inside the Fusion Restaurant) or at the Beach Bar, only open from June to October and located right on the beach, to enjoy ice creams, fruit drinks and refreshing cocktails.
Services & Activities
Private parking and mini club are available on request. Additional services : laundry service, excursions and guided tours, luggage room. Wi-Fi connection is free of charge throughout the resort/hotel.
Tourist tax – The municipality of Taormina requires the payment of a tourist tax of € 5,00 per person/overnight (excluding children under 12 years), for a maximum of 10 consecutive overnights and has to be paid on spot at the check-out.


<< Seaside Hotels
Rooms La Plage Resort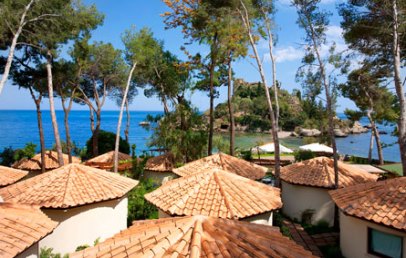 About 27 sqm/Double bed or two single beds Nice double room in the area overlooking the bungalows. They
read more »»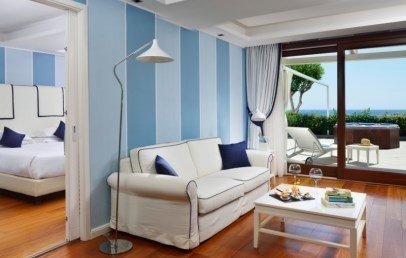 About 86 sqm/Double bed Wide Suites Suite consisting of two luxurious bedrooms and a separate living
read more »»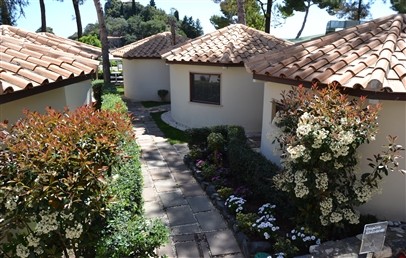 21 sqm /double bed + cot Cozy and comfortable bungalow in the inspiring and shady ancient pinewood. They
read more »»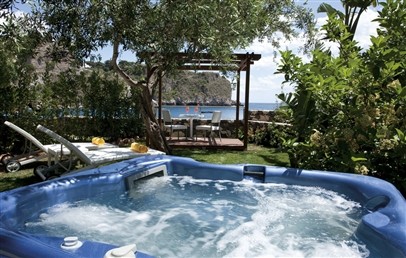 21 sqm/double bed + cot Wide bungalow in a relaxing and private part of the Resort. They
read more »»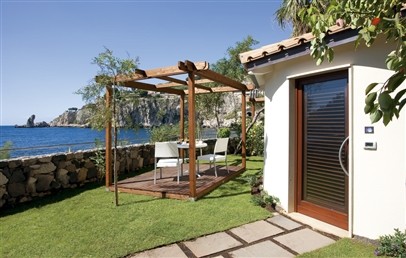 About 21 sqm/double bed + cot Cozy and comfortable bungalow in the inspiring and shady ancient pinewood.
read more »»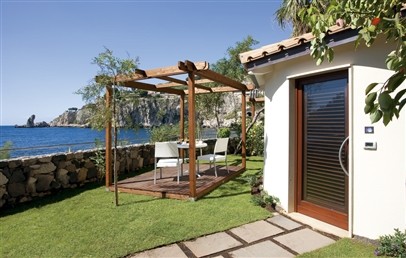 About 21 sqm/ double bed + cot Cozy and comfortable bungalow in the inspiring and shady ancient
read more »»
Internet
Wi-Fi in the whole structure
Sport
Gym / Fitness room
Diving center
In the surroundings
Nightlife / Clubs / Bars Lounges
Tourist Centre within 10/15 mins. by car
Golf Course
Cultural Centres
Selection of beaches
Wellness
Wellness centre / Spa
Beauty treatments
Massages
Other services
Laundry service
Luggage deposit
*NB: The services may not be fully available / working and subject to change for reasons beyond the control of CharmingItaly.com who declines every responsibility.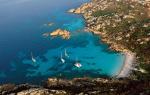 The countdown has started: Italy is waiting for Ferragosto, the heart of the summer taking place the 15th of August every year. As a long awaited appointment in the holiday agenda, there are
read full article >>
Map La Plage Resort
Please select the points of interest you want to display on the map