Useful Info
Distance beach – 20 m
Private beach – no
Rooms – 10 + 2 apartment
Guests are welcome from 12 years
Cagliari centre – approx. 2,5 km
Cagliari Airport – 10 km
Charming's opinion
Villa del Mare faces Poetto beach, boasts the salty tang of the sea and a panoramic view of Golfo degli Angeli. The beach is popular all the year round, fully equipped for a morning stay and perfect for a walk in the evening with background live
Check In:
28-09-2023
Check Out:
29-09-2023
Nights
1
Clients:
0 Adults
Modify
Opening Period : La Villa del Mare
Open all year round
Location
The Villa del Mare has an enviable location, just a few minutes from Cagliari city center, port and airport. The Villa overlooks the main beach of the city, Poetto, which extends about 8 km from the coast of Quartu S. Elena to the promontory Sella del Diavolo.
During the summer, the long beach offers several bathing establishments where you can find sun beds, sun umbrellas and other services. Along the Poetto, kiosk-bars are opened over the entire year, proposing light lunches and drinks.
During the evening, the beach is also ideal for an aperitif in front of the sea and to listen small concerts of local bands and much more. The pond of Molentargius, favorite place for pink flamingos, is located a short walk from the villa.
For those who love sea cities, sun and nightlife, Villa del Mare is close to the center of Cagliari and a strategic point to reach loc. Chia, Villasimius, Costa Rei.
Hotel
Historic building dating back to the early 1900, that is born to new life after a careful renovation and is become a Charming Guest House. Only 20 meters separate it from the clear waters of Poetto. La Villa del Mare is furnished in Mediterranean in style and enjoys a splendid view over the Bay of Angels, in which it is located. 

The hotel does welcome guests from 12 years.
Rooms
The rooms vary in their size and are furnished in a modern and comfortable way, according to a maritime style. The renovation was done giving particular attention in order not to ruin the charm of the original structure. All rooms offer a minibar, TV LCD, Wi-Fi internet connection, air conditioning, shower, hairdryer, courtesy set. 
The Villa del Mare offers moreover nice Apartments with a surface of 60 or 70 sqm. They are comfortable and suitable for couples and families with children, even for long stays. They are spacious and offer a kitchenette and can accommodate up to 4 or 5 people. They feature the following amenities: linens (sheets and towels), complimentary toiletries, hairdryer, heating/air conditioning, minibar, TV LCD, Wi-Fi internet connection.
Services & Activities
For all types of accommodations the treatment is room only. The management of the Villa del Mare is pleased to offer a complimentary Italian breakfast to the guests of the rooms, that is served in the wooden gazebo; instead have guests of the apartments self-catering.
Further on request can be rent bikes or boat, surf equipment, organized several type of excursion, laundry service and many more.


<< Slow & Chic Sardinia
Rooms La Villa del Mare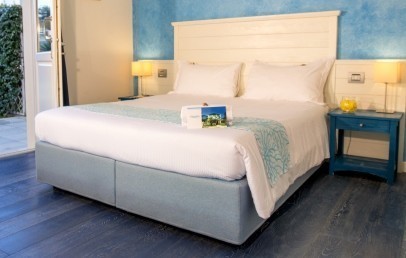 approx. 24 sq.m. – double bed Rooms located on the ground floor with access from the garden
read more »»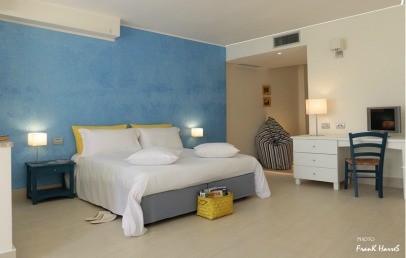 60 sq.m. – double bed Apartment located on the ground floor, furnished with a fresh and comfortable
read more »»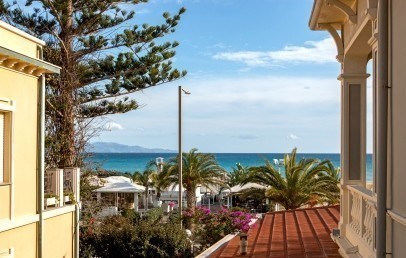 approx. 25 sq.m. – double bed Room located on the first floor. Furnished with a fresh and
read more »»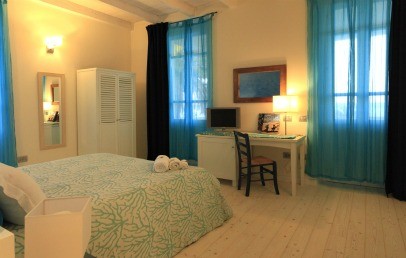 approx. 25 sq.m. – double bed Room located on the first floor, furnished with a fresh and
read more »»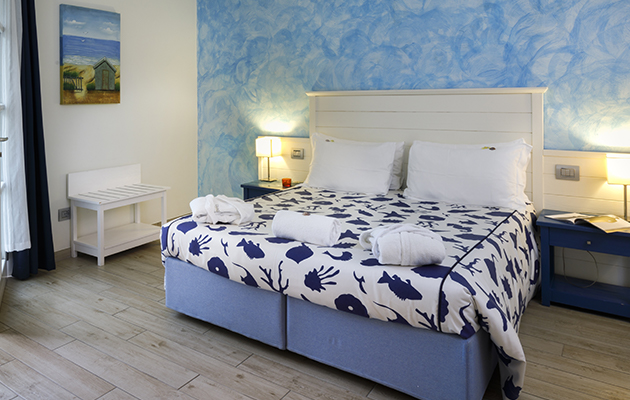 27 sq.m. Decorated and furnished in the style of La Villa del Mare and located on the
read more »»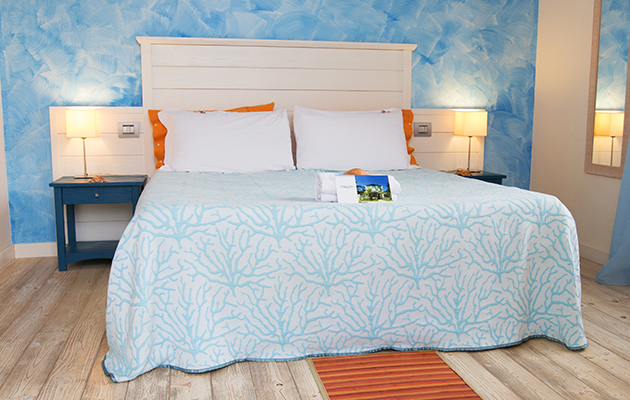 25 sq.m. Located on the first floor, this spacious and very bright room offers you a splendid
read more »»
In the surroundings
Selection of beaches
Cultural Centres
Tourist Centre within 10/15 mins. by car
Nightlife / Clubs / Bars Lounges
Internet
Wi-Fi in the whole structure
Transport
Bike rental
Scooter rental
Transfers / Shuttle Service
Common areas
Garden / Park
Sun terrace
Outdoor lounge areas
*NB: The services may not be fully available / working and subject to change for reasons beyond the control of CharmingItaly.com who declines every responsibility.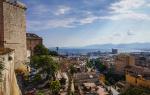 Sea in winteris a concept out of considerationit is not modernit is something that no one dreams of.According to the lyrics of an old, popular Italian song by Loredana Bertè, sea in winter
read full article >>
Map La Villa del Mare
Please select the points of interest you want to display on the map
Offer La Villa del Mare
Minimum stay PERCENTUALE
Opzionale Minimum Stay PERCENTUALE
8% Non-refundable reduction. The entire stay has to be fully paid at time of booking. It can in no way be changed or refunded in case of cancellation.
*NB: The offers are not valid for all rooms. To find out, which rooms and periods the offers apply to, please check our online-booking portal.