Strada Ognina, 47 -
Siracusa (Siracusa) Sicily
Useful Info
430 rooms
Soft-All-Inclusive formula
Beach 250-600 m
Wellness centre
Kids/Young Club
Small pets allowed
Syracuse - 10 km
Catania Airport - 70 km
Charming's opinion
Just a short distance from the beach and surrounded by lush nature stands the VOI Arenella Resort, which is also conveniently close to the splendid baroque towns of the Val di Noto, and to the heritage cities of Syracuse and Agrigento. A resort
Check In:
18-05-2022
Check Out:
19-05-2022
Nights
1
Clients:
0 Adults
Modify
Opening Period : VOI Arenella Resort
From 16 April 2022
-
to 02 October 2022
Location
Set in 60 hectares of unspoilt nature, the VOI Arenella Resort is just a short distance from the sea and only 10 km from the city of Syracuse.
The hotel is easy to reach by taking the main highway from Catania airport, just 70 km away.
It is also an excellent base for exploring the towns of Noto (30 km), Modica and Ragusa (55 km).
Please note: starting from 06 August 2021, this property requires guests to present the EU Digital COVID Certificate to access certain internal services. Read more >
In compliance with the safety procedures required by the current health emergency, some services have been properly modified or could be canceled in order to guarantee guests a holiday in complete serenity and safety, e.g.:- Carissa Wellness: will not be accessible due to current regulations sauna, turkish bath, Jacuzzi
- VOI Kids Restaurant: the restaurant dedicated to the kids of the kids club and the dinners with the staff planned for the Young Club for this season will not be available.
- VOIlà Baby: Sleeping room will not be available; service hours for the Biberoneria will be as follows: 11.30-13.30 and 18.30-20.30
- VOIlà Mini, Kids, Junior Club: The multilingual assistance provided for the children of the miniclub will be as follows: 09.30-12.30 and 15.30-18.30.
- No participation at the show once a week
- Young club: There will be no parties and disco and the scheduled time of activities (10.00-01.00) may be subject to change 
Hotel
The Resort, set in a protected marine area, consists of a central building and various secondary buildings which have two floors. Simple and modern in style, it has large, well-landscaped gardens. 
In 2021, several areas of the building will be renovated and the resort will look even more elegant to guests.
Rooms
This large resort consists of 430 rooms all with a welcoming family atmosphere, distributed between the main building and the cosy two-floor houses. All rooms have a bathroom with shower, hairdryer, air conditioning, satellite TV, safety-box, wi-fi, mini-fridge (drinks on request and subject to charge), balcony or patio. 
Beach
Just a short distance (250-600m) separates the VOI Arenella Resort from a beach of golden sand, equipped with sun beds, beach umbrellas, showers and changing rooms, and a deep blue sea with a gently sloping bottom. Where the seabed is rocky, platforms have been set up which permit guests to dive directly into the water (mid-May to mid-September, flexible dates).
There is also a small sandy bay used as a sea sports centre with Sup, canoes, windsurf, catamarans. Group courses are organized for adults and children. Service at a supplement are individual lessons, equipment rental, PADI dive center (only in high season).
Sun beds and beach umbrellas are available free of charge, according to availability, on the beach (from the 4th row), on the platforms and round the pool. The 1s, 2nd and 3rd row bookable on-site, subject to charge and availability.
To reach the beach, guests simply walk through the nature reserve, but there is also a free shuttle-bus service. Beach service is active from May 1st to September 30th. 

Beach towels are available with payment of a € 20.00 deposit; each change costs € 2.00.
Wellness centre
The stylish wellness centre offers several services: sauna, Turkish bath, Jacuzzi, pool, fitness area, massages, beauty treatments, selection of herb teas, hairdresser on request.
Access subject to charge and only guest over 12 years are welcome. 
Sport
The resort organizes, for a fee, individual lessons of windsurf, canoeing and catamaran. There is also a diving centre and miscellaneous sports equipment for rental. The entertainment staff organizes beach games, muscle stimulation, archery (06.6.-19.9.), aquagym, aerofit, group dancing.
From 30/04 to 06/06 and from 19/09 to 03/10 there are some entertainment activities such as gymnastics, card tournaments and live music evenings. From 06/06 to 19/09 the activities are increased and every day the animation staff is available to organise games, tournaments and group courses.
New 2021: a new sports area with 2 paddle courts, a tennis court and a five-a-side football pitch with activities organised by federal instructors.
Families
A true paradise for kids and teenagers, thanks to a rich and varied programme of activities arranged by our entertainment staff. Divided by age group, entertainment is guaranteed with games, competitions and sports activities (06th June-19th September, flexible dates).
New 2021: The new Playground with inflatable Aqualand 
VOILÀ BABY (0-2 years) – this programme is based on a fully equipped nursery (bottle warming area, blenders, crockery, microwave, refrigerators).
During assistance times (11.30-21.30) there is availability of specific products (blended vegetal broth, vegetable soup, fresh fruit, homogenized products (meat, fish and fruit), milk, biscuits, yogurt, water, fruit juice, diapers).
From the opening date until 6th June and from 19th September onwards the access is possible without assistance. 
Kit Baby Package Upon advanced request (with a deposit, limited availability), welcome kit including: stroller, baby tub, baby toilet seat, bottle warmer.
VOILÀ KIDS-JUNIOR (divided into: 3-6; 7-9; 10-12 years) – Lunch and dinner in dedicated areas, special activities. There are also, according to age, collective courses of tennis, soccer, dancing, windsurf, sailing, catamaran, baby dancing. TV room with videogames, Wi-Fi and table games. 
YOUNG CLUB (13-17 years) – Sports and recreational activities for making friends and having fun. Videogame room with Wi-Fi, connection, dedicated dinners, disco after the evening shows. 
Restaurant
Breakfast, lunch and dinner are served in the main restaurant, with buffet service (assisted). Organic dishes and ingredients are available, and also non-gluten products (bread, pasta, crisp bread and biscuits); the structure is certified by the Italian Coeliac Association (AIC).
From mid-June to mid-September, the Aretusa Restaurant is open for guests staying in the Comfort and Superior rooms. In addition to the rich offer of appetizers, side dishes, fruit and desserts in a dedicated (assisted) buffet, there is also a wide choice in the grill areas and show cooking stations. At dinner, the chef offers a special menu with a choice of served dishes.
Pizzeria by the pool (prior booking requested) has been renovated and offers a wide range of pizzas and local beers (drinks attract payment). Opening at management's discretion and according to weather conditions.

The Taste Bar offers Sicilian specialties: a trip through the tastes of the island starting with breakfast with granita and brioche, then on to filled cannoli, home-made ice-cream, panelle, cassatine, arancini, almond milk, finishing with organic wine and local beer. Open every day except Sundays, from 16:00 until midnight (paid service).
Subject to pay: coffee, alcohol, ice cream and all bottled and can beverages.
Services & Activities
Wi-Fi connection is free of charge throughout the resort.
The VOI Arenella Resort has two pools, one for relaxation without entertainment, one with entertainment (both with shallow areas for the kids) and an indoors one, in the wellness centre; a pool bar is also available (opening at Management's discretion).
Complimentary services: sun beds and umbrellas at the beach, at the poolside and on the decks (according to availability); shuttle bus service to and from the beach at fixed times; baggage handling, free medical service (only in high season) in established times (a fee is charged outside the established times), unattended parking, evening entertainment at the amphitheatre
Bicycle rental service is available and a shuttle bus to Syracuse twice a day (excluding Sundays) costing € 3,00 round trip for children up to 11 years'age and € 5,00 round trip starting from 12 years'age.
Small pets up to 10 kg, with health card, are welcome but are not admitted in communal areas (pool, bar, restaurant, beach). The pet can stay alone in the room, in the dedicated outdoor area, or in the dog's park. The supplement for each pet is € 50 per week; € 35 for stays of less than 3 nights. Meals are not provided; kennel and bowls available in the room. On request, limited availability.
<< Seaside Hotels
Rooms VOI Arenella Resort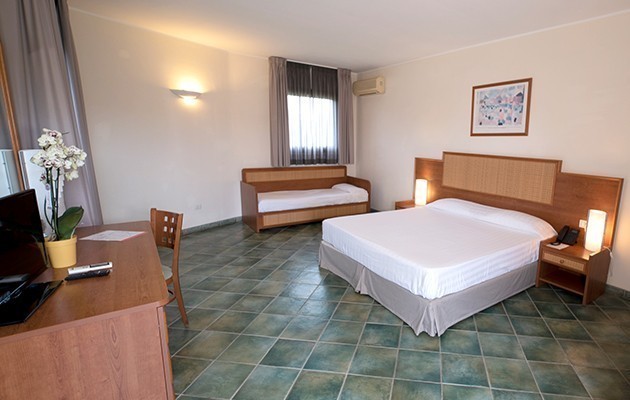 23-34 sq.m. / double bed or twin beds The Classic rooms have a double bed or two
read more »»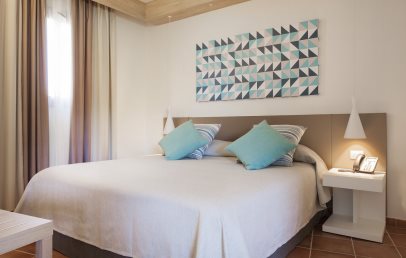 23 sq.m. / double bed or twin beds The Comfort Premium rooms were completely renovated, are
read more »»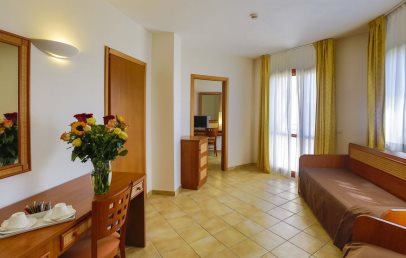 40 sq.m. / double bed or twin beds + 2 single beds The Family room have a
read more »»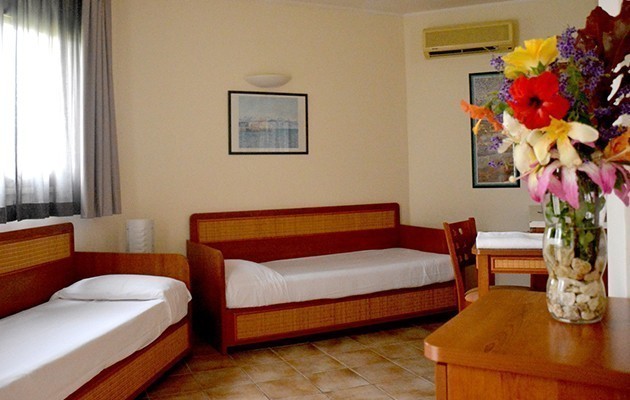 34 sq.m. / double bed or twin beds + 2 single beds The Classic rooms have
read more »»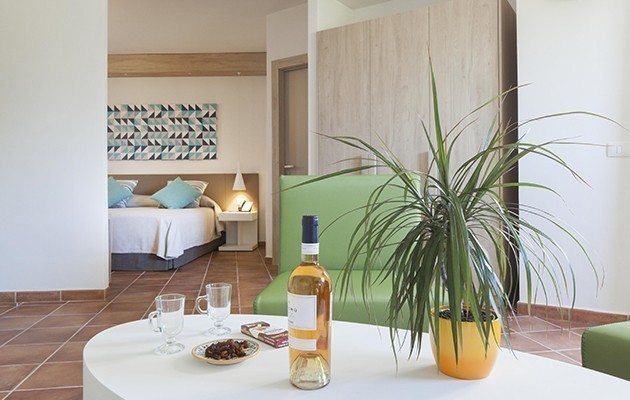 40 m2 / Double bed The Superior Junior Suites, in typical dammuso style, enjoy a central location surrounded
read more »»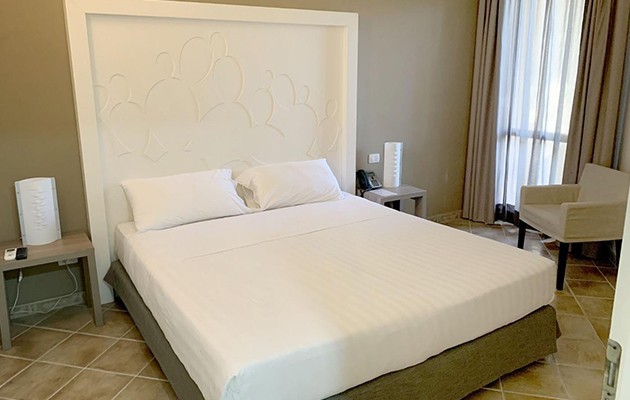 23 sq.m. / Double bed Recently renovated, the Comfort rooms are cosy, homely rooms with soft colours. They have a
read more »»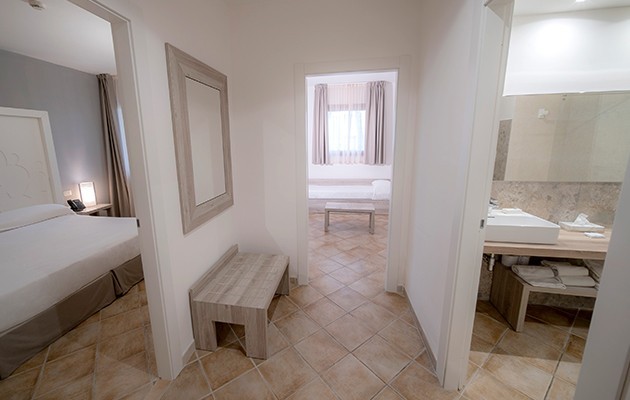 34 sq.m. / Double bed or 2 single beds + 2 single beds The Comfort Family rooms, completely
read more »»
Common areas
Swimming pool
Garden / Park
Food & Drink
Restaurant
Bar
Breakfast
Lunch
Dinner
Family
Baby Club
Mini Club
Junior Club
Children's pool
Kids Playground
Beach
Beach service
Equipped Beach
Sunbeds
Sun umbrellas
Beach Shuttle-bus
Beach Towels provided
Wellness
Wellness centre / Spa
Sauna
Turkish bath
Beauty treatments
Massages
Sport
Gym / Fitness room
Outdoor fitness area
Water Sports
Diving center
Archery
Activities
Excursions/Guided tours
Natural trails
Transport
Transfers / Shuttle Service
Bike rental
Other services
Concierge
Medical consultation
Entertainment
Night entertainment service
In the surroundings
Selection of beaches
Cultural Centres
Tourist Centres within 30 mins. by car
*NB: The services may not be fully available / working and subject to change for reasons beyond the control of CharmingItaly.com who declines every responsibility.
Map VOI Arenella Resort
Please select the points of interest you want to display on the map
Offer VOI Arenella Resort
Minimum stay PERCENTUALE
Long Stay - 7% reduction for minimum stays of 14 nights for stays until 16th July and from 28th August onwards!
Minimum stay PERCENTUALE
Long Stay - 7% reduction for minimum stays of 14 nights for stays until 16th July and from 28th August onwards!
Get More VOI Arenella Resort
16-03-2022 - 02-07-2022
Special cancellation policy (offer subject to limited availability)!
For stays until July 2nd 2022:
cancellation without penalty until 6 pm on the arrival day;
100% penalty from 6 pm on the arrival day, in case of no-show or early departure.
Extra VOI Arenella Resort
05-06-2022 - 17-09-2022
Mandatory Club Card to be paid on spot from June 5th to September 17th: € 7,00 per person per day (from 3 years old)
05-06-2022 - 18-06-2022
Mandatory extra for children up to 2 y.o., to be paid upon confirmation: € 25 per day for stays between June 05th and June 18th and between August 21st and September 18th. Access to the nursery and baby cot included.
19-06-2022 - 20-08-2022
Mandatory extra for children up to 2 y.o., to be paid upon confirmation: € 30 per day for stays between June 19th and August 20th. Access to the nursery and baby cot included.
21-08-2022 - 17-09-2022
Mandatory extra for children up to 2 y.o., to be paid upon confirmation: € 25 per day for stays between June 05th and June 18th and between August 21st and September 18th. Access to the nursery and baby cot included.
01-01-2022 - 31-12-2022
Small pets (max. 10 kg) are allowed (health book compulsory) at a cost of € 50 per week, to be paid on site.
For stays of less than 3 days the cost is € 35.
A dog bed and bowl in the room for the dog, access not allowed in public areas (beach, pool, bar and restaurant), the dog can stay in the room and in the Dog's Park with the owner.
*NB: The offers are not valid for all rooms. To find out, which rooms and periods the offers apply to, please check our online-booking portal.