Localita Punta S. Giusta -
Useful Info
Pets not allowed
Nearest beach – 200 m from the main services
374 rooms
Nursery
Baby/Mini/Junior/Young Club 3-17 y.o.
Charming's opinion
The position of this resort, fronting the splendid each of Costa Rei, makes it one of the best venues for enjoying the sea and sun of Sardinia. Especially suitable for families with kids or teenagers thanks to a rich activity programme covering all
Check In:
04-10-2023
Check Out:
05-10-2023
Nights
1
Clients:
0 Adults
Modify
Opening Period : iGV Club Santagiusta

Location
Situated directly on the beach, one of the most beautiful in Sardinia, the I Grandi Viaggi Club Santagiusta is located at Costa Rei, in the south-eastern portion of the island.
Cagliari Elmas Airport is just 60 km away, while the small town of Castiadas is 10 km from the resort.
Hotel
With its typically Mediterranean style, the resort blends in well with the scenery and lies unobtrusively between the lush plant growth and the deep blue of the sea. Rich in services and activities, with special attention paid to the needs of kids and teens, the iGV Club Santagiusta was the first resort in Italy to obtain ISO 14001 certification for its zero environmental impact.
Rooms
The 374 rooms are spread over several buildings which make up the resort. All rooms have air conditioning and either a patio, a balcony or a terrace. Wi-Fi not available (only in the Hall and pool area).
The cost of your room includes group sports classes, use of sports facilities and equipment, activities for children (Nursery / Baby Club / Mini Club / Junior Club / Young Club) and beach service (excluding beach towels).
Check-in from 17:00; Check-out not later than 10:00 (late check-out is possible, on request and according to availability).
Beach
Accessible directly from the Hotel and just a short distance from it (200 m from the main services), the beach is splendid and offers clear blue sea and shining white sand. Here the juniper trees sink their centuries old roots and here and there wild lilies blossom, decorating the splendid bay. There is a beach bar. 
The beach service is included in the cost of your room and includes beach umbrellas and sun beds (a fee is charged for beach towels: deposit of € 10 + € 5 for the rental). 
Sport
Guests may participate free of charge in collective activities, which include windsurf, sailing (catamarans), tennis, archery, fitness, aquafitness. In the months of July and August, the programme is extended to include swimming (group and individual lessons, for a fee). 
Guests can use free of charge the sports fields and equipment (5-a-side football, volley ball,  canoeing, bowls, fitness area, tennis during the day time). The six tennis courts may be used during the night hours with payment of a supplement; fee-based activities include private tennis lessons with a certified instructor (according to availability), horse riding (an external livery stable, in the vicinity) and underwater activities (external diving centre).
Many of the sports activities are seasonal (including basket and football...) and are available only in certain periods. 
Families


Available from 9:00 to 23:00, AIGO  is an exclusive service of the iGV Club, dedicated to looking after kids and teens. AIGO offers the following services:
Nursery (0-2 years of age) – including a feeding bottle preparation facility  available clock-round, meal heating, a nap room, a playroom and qualified personnel, free use of strollers. A paediatrician is on the spot free of charge during surgery hours, and is available round the clock. 
Baby Club (3-5 years of age) – offers creative, sports and entertainment activities (also after dinner); children can eat their meals with the activity staff in the Aigo children's restaurant; two pools available according to comfort level in the water. 
Mini Club (6-10 years of age) – qualified personnel will accompany the kids  through the various activities, divided by age bracket. Equipped area with restaurant, pool, playground and reserved area on the beach. 
Junior Club (11-13 years of age) – various activities are on offer: sports, excursions, theatre, dancing and disco, all with our great activity staff to help the group blend in. 
Young Club (14-17 years of age) – a reserved beach area, dedicated restaurant and a rich sports and activity programme will foster meeting and mixing. 
Restaurant
The Resort offers full board, starting with the evening meal on the day of arrival and ending with lunch on the day of departure (it is not possible to change meals or be reimbursed for meals not eaten).
The main restaurant of the iGV Club Santagiusta offers breakfast, lunch and a buffet dinner (with bottled water and a flask of local wine included in the price). Tables are not assigned and are not bookable (free entry, up to capacity; with the exception of guests who have decided to acquire the Platinum Plus Card).
The resort also offers three bars, one of which is on the beach. 
Services and Activities
While during the day the resort offers a wide range of sports activities, in the evening the liveliest spot is the Amphitheatre, with theatrical performances, cabaret, comedies and musicals. After midnight, entertainment continues at the piano-bar or the disco.
Inside the resort guests will find an HD Cinema (ticket charged), a bazaar-boutique and an internal vehicle parking area (not attended or bookable; available according to capacity, free of charge).
Wi-Fi connection is available in the hall and pool area, at a cost of € 15.00 per week. Guests may rent vehicles, scooters and bicycles.
Available with prior booking and with payment are excursions and tours of the island (local tours on horseback or quad, visits to the city of Cagliari, Isola dei Cavoli, the Nature Park of the Giara and many other attractions).
For your moments of complete relaxation, the wellness centre offers massages and beauty treatments (fee-based).
Platinum Plus Card: to be paid upon reservation, this special services card costs € 500.00 per room per week. The card includes: a beach umbrella reserved in the front row on the beach; early check-in and late check-out according to availability; a daily paper; a beach towel without deposit and with the possibility of daily change; a reserved table at the restaurant. Limited availability.
Sorry – no pets.
Some services/costs might vary over the season.
Rooms iGV Club Santagiusta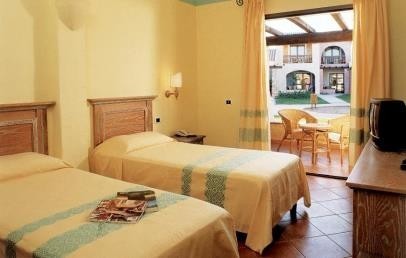 18-20 sq.m. – double bed or twin bedsOpen space rooms furnished with warm Mediterranean colors. They
read more »»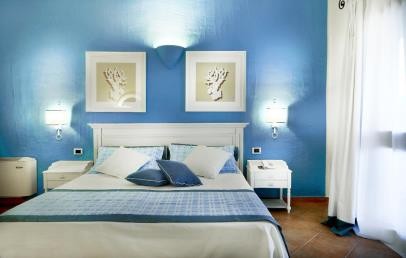 from 30 sq.m. – double bed or twin bedsOpen space rooms furnished with warm Mediterranean colors.
read more »»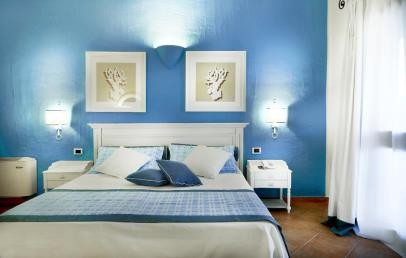 from 30 sq.m. - double bed or twin beds Bedroom with double bed and a separate area
read more »»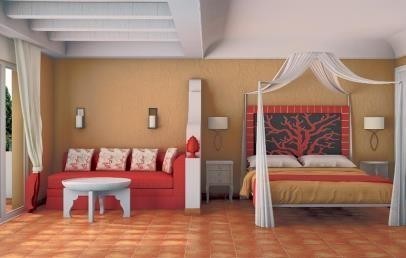 from 30 sq.m. - double bed + sofa bed Open space with a four-poster double bed and
read more »»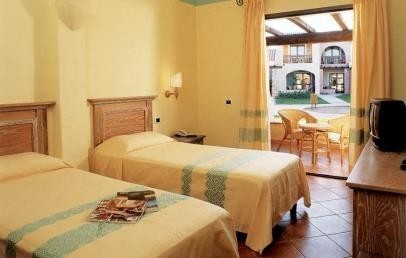 Situated in a quiet position and totally surrounded by lush gardens, the villas are independent buildings
read more »»
Family
Children's pool
Baby Club
Nursery
Mini Club
Junior Club
Baby service
Entertainment
Night entertainment service
In room / Private Services
Hairdryer
Air conditioning in Room
Phone in Room
Safety box in Room
Digital Terrestrial TV
Minibar
Furnished Patio or Balcony
*NB: The services may not be fully available / working and subject to change for reasons beyond the control of CharmingItaly.com who declines every responsibility.
Map iGV Club Santagiusta
Please select the points of interest you want to display on the map
Get More iGV Club Santagiusta
01-01-2023 - 31-12-2023
Only for our customers: no iGV handling fee (you save: € 60,00 per each adult, € 35,00 for children 2-11 y.o.)
*NB: The offers are not valid for all rooms. To find out, which rooms and periods the offers apply to, please check our online-booking portal.