The largest ice cream cone has a recent history: it has been created on January, 2011 from Mirco della Vecchia. The creation of the largest ice cream ever took place at the International ice Cream Fair organized in Rimini. What a beautiful sight!!!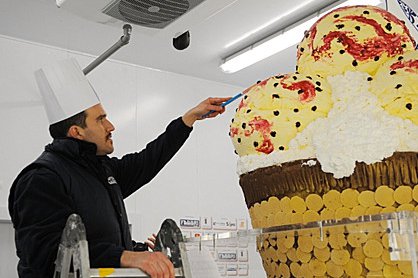 The largest ice cream cone!
Credits: GuinnessWorldRecors
Here a few details about the gelato everyone (starting from now!) will dream:
-    It  measured 2,82 meters (9 ft 2.63 in)
-    It has been completed by 7 experts in about 30 hours
-    2,000 wafers for the cone
-    700 Kg of white chocolate for the filling
-    5 scoops of gelato on the top, for a total of 70 Kg
Of course, it has been declared the World's Largest Ice cream from the Guinness World Record judges!
Other Slices of Italy will follow every thursday! Subscribe to our RSS, follow us on Twitter and Facebook: stay tuned!