An Italian Coffee Break: What type of Coffee would you order?

Caffè Espresso, Caffè macchiato (with milk), Caffè americano (American coffee)…
There are so many types of Coffee and many different ways of drinking it. Italians are renowned for drinking Espresso, of course, but also for their way of ordering it!

Do you remember our post about Coffee in suspense? It's an "original" way of ordering it in Naples!
When Italians go to the Bar (Café) they order coffee in many different ways, according to their personal taste…served in small or big cup, with cold or warm milk, double or strong…
I guess Italian barmen are among the most patient persons in the world!
Here below a typical day in an Italian Bar. We have had a lot of fun in picturing it! We've tried to summarize it in the following Infographic... just for you, Coffee-aholics!!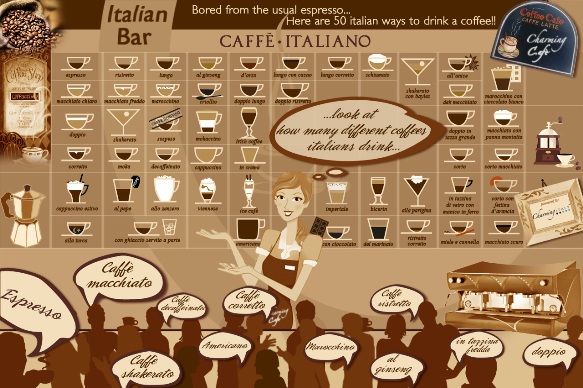 Click on the image to enlarge it!
For Italians, coffee break is a sort of ritual in which the conviviality is a key point. Around a good coffee you can have a chat, take a few minutes for yourself and relax. It's not just about inserting something into the stomach.

For Italians, drinking a good coffee is a pleasure: it is something to be sipped and not to be swallowed down; it is something to relish in the fullness of its flavour.

This is why a bad coffee gets Italians in a bad mood, while a good coffee can make their day!

When you enter an Italian Bar, around the clock, pay attention on what's around you: we bet you won't find 10 people ordering the same type of coffee!

The types of coffee in the Infographic are written in Italian, so you will be able to order them in the right way at the Bar!

Have a look on it and tell us what you think.

Looking forward your thoughts!!

P.S. Did our coffee infographic make you thirsty? How about some Pasta to make you hungry as well?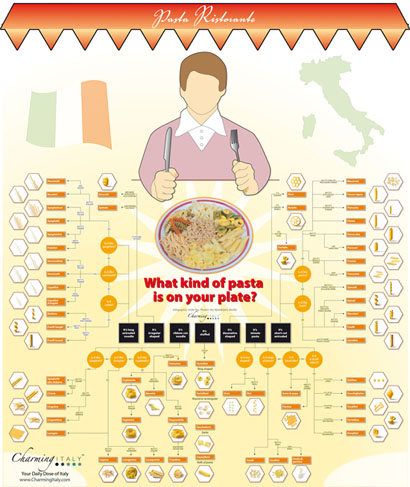 What kind of pasta is on my plate?
What kind of pasta is on your plate? by Charming Italy