The pizza is enough reason for many people to visit Naples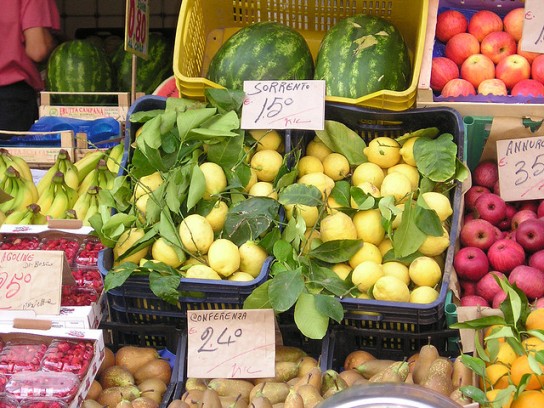 Credits: Flickr
But the southern Italian region of Campania has much more to offer the hungry traveler.
As Campania's largest city, it's no surprise that Neapolitan cooking traditions have greatly influenced the specialties that you'll find throughout the region. Pepperonico reigns king, fresh seafood is abundant and the pizza is the best in the world. Campania is home to the gorgeous Sorrento Peninsula, the Cilento coastline and the Mediterranean island jewels of Capri and Ischia. In Naples and these coastal areas seafood is the local staple. However, if you head inland in the provinces of Salerno, Avellino, Benevento and Caserta, the focus changes from mare (the sea) to terra (the earth). A day's drive in Campania can take you from fresh caught seafood to wild boar hunted in the mountains. Here are some of the top dishes to try during your travels in Campania.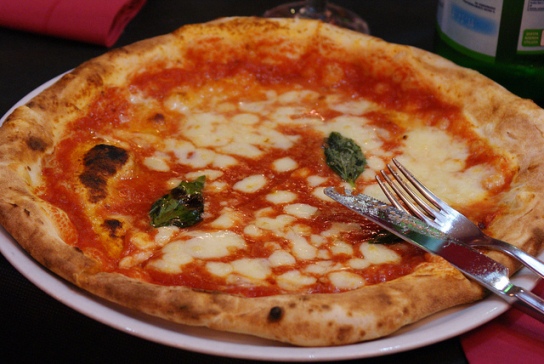 Credits: Flickr
1. Neapolitan Pizza
Number one on this list could only be the justly famous Neapolitan pizza. Known as the birthplace of pizza, Naples has many pizzaioli (pizza makers) who have been perfecting their fine craft for centuries. For the most traditional experience, try the Pizza Margherita topped with tomatoes, mozzarella cheese, a drizzle of olive oil and a few basil leaves. It's simple and divine all at once, and is only one of the many choices you'll find throughout Campania.

2. Risotto alla Pescatora
While risotto is often associated more with central and northern Italy, Risotto alla Pescatora is a classic seafood risotto popular in Naples, along the Amalfi Coast and in other seaside areas. The fresh flavors of the sea blend beautifully with the delicate rice base, making this a refreshing summer dish.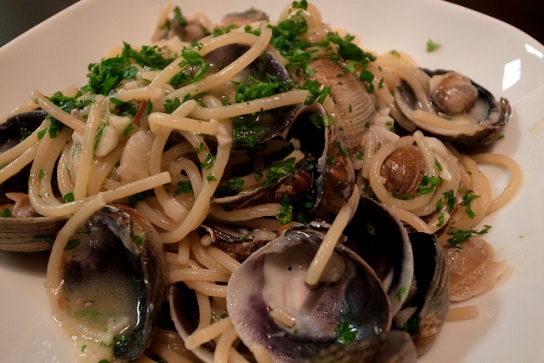 Credits: Flickr
3. Spaghetti con le vongole
Campanian cooking is simple and fresh, and this dish highlights those traits at their best. This traditional Neapolitan recipe features vongole (clams), olive oil, garlic and parsley served with spaghetti, and is one that you'll also find along the Amalfi Coast, the islands of Capri and Ischia and along the Campania coastline.


4. Parmigiana Melanzane
Campania's famous mozzarella cheese is an important ingredient in many traditional dishes, including the well-known Parmigiana Melanzane, or Eggplant Parmesan. Thin slices of eggplant are fried and then layered with tomato sauce, mozzarella and basil, and when baked the flavors meld in an irresistible and comforting dish.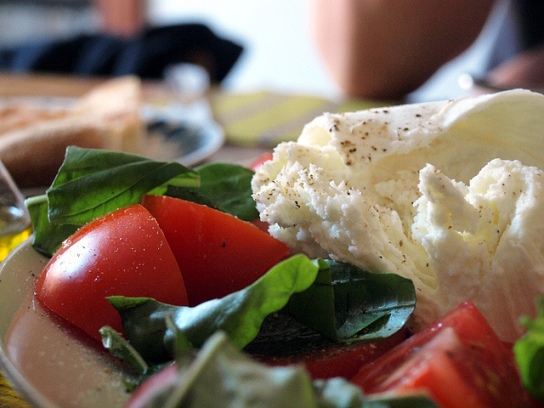 Credits: Flickr
5. Caprese Salad
No dish captures the flavors and simplicity of Campanian cooking better than the Caprese salad made with sun-ripened tomatoes, fresh leaves of basil gently torn and a drizzle of olive oil over the region's excellent mozzarella di bufala (buffalo milk cheese). The plains around Paestum and Salerno and Caserta outside Naples are famous for the production of mozzarella di bufala. Another equally popular choice in Campania for the Caprese salad is the delicious fior di latte mozzarella made with cow's milk. While this salad is now famous throughout Italy, it is named after the island of Capri where it comes from.

6. Totani e Patate
Here's where mare meets terra literally in this dish of squid and potatoes, a classic on the Amalfi Coast. Although it might sound a little strange, try it and you'll likely be surprised by this warm and satisfying dish.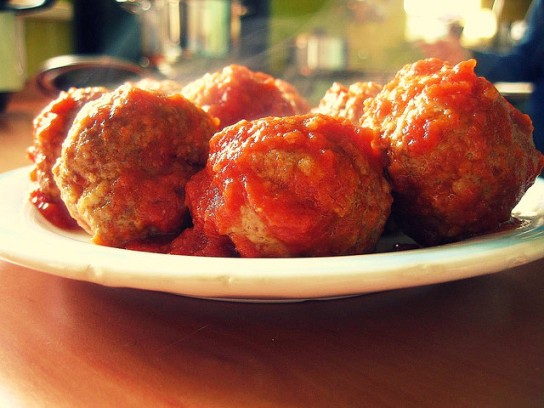 Credits: Flickr
7. Polpette
No food pilgrimage to Naples would be complete without trying the city's mythic polpette (meatballs). They're better than you can imagine! A traditional family style lunch might include pasta with the sauce from the polpette and the meatballs served separately as the second course.

8. Pesce all'Acqua Pazza
What is fish cooked in crazy water? While the name of this dish is pretty wild, it's one of the simplest and tastiest ways to prepare fish. On the Amalfi Coast, locally caught fresh fish are simmered in water with garlic, tomatoes and parsley.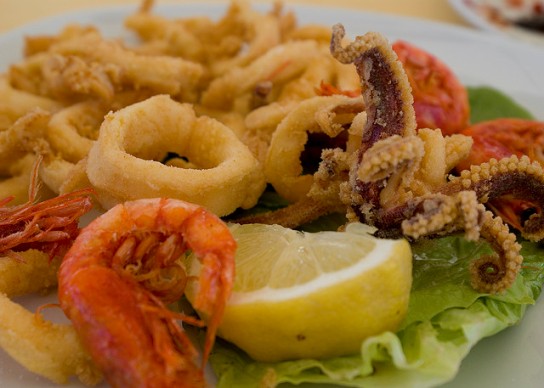 Credits: Flickr
9. Fritto Misto di Mare
A classic served by the seaside in summer along with a crisp white wine with fresh peaches, this mix of fried seafood often features calamari, shrimp and anchovies. If you're seafood shy, this might not be the dish for you. But any local will tell you that the fried baby octopus is the best!

10. Broccoli and Salsiccia
You don't have to go far inland in the mountains on the Amalfi Coast – only to Ravello and Scala – before you'll spot this traditional fall and winter dish on the menu. Locally made sausage with fennel contrasts wonderfully with the bitter broccoli rabe that grows so well in Campania. This is a very popular flavor combination and is served often as a second dish or as an inventive pizza topping.
Are you interested in Italian cooking traditions? Have a look on our Top 5 Tuscan foods and on our Top 5 Puglian recipes!