If you're not very familiar with the Italian cuisine, I'm sure this question has crossed your mind at least once during your visit to Italy. For over 2,000 years, pasta has been *the* national food of Italy, and it comes in many different styles and shapes, so it's not strange at all.
The long history and tradition of eating pasta has resulted in literally hundreds of different types of pasta. You probably know what spaghetti, macaroni or ravioli looks like, but how on earth can you distinguish barbina from ciriole?
Well, that's why we created a useful infographic that might help you to find out the exact type of pasta that's on your plate. It does not include every type of pasta (otherwise our designer would've been busy until next Christmas...), but it does include the most common and delicious ones.
Start at the black boxes in the middle and follow the lines to the pasta on your plate!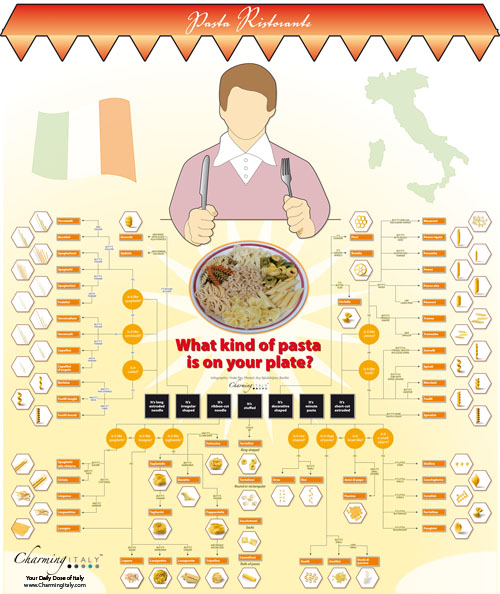 Different types of pasta
Click the image for the full-size version!
Share it!
Want to share this image? You can either copy the code below and paste it in your website, or you can use one of the social sharing buttons at the end of this article.