Eat well, be CHiC

Italian Food - Charming Italian Chef
Everybody loves Italian food and there is no one that hasn't tasted at least once in life pasta, gelato or pizza. But the point is: Which is the difference between the Italian cuisine par excellence and the Italian style in food?
Are you curious? Have you a doubt or a confusing idea? Don't worry! We invite you to discover the real essence of "la cucina Italiana" throughout a CHIC experience…
CHIC is the inspiring acronym of Charming Italian Chef. It's a team consisting of the top chefs from all over Italy for different regional cultures. This passionate and dedicated crew has successfully promoted the Italian culinary philosophy that delivers the freshest taste, original recipes and the perfect appearance and nutritional value of any Italian dish.
Through this association, the charming chefs hope to share both their love for Italian cooking, as well as the customs involved in the preparation and sharing of a typical Italian meal.
As CHIC said the Italian kitchen has a unique identity, founded on values that can not be imitated or simulated.
To that I would add that the "Italianity " is embedded not only in the culinary and gastronomic skills of a chef, but also in his/her personal creativity and aesthetic sense which usually arises from the places where they grew up.
To sum up!
21 Italian regions, 21 chefs to explore Italy, its regional cuisine and the specialties unique to each area.
Why you should not miss it?
Only for Charming Italy readers, each Chef will share his masterpiece regional recipe.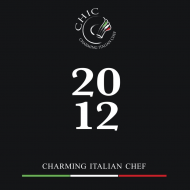 Italian cuisine - the best italian chefs
Do not miss our first issue: follow us on Twitter, Facebook and Pinterest! Subscribe to our RSS!