Venice is an enchanted place not only for adults, but for kids too: decorated palazzi to admire, canals to be fascinated by, boats to watch and ride around in, bridges to hop up and down, public squares to run freely in...and for worried parents: NO CARS!  Here is a list of 10 things to do in Venice with kids that will delight your little ones.
1. Count the Lions!
Venice's patron is Saint Mark, whose symbol is the lion. Throughout Venice there are hundreds upon hundreds of lion statues, friezes, paintings, etc. During your visit in Venice, invite your kids to try to find as many lions as possible! (A special lion extravaganza can be found by the Arsenale, near the bridge of Paradiso)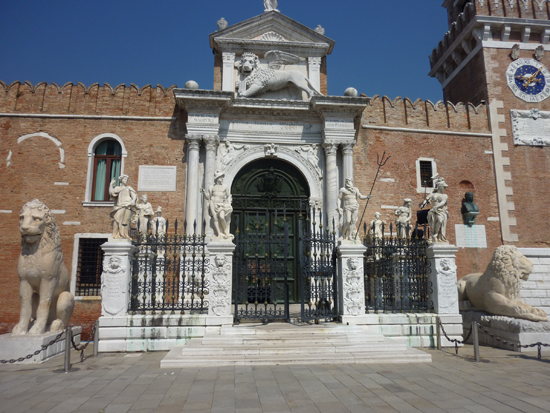 Venice with kids: top 10 things to do
2. All aboard: Boat Ride Down the Grand Canal

One of the best ways to see Venice is by boat!  From the train station, you can hop on the vaporetto (water bus) No. 1, which will take you down the Grand Canal to San Marco Square.  On this route, you will see many of Venice's famous buildings and museums with beautiful facades and decorations as well as catch a glimpse of all sorts of different boats: the gondolas, taxis, Venetians in their private boats, city boats (police and firemen) and the various others that make the Grand Canal a bustling maritime scene.  A special treat is to take a ride aboard a traghetto, the gondolas that cross the Grand Canal at various points between the 3 main bridges. It's a short trip--just a minute or two, but costs only .50 cents a pop!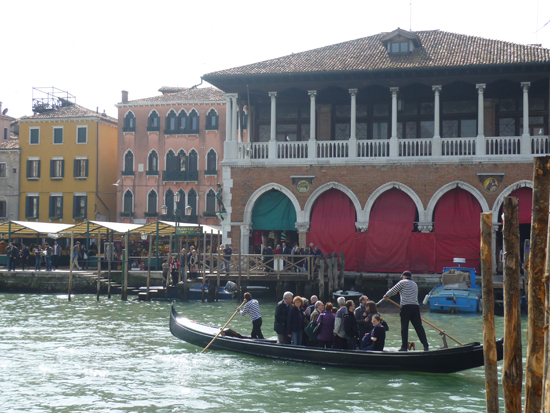 Venice with kids: top 10 things to do
3. Chase the Pigeons in San Marco Square
San Marco provides young ones a large space in which to run around as well as a fair number of pigeons to chase and/or feed, with of course the beautiful backdrop of the Basilica of San Marco and the Doge's Palace. Occasionally, the waiters of the restaurants that line the Square will spell out words or designs with bread crumbs in the center, which of course attracts the pigeons, offering a great photo opportunity. Be sure to pack your hand sanitizer gel!
4. Secret Itineraries Tour of the Doge's Palace
Perhaps for slightly older children, this tour allows you to see some of the secret rooms and passageways of the Doge's Palace.  Normal admission still allows you to see the Bridge of Sighs, the prisons, and the armor rooms, which will interest most older kids as well.
5. Catch of the Day: Rialto Fish Market
If your kid is adventurous, take a spin around the Rialto Fish Market, where they can see squid, shrimp, lobster, crabs, sword fish and other interesting specimens of sea life up close and personally.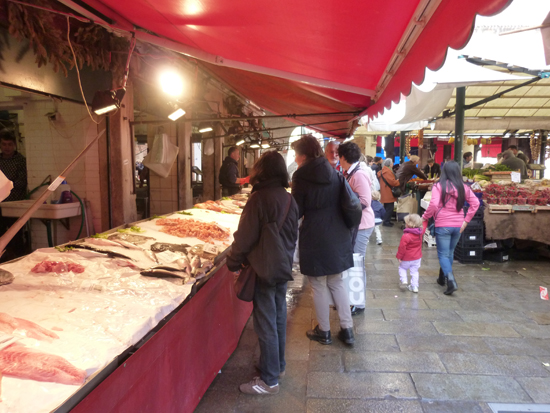 Venice with kids: top 10 things to do
6. Ceccheti: Small Bites for Small Hands

After a wander in the Market, walk toward the Rialto Bridge and try some of the Venetian ceccheti (small bites) and one of the neighboring bars. Parents can also treat themselves to a glass of prosecco or a spritz!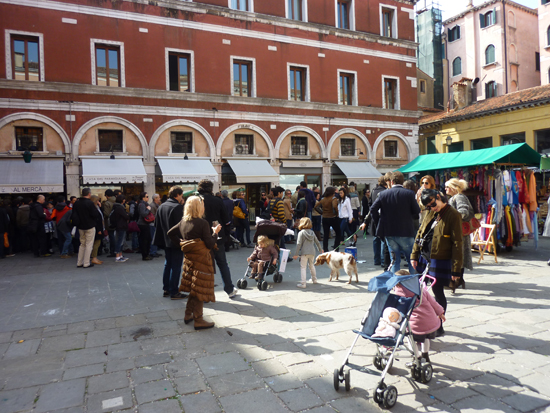 Venice with kids: top 10 things to do
7. Sun and Fun: Beach Day at the Lido
In late spring and summer months, it is a must to spend a morning or afternoon--or even a whole day--playing on one of the Lido's beaches, an island just a few water bus stops away from San Marco Square. From San Nicolò (the northernmost part of the Lido) down to Alberoni (the southernmost tip), the island offers a number of beaches, restaurants, ice cream shops and even bike rentals for those who want a bit more of an active outing.
8. I Scream, You Scream, We all Scream for....Gelato!

Venice, like most Italian cities, have a ton of gelaterie.  Some of the best ones are: Il Gelatone in Cannaregio, Alaska in San Polo, Nico in Dorsoduro, San Giorgio in Castello. The Italian ice cream chain, Grom, with outposts in Cannaregio and Dorsoduro, is also extremely good. Kids will enjoy experimenting with traditional and new flavors!
9. Nero di Seppia
One of the most striking examples of Venetian cuisine is nero di seppia, a black-colored sauce for pasta and risotto made with cuttle fish ink. If your child (and you) are brave enough, try a plate of fresh pasta smothered in it. It will make for a delicious and different experience!
10. Workshops for Kids in Venice's Museums
From  contemporary art to natural history, Venice has it all. And most of these museums lead workshops for children to help them explore the various collections.  Palazzo Grassi, the city's contemporary art museum, is especially proactive about providing educational and artistic experiences to its young visitors.
Do you have some more suggestions?
If you've missed it, take a look at "Places to go with kids: Cagliari, Sardinia" and do not miss our next suggestions on what to do with kids on holiday! Subscribe to our RSS, follow us on Twitter and Facebook!