La Bagnaia Golf and SPA Resort Siena
Strada Statale 223 Siena Grosseto Km. 56 -
Useful Info
CURIO Collection by Hilton
18 holes Golf Course
Airports – Florence approx. 75 mins / Pisa approx. 2 hrs
Rooms – 101
Small pets allowed – YES, one per room and with a charge of € 20,00 per day
Check In:
18-10-2021
Check Out:
19-10-2021
Nights
1
Clients:
0 Adults
Modify
Opening Period : La Bagnaia Golf and SPA Resort Siena
From 01 July 2021
-
to 31 October 2021
Location
In the heart of the Tuscan countryside, just 12 km from Siena, La Bagnaia Golf & Spa Resort presents itself as a place of peace and silence. With its 1100 hectares of land, including 600 of woods and gardens, this old medieval town is the meeting point between culture, history and tradition; nature reigns in this paradise where deer, pheasants, rabbits and horses live in total freedom.
Hotel
The Resort Golf & Spa, a hotel CURIO Collection by Hilton, is composed of the ancient village Borgo Bagnaia, from the 12th century, and of Borgo Filetta, the customhouse the 11th century. The traditional decor is combined with pieces of furniture belonging to the family collection, rare Chinese and European antiques collected around the world.

Rooms
The 101 rooms are located either in the building "Borgo Filetta" (4-star, 29 rooms) or in the building "Borgo Bagnaia" (5-star, 72 rooms) . All rooms have a nice view over the Tuscan hills and each room has unique details, that makes them all different, moreover everything is tailor-made by skilled craftsmen.
Wellness Centre
Since the Middle Ages, the inhabitants of Siena used to immerge themselves in the thermal waters; baths attained such a reputation that also the well-known personalities such as popes, cardinals and princes used to go there. Today, the Buddha Wellness Center proposes this tradition once again, thanks to the extraordinary healing powers of the water of the ancient source that flows naturally to a temperature of 27°.
The name Bagnaia comes from this old custom of "bathing" in these waters; the centre is characterized by the variety of treatments of ethnic origins, capable of improving the psychological well-being. It is recommended to book treatments with in advance.
Restaurant
The gourmet Restaurant "La Voliera", located in the centre of the main square of the Borgo, is the ideal mix between modernity and tradition. Guests at the Resort can taste the local specialties wisely enriched with a touch of contemporary flair, getting lost amid the precious aromas and flavours of the finest wines, but also letting themselves be surprised by the less known.
Services & Activities 
Available to guests is the large swimming pool, surrounded by a flourishing garden and terraces. The medieval church of Saints Vincenzo and Anastasio is used for ceremonies of great charm (Blessing).

Upon request, guests can have many services, hoosing from the wide range of possibilities offered by the La Bagnaia Golf & Spa Resort. 
First of all, the Royal Golf La Bagnaia is perfectly nestled in the quiet hills of Siena. It is an ideal destination for golfers who decide to spend their holidays in Tuscany thanks to its charming nature, the unique touch of  signed by Robert Trent Jones Jr and the very high level of care and maintenance of the turf (18 holes).
Furthermore, you have the chance to book cultural and natural excursions, wine tasting, wine cellar visits, cooking classes, hot air balloon ride, orienteering in the woods, survival courses, archery, golf and tennis. All additional activities are organized by professional partners of La Bagnaia Golf & Spa Resort.  
Small pets are allowed, one per room and with a charge of approx. € 20 per day. 
The tourist tax is not included in the price and has to be paid in local.


<< Wellness Hotels Tuscany
Rooms La Bagnaia Golf and SPA Resort Siena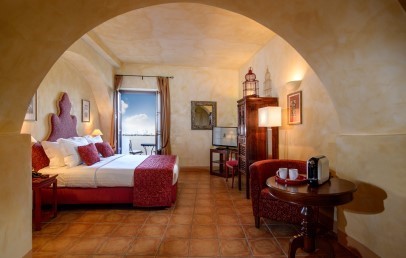 approx. 26 sq.m. / double or twin beds Double rooms carefully furnished with unique pieces made by
read more »»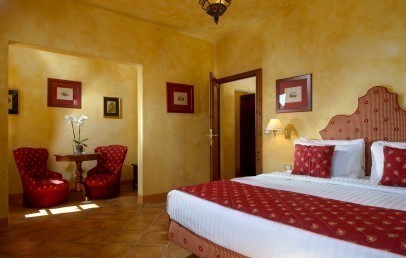 approx. 30 sq.m. / double bed Large double rooms carefully furnished with unique pieces made by skilled
read more »»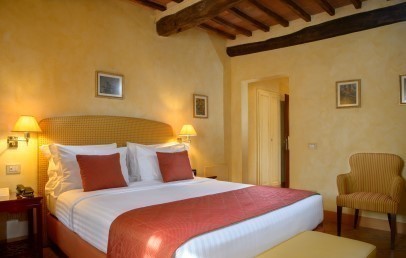 approx. 23 sq.m. / double or twin beds Tuscan style room located in the main area of
read more »»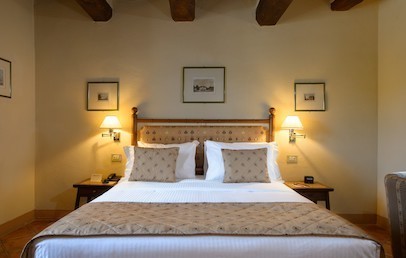 Double or twin beds These rooms are located in the Filetta building and are characterized by an
read more »»
In the surroundings
Tourist Centre within 10/15 mins. by car
Tourist Centres within 30 mins. by car
Golf Course
Common areas
Swimming pool
Sun terrace
Garden / Park
Outdoor lounge areas
Internet
Wi-Fi in the whole structure
Activities
Excursions/Guided tours
Natural trails
Wine&Food tours
Guided tastings
Cooking classes
*NB: The services may not be fully available / working and subject to change for reasons beyond the control of CharmingItaly.com who declines every responsibility.
Map La Bagnaia Golf and SPA Resort Siena
Please select the points of interest you want to display on the map
Offer La Bagnaia Golf and SPA Resort Siena
Advance Booking Percentuale
Advance Booking - Book at least 30 days in advance and get a 10% reduction on your stay.
*NB: The offers are not valid for all rooms. To find out, which rooms and periods the offers apply to, please check our online-booking portal.