Early Figs are a Puglian Delicacy
You may not know it, but there are three different types of figs. They can be divided into categories by the time of year at which they mature. The first figs are ready to be eaten in early summer and in Italian are called "fioroni." They are much larger and juicier than the other types of figs which mature in late summer or late autumn. In my personal opinion, fioroni are a world apart, a thousand times more delicious than any other fruit I have ever tasted, sinfully luscious and sweet.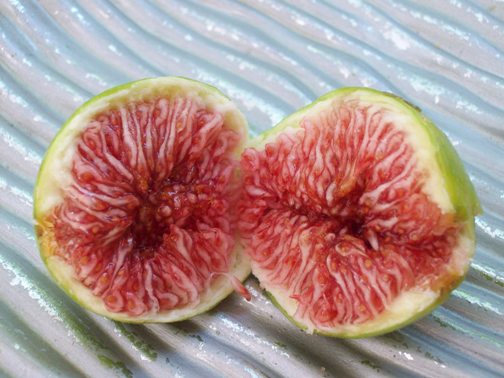 Credits: Sara Donahue

A curious thing about fig trees is that they are capable of producing all three types of fruit. Or rather, some trees will only produce fioroni, others only late summer figs and others only the late fall variety. However, some trees will produce fioroni one year and figs the next. In yet another variation, other very wonderful trees will surprise you by producing first fioroni and then figs as well. What bounty!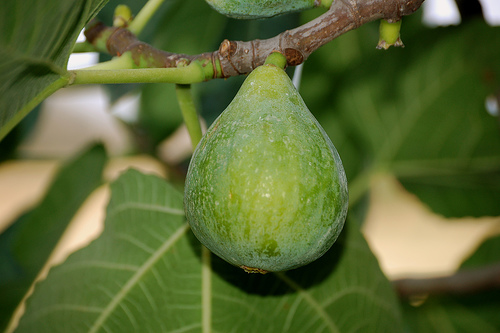 Credits: Flickr
Fioroni are absolutely delicious eaten as is. For me, there's nothing better than the rustic pleasure of picking one straight off the tree, breaking it in two and biting into the soft, fragrant fruit. I have to admit, though, that cooled in the refrigerator, peeled, sliced and served on a plate, fioroni deserve their place in a more sophisticated cuisine.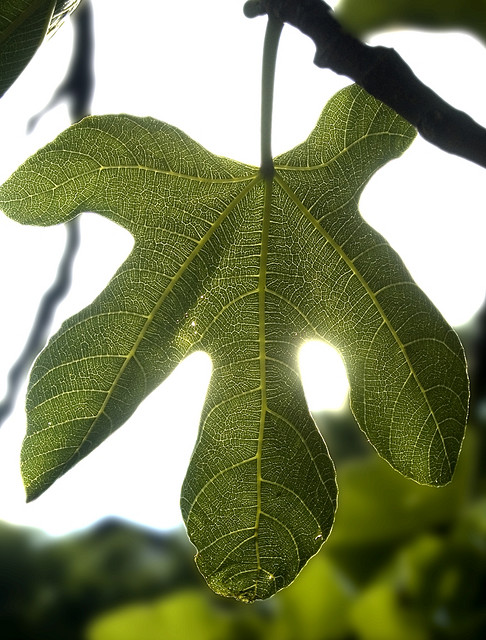 Credits: Flickr
If you need further convincing to try this exquisite fresh fruit, keep in mind that it is an excellent source of potassium and fiber and 100 grams of fioroni have only 74 calories.
Try your hand in the kitchen with fioroni with the following recipes . . .
Fioroni Preserves
Ingredients
200 grams fioroni (about 3 large fioroni)
30 grams sugar
Fresh lemon juice
Directions
1. Peel the fioroni and place them in a small saucepan in alternating layers of fruit, sugar and lemon juice.
2. Cover and lest rest for half an hour.
3. Cook over a medium flame for 15 minutes being careful to stir delicately and frequently with a wooden spoon.
4. Let cool and enjoy!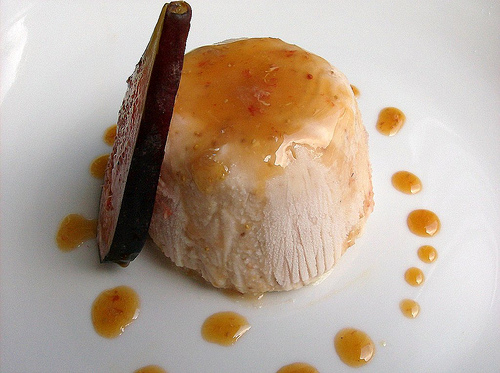 Credits: UnaFinestraDiFronte
Fioroni Chilled Dessert
Ingredients
Chilled Dessert:
300 grams fioroni
1 litre water
30 grams sugar
200 grams fresh ricotta cheese
200 ml yoghurt
3 egg whites
Fioroni Caramel:
40 grams sugar
¼ fiorone
1 tbsp liquid cream
Directions
Chilled Dessert
1. Wash the fioroni, peel them and cook over a low heat in a small pan for 5 minutes.
2. Beat them with a blender or break them up with a fork.
3. Bring 1 liter water almost to a boil in a saucepan.
4. Whip the egg whites and sugar in a small bowl for 5 minutes, then place the bowl into the hot water in the saucepan and continue to beat the egg whites for 5 more minutes to make a meringue.
5. Pass the ricotta through a fine sieve and add the yoghurt, the fioroni and the meringue.
6. Mix delicately, then pour into one large (or a few small) pudding molds.
7. Cool completely.
Fioroni Caramel
1. Cook sugar with a teaspoonful of water in a small saucepan with a thick bottom until melted and slightly browned.
2. Remove from heat, add warm cream and mix.
3. Add fiorone pulp and mix.
Final Preparation
1. Remove dessert from mold and pour caramel over the top.
2. Wait until it softens before serving.
3. Decorate with a thin slice of fiorone.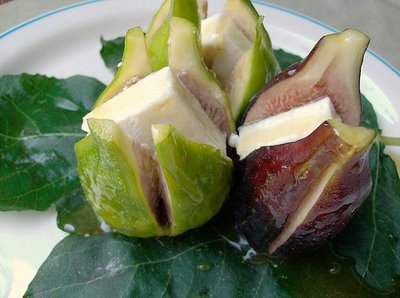 Credits: UnaFinestraDiFronte
Fioroni with Honey and Ricotta Cheese
Ingredients
8 fioroni
200 grams ricotta cheese
80 grams honey
Directions
1. Wash the fioroni and cut them in four lengthwise, being careful to leave them attached at the base.
2. Cut the ricotta into small pyramid shapes and place in the center of the open fioroni.
3. Arrange on a serving platter. If you have access to trees that have not been chemically treated, setting the fruit on leaves from the tree adds to the aesthetics.
4. Sprinkle with honey and serve.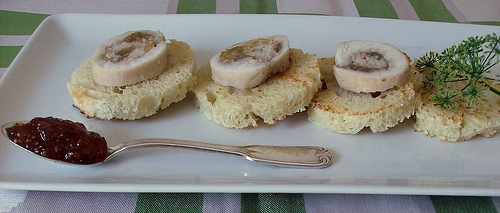 Credits: UnaFinestraDiFronte
Turkey with Fioroni Preserves
Ingredients
250 grams turkey breast
140 grams Fioroni Preserves (see recipe above)
120 grams cream
60 grams vegetable broth
parsley or marjoram (as you prefer)
extra-virgin olive oil
salt and pepper, to taste
4 slices of bread or focaccia
Directions
1. Cut 140 grams of turkey into cubes and mix in blender with the cream, a pinch of salt and pepper.
2. Mix in 80 grams of Fioroni Preserves.
3. Cut remaining turkey into thin slices, beat with meat mallet, if necessary.
4. Cut into squares and cover each one with 10 grams Fioroni Preserves.
5. Then add a layer of the blended cream and turkey.
6. Roll up each square and wrap in two layers of plastic wrap, twisting the ends closed.
7. Poke holes into each wrapped packet and drop into boiling vegetable broth.
8. Cook on a low heat for 18-20 minutes.
9. Once cooked, remove the plastic and brown the rolls in a pan with a bit of olive oil.
10. Let them cool, slice them into rounds, season with some parsley or marjoram.
11. Serve warm over bread (or focaccia) that has been lightly toasted and drizzled with oil flavored with parsley or marjoram.
Do not miss our tips on Italy: Subscribe to our RSS, follow us on Twitter and Facebook: stay tuned!