Valtur Sardegna Tirreno Resort
Viale Lungo Mare - Loc. Cala Liberotto -
Useful Info
170 Rooms
Free Wi-Fi in common areas
Nursery
Mini / Kids / Young Club
All Inclusive
Pets allowed on request
Swimming pool with waterslide
Charming's opinion
The Valtur Sardegna Tirreno is a cosy 4-star resort located just a a short walk from the beach. It is the perfect choice for couples or families, offering a beautiful equipped beach, a convenient All Inclusive formula and a wide range of
Check In:
09-12-2023
Check Out:
10-12-2023
Nights
1
Clients:
0 Adults
Modify
Opening Period : Valtur Sardegna Tirreno Resort
From 25 May 2024
-
to 20 September 2024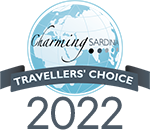 Location
The Valtur Sardegna Tirreno Resort is a 4 star hotel located in a lush park of 5 hectares, 50 meters from the beautiful beach of Cala Liberotto. The white sandy beach is bathed by a clear gently sloping sea, particularly suitable for children.
From the hotel you can easily reach the Bidderosa Oasis, a protected coastal forest that frames five enchanting bays. The pretty town of Orosei is 12 kilometres away, with all the useful amenities. The resort's convenient location makes it easy to make some lovely excursions to discover the heavenly beaches of the eastern coast but also the mountain areas and villages of Barbagia.
The airport and port of Olbia are just over 70 kilometres away.
Hotel
The Valtur Sardegna Tirreno Resort is a 4 star hotel located in the Orosei area. The property is surrounded by a wonderful garden full of pine trees and palm trees and consists of a main four-story building and many bungalows scattered in the garden. There is a main restaurant and one on the beach and two bars. Guests have at their disposal various sports fields and an impressive 1,600 sq.m. swimming pool with water slide, artificial stream and whirlpool jets. There is also a children's pool and sun loungers and umbrellas until exhaustion.
Rooms
The resort's 170 rooms are divided between the four floors of the modern central building with a splendid sea view, served by 2 lifts, and the delightful one- or two-storey bungalows in the garden.
All bungalows have a balcony or patio with table, chairs and drying rack, bathroom with shower, hairdryer, TV, air conditioning, minibar and espresso machine (capsules available for a fee). Four bungalows on the ground floor are equipped for disabled guests.
The Suites and Panorama Suite entitle guests to a daily supply of fruit, 2 coffee capsules, tea bags, a bottle of natural water and a bottle of sparkling water.
Beach
The beautiful beach of Cala Liberotto is a true gem on the Sardinian east coast and it is only 50 metres from the resort. To access it guests just have to cross the municipal road and a small pine forest. The crystal clear and gently sloping sea is ideal for younger children. The beach is equipped with sunbeds and umbrellas, included in the price of the stay from the third row until exhaustion. The restrooms are located at the Corallo restaurant, close to the beach, showers before entering the hotel.
Beach service costs (they may vary):
First row on the beach: € 280,00 per room per week
Second Row on the beach: € 210,00 per room per week.
To be requested at the time of booking, limited availability.
Sport
Guests at Valtur have at their disposal four synthetic grass tennis courts, a multi-purpose five-a-side football/basketball/volleyball court, table tennis, bocce, minigolf and a fitness area with basic equipment and changing rooms.
Families
The Valtur Team, together with the hotel staff, offers all guests a wide range of activities, sports and courses that will make their stay even more pleasant and enjoyable. Younger guests can participate in the activities of the Kids Club (from 3 to 6 years old), the Mini Club (from 7 to 11 years old), the Young Club (from 11 to 13 years old) and finally the Tribe Club (from 14 to 16 years old). Workshops, shows, excursions and sports activities will make your children's days full and happy.
Baby feeding room: a room available for mums and dads to take care of their little ones, equipped with a full kitchen, fridge, microwave oven, mixer, bottle warmer and high chairs. Vegetable soups, vegetable purée, fresh sauce, pastries, long-life whole milk, yoghurt, hazelnut cream, jams, rusks and single-serve biscuits, fresh fruit, boiled meat and fish are available. Fresh or powdered milk, homogenised or other specific products are excluded.
Baby cot: optional rental, to be reported at time of booking, euro 10 per day (max one per room).
Restaurant
The Main Restaurant has a large air-conditioned dining room and an equipped terrace near the swimming pool. Breakfast, lunch and dinner are served here, with buffet service and drinks included (natural and sparkling bottled water, draught wine, beer and sodas). Tables are pre-assigned for the duration of your stay. Every week there is a typical Sardinian evening and one dedicated to sea food. During breakfast there is a corner dedicated to wellness lovers, with wholemeal and organic products. Guests with food intolerances can indicate their needs in advance. Special products are made available for them and they are free to provide the kitchen with specific packaged products themselves.
The Corallo Restaurant, open from Monday to Friday, is located near the beach and has an indoor dining room with a glass door and a beautiful veranda overlooking the sea. You will be served meat and fish specialities and excellent pizzas. All guests can have lunch and dinner here during the week, upon reservation.
Every morning, at the Main Bar, the Dolce Dormire corner is set up for breakfast between 09:45 and 11:00.
All Inclusive: full board service (breakfast, lunch and dinner) with drinks included during meals (draught wine, beer and sodas). One lunch and one dinner per stay at the Corallo Restaurant (reservation required). Draught drinks at the main bar: water, beer, cola, orangeade, iced tea, juices, espresso, cappuccino and local liqueurs. From 19:00 to 19:45 aperitifs (alcoholic and non-alcoholic). Slices of pizza, hamburgers, sausages and chips available from 11:00 to 19:00. Anything not mentioned in the All Inclusive list can be requested for a fee.
Very important: The stay in All Inclusive basis starts with dinner on the day of arrival and ends with lunch on the day of departure.
Services & Activities
Wi-Fi: free in the common areas of the reception and Lounge Bar.
Swimming pool with water slides, artificial stream and Jacuzzi, children swimming pool in the indoor pinewood miniclub area.
Services available at an extra cost: massage area, laundry and ironing service, bike and mountain bike rental, baby-sitting service on request, evening use of the sports fields, parking on request and with payment on site (free parking nearby).
VALTUR4YOU
Includes: use of the swimming pools, daytime and evening entertainment for adults and children, beach service with 1 beach umbrella and 2 sunbeds per room from the third row onwards, assigned for the entire duration of the stay (the first and second are payable and can be pre-booke), provision of beach towels on deposit with a midweek change (further changes are payable), sports activities, fitness, games, dancing, gym, children's playground, darts and table tennis and daytime use of the sports fields.
The animation activities end at the end of September as well as the payment of Valtur4You. Individual sports, use of the beach and swimming pool (depending on weather conditions) and evening piano bar remain active from that date.


COMPULSORY COSTS TO BE PAID ON SITE
- Valtur4You Club Card: compulsory from 3 years old, euro 56 per person per week.
- Infant supplement: 0-2 years old, euro 70 per week to be paid in the agency.


Pets: allowed on request small size (max 10 kg), euro 10 per day + euro 70 for final sanitation.

- Check in: from 04.00 p.m.
- Check out: within 10.00 a.m.
Rooms Valtur Sardegna Tirreno Resort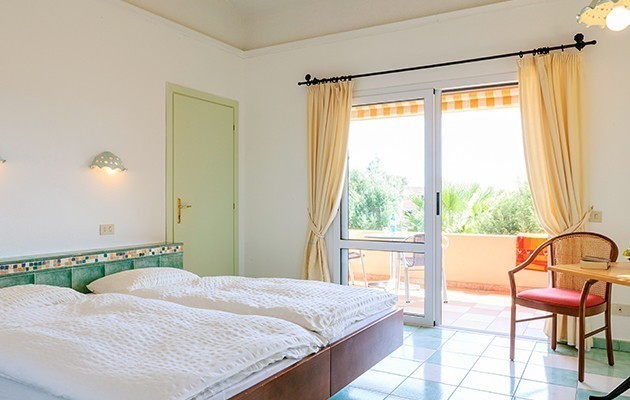 20-30 sq.m.Small buildings of one or two floors scattered in the garden. Decorated in the Sardinian
read more »»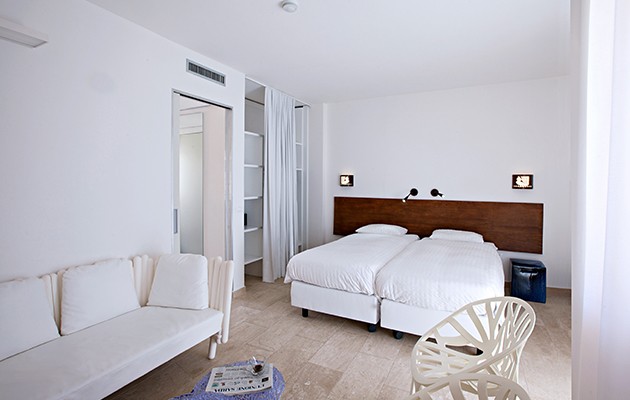 33 sq.m.Spacious rooms located in the main building, equipped with modern furniture. They have a double
read more »»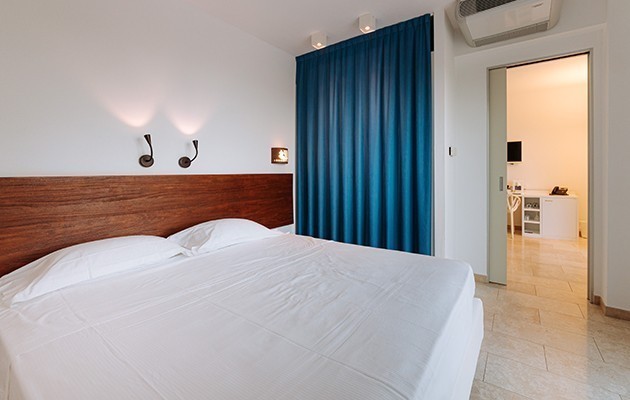 48 sq.m.Large three-room apartments located in the main building (first, second or third floor), with living
read more »»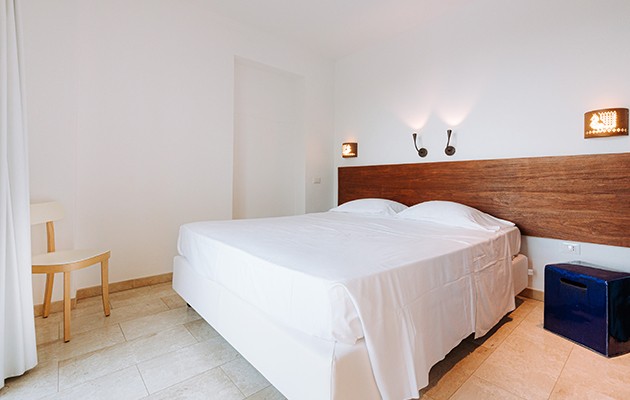 48 sq.m.Spacious rooms located on the third floor of the main building, composed of living room,
read more »»
Food & Drink
Lounge Bar
Restaurant
Breakfast
Lunch
Dinner
Family
Kids Playground
Baby Sitting
Family services
Junior Club
Mini Club
Baby Club
Baby service
Beach
Beach service
Equipped Beach
Beach Towels provided
Other services
Laundry service
Ironing service
Sport
Ping Pong
Tennis
Five-person soccer field
Common areas
Garden / Park
Swimming pool
Entertainment
Night entertainment service
Parking
Private parking
Private garage
Transport
Bike rental
Mountain bike rental
*NB: The services may not be fully available / working and subject to change for reasons beyond the control of CharmingItaly.com who declines every responsibility.
Map Valtur Sardegna Tirreno Resort
Please select the points of interest you want to display on the map