Piazza Walther, Via della Rena 28 -
Useful Info
ABD Bolzano Airport - 10 Km
Grifoncino Cocktail Bar at Hotel Greif - open from 4 pm to 1 am
Rooms - 33
Check-In - 3pm - 12am 
Check-Out - 12.05am - 12pm 
Breakfast - 07am - 10,30am
Breakfast on Saturdays and Sundays - 08am to 11am
Lunch - 12pm - 2,30pm
Dinner - 7pm to 10,30pm
Dinner during summer months - 7,30pm - 10,30pm
Pet allowed - YES, 25 Euros per day (meals not included)
Check In:
08-04-2020
Check Out:
09-04-2020
Nights
1
Clients:
0 Adults
Modify
Opening Period : Hotel Greif
Open all year round
Location
Greif Hotel is placed in the modern city of Bolzano, the historical way to central Europe or south to Italy frequented by artists, merchants and travellers since past times. In Bolzano, the main town of South Tyrol, meet two languages (Italian and German) as well as two different cultures. In the old town, where the Hotel is located, modern and ancient coexists: for all these features, Bolzano is also called "city of contrasts".
Hotel
The Hotel in "Walther-Platz" square boasts about 500 years in the hospitality field, after numerous changes of ownership occurred until 1816, when the Staffler Family became the owner, which continues to manage it today. Completely restored in the '90s, it reopened in 2000 as design hotel. 33 unique and refined rooms designed by contemporary artists, different from each other and divided into Standard, Comfort, Superior, Deluxe, Junior Suite and Junior Suite Deluxe. The Greif Hotel is proud to welcome its guests in a setting where the art of hospitality is a key point and each room tells a wonderful, original story.
Restaurant
The nice breakfast room at Hotel Greif is proud to welcome each morning their guests with homemade marmalades, bread, cheeses, cappuccino and much more. On sunny and warm days, breakfast can be enjoyed on the panoramic terrace with fantastic overview on the Schlern. For lunch and dinner, from Monday to Saturday (Sunday is closed) the guests can taste the specialties of the Chef Manuel Astuto at the restaurant "Laurin" at the Parkhotel Laurin, only about 50 m away.
The Grifoncino Cocktail Bar is the beating heart of Bolzano and landmark of the locals. The trendy bar is open from Monday to Saturday from 5 o'clock in the afternoon until one o'clock in the morning. During summer time, from 5 pm to 11 pm, everyone gets out on the exclusive Rooftop Lounge. At the Grifoncino unique and excellent cocktails are mixed by experienced bartenders with spices, herbs, regional and exotic fruits, along with a cosmopolitan spirit and creativity are served to get a "wow effect"!
Services & Activities
Breakfast smells of Cappuccino, homemade cakes, fresh fruits and tasty cheeses. Only a few steps away from the Hotel, at the "sister's Hotel" Laurin, a green garden is pleased to welcome the guests of Greif Hotel for relaxing peaceful moments, sipping a cocktail and enjoying the heated pool (from May to September). The Restaurant from the Hotel Laurin is also open for dinner to Greif Hotel guests, booked on half-board basis. The internet connection Wi-Fi is available for free of charge in all rooms and in the common areas and furthermore an Internet Point is at guests disposal at the reception.
Rooms Hotel Greif
23-25 sqm – Twin beds Twin room with private marble bathroom; tub, bathrobe, Bulgari complimentary toiletries. They
read more »»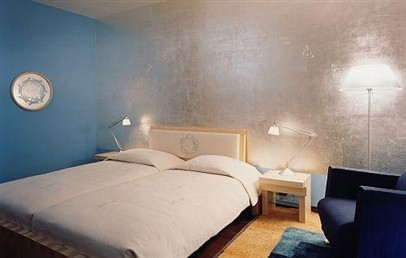 28 sqm – Twin beds Twin room with a private marble bathroom with tub, bathrobe and complimentary
read more »»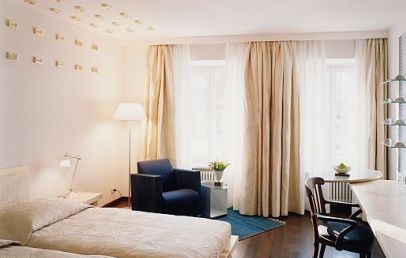 28-47 sqm – Twin beds Twin rooms, some with a mezzanine. Some rooms have view over Piazza
read more »»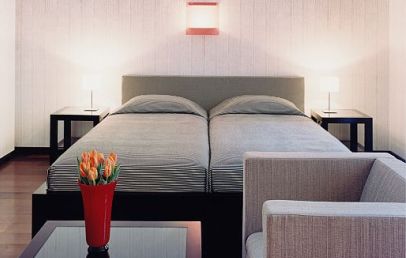 32-56 sqm – Twin beds Twin rooms, one of the Deluxe room has a mezzanine. The marble
read more »»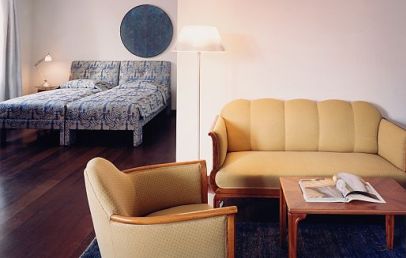 52-53 sqm – Twin rooms Twin room with bow-window. Marble bathroom with tub, separate WC, bathrobe and
read more »»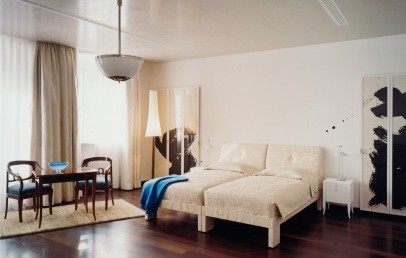 59-67 sqm – Twin beds Twin rooms, one has a mezzanine. Some have marble bathroom with whirlpool,
read more »»
Internet
Wi-Fi in the whole structure
In room
Rooms adapted for disabled people
Sport
Fitness center
Gym / Fitness room
Common areas
Swimming pool
Outdoor lounge areas
Garden / Park
In the surroundings
Tourist Centre within 10/15 mins. by car
Nightlife / Clubs / Bars Lounges
Tourist Centres within 30 mins. by car
*NB: The services may not be fully available / working and subject to change for reasons beyond the control of CharmingItaly.com who declines every responsibility.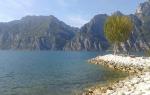 The perfect Italian place to enjoy a spot of biking Trentino-Alto Adige is an Italian and German speaking region in northern Italy which is packed full of breath-taking mountain landscapes,
read full article >>
Map Hotel Greif
Please select the points of interest you want to display on the map