Therasia Resort Sea and Spa
Località Vulcanello - Vulcano -
Isola di Lipari (Messina) Sicily
Useful Info
Catania Airport – 180 km
Nearby – Vulcano Porto 1,4 km
Nearest beach – Spiaggia delle Sabbie Nere 800 m
Private beach – no
Equipped beach – yes
Rooms – 94
Check-in – 14:00-23:55
Check-out – 11:00
Late check-out - on request 11:05-15:55 (+ 50%)
Check In:
18-01-2022
Check Out:
19-01-2022
Nights
1
Clients:
0 Adults
Modify
Opening Period : Therasia Resort Sea and Spa
From 14 April 2022
-
to 16 October 2022
Location
The Therasia Resort Sea & Spa is located in the Aeolian Islands, a UNESCO heritage site and a prime destination for an unforgettable holiday in Sicily. It is set on the island of Vulcano, 800 metres from the sea and the beach of Sabbie Nere, one km from the centre of the island and just 5 minutes by hydrofoil from the more touristy Lipari. Therasia Resort Sea & Spa offers stunning views of the sea and the other Aeolian islands.
Hotel
With its intimate and refined charming atmosphere, Therasia Resort welcomes you with its typical white-washed walls and local building materials (volcanic rock from Mount Etna, Sicilian terracotta, cedar wood). It has 97 rooms, each exquisitely designed and furnished, an exclusive Spa and a Beauty Centre, three restaurants, two bars and many welcoming common areas. The garden surrounding the Therasia Resort is planted with cacti, succulents and other typical plants. Here, surrounded by greenery and with view over the sea, are large terraces and two infinity pools with their respective sunbathing areas.
Rooms
With double bed or twin beds, the rooms at Theresia Resort Sea & Spa stylishly furnished in Mediterranean style with care shown in every detail, such as the bedsteads in wrought iron or with colourful majolica decorations. They are equipped with satellite TV, individually controlled air conditioning, minibar (with complimentary soft drinks), safe, free Wi-Fi connection and en-suite bathroom in black volcanic stone and glazed coloured Sicilian terracotta tiles.
Beach
A comfortable stepped pathway takes Therasia's guests down to the sea and an area equipped with beach umbrellas and sun loungers. Close to the Resort and all around the island there are many beatiful beaches not to be missed, such as Acque Calde, Gelso and Asino. At the hotel, two elegant infinity swimming pools with hydromassage, flanked by stylish comfortable sun loungers.
Wellness Centre
Therasia Resort's Spa centre includes an indoor pool and hydromassage, sauna, Turkish bath and emotional shower. Guests can choose from a broad range of face and body treatments, massages, hydrotherapy and relaxing baths.
Restaurant
With three restaurants and two bars, Therasia boasts a variety of dishes and dining settings. The buffet breakfast is served at the Arcipelago restaurant, which is open in the evening as well for a typical Sicilian dinner. Lunch can be enjoyed at the grill and pizza restaurant "I Grusoni" or at the pool bar "La Pomice". The restaurant "Il Cappero" is a gourmet restaurant with 1 star Michelin offering a very good alternative for a delicious dinner. Aperitifs, cocktails and live music at Lounge Bar Il Faraglione.
Services & Activities
Wi-Fi internet access in the common areas, shuttle bus to the village centre and port, scooter rental, diving and windsurfing nearby.
<< Hotels on the islands
Rooms Therasia Resort Sea and Spa
20 m2/double bed (200 x 200 cm) or twin bedsWelcoming, charming double or twin rooms in
read more »»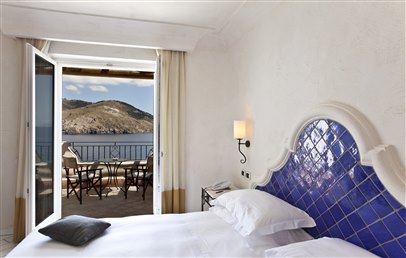 22 m2/double bed (200 x 200) or twin bedsCharming double or twin rooms in the delightful
read more »»
26 m2/double bed (200 x 200 cm) or twin beds Spacious and welcoming double or twin
read more »»
Internet
Wi-Fi in the whole structure
Common areas
Swimming pool
Outdoor lounge areas
Garden / Park
Sun terrace
Lounge areas indoor
Sport
Gym / Fitness room
Fitness center
Water Sports
Surf/windsurf/kite lessons
Diving center
Wellness
Spa
Whirlpool in a relaxing area
Sauna
Turkish bath
Wellness treatments
In the surroundings
Selection of beaches
Tourist Centre within 10/15 mins. by car
Transport
Transfers / Shuttle Service
Scooter rental
*NB: The services may not be fully available / working and subject to change for reasons beyond the control of CharmingItaly.com who declines every responsibility.
Map Therasia Resort Sea and Spa
Please select the points of interest you want to display on the map
Get More Therasia Resort Sea and Spa
01-01-2020 - 31-12-2022
Free access to the wellness centre (adults only)
01-01-2020 - 31-12-2022
Only for Charming customers: a small Welcome gift upon arrival
*NB: The offers are not valid for all rooms. To find out, which rooms and periods the offers apply to, please check our online-booking portal.