Useful Info
Michelin-starred gourmet restaurant
20 rooms and Suites
Local artist available for drawing and painting lessons
Siena – approx. 35 mins by car
Florence – approx. 1 hr by car
Pisa – approx. 1 hr 45 mins by car
Charming's opinion
A small oasis of luxury: the ideal place to escape from the chaotic reality and devote themselves to relaxation and intimacy: it guarantees an exclusive and certainly romantic holiday. 
Check In:
01-08-2021
Check Out:
02-08-2021
Nights
1
Clients:
0 Adults
Modify
Opening Period : Borgo Santo Pietro
From 14 May 2021
-
to 31 October 2021
Location
The Relais Borgo Santo Pietro overlooks the enchanting Serena valley, lying on the green hills of Siena, a short walk away from the picturesque village of Palazzetto.
Its position is also favourable for guests interested in art and culture, who can choose whether to visit Siena, just 35 minutes away from here or Florence, just an hour's drive.
Nearby there are also the famous wineries of Chianti and Montalcino, that have made the Italian wines famous all over the world, as well as the San Galgano Abbey, a 1.5 km trek and home of the "Sword in the Stone" legend.
Hotel
The villa Borgo Santo Pietro is the result of the passionate project of its Danish owners, Claus and Jeanette Thottrup, always in love with Italy and the green hills of Maremma. The property is a villa of the thirteenth century, formerly used as a refuge for monks and travellers on pilgrimage that from England and across Europe were directed to Rome.
The renovation has maintained the original characteristics of a country house built in stone and enriched with fine details. The grandeur of the building is harmonized by the surrounding gardens which stretch over 5 acres of parkland, where nothing is left to chance, because it has been carefully studied by the garden designer Valstad Helle in collaboration with Jeanette. This has been in fact divided into sections by following the Italian gardens style.
Particularly fascinating are the beautiful rose garden in front of the rooms, the avenue of cypresses that winds around the park and the section in which herbs and biological products are grown. The owners of the hotel, inspired by the new concept of hospitality, are used to pamper their guests with care and sympathy.
The high quality service of the hotel Borgo Santo Pietro is strictly personalised, and gives the traveller the feeling of familiar atmosphere. It is the ideal place for a romantic holiday and a place where it is easy to experience the ties with Mother Earth.
Rooms
The Borgo Santo Pietro has 20 rooms including nice Suites furnished with refined elegance and attention to detail, in a style that reminds us the Baroque, morover two magnificent Pool House Suites with approx. 85 sq.m. surface with own private pool and two beautiful Suites with private garden.
Each is embellished with antiques, silks, tapestries, magnificent beds and frescoes. Each includes a living room where to relax and are also equipped with a fireplace (except for the Deluxe rooms) that can be lit on request.
All accommodations are equipped not only with the most modern comforts, but also with some high-tech options such as touch screen lighting, TV with LCD screen and a docking station for the iPad, fully loaded iPad with a selection of music, a DVD library and with Borgo's own concierge app.
Spa
This exclusive spa welcomes harmoniously their guests to immerse themselves in the scents of medicinal herb gardens in the countryside of the Borgo Santo Pietro estate. The spa was built with natural local stone and features the four elements of nature. There are two rooms for individual treatments inside and also on the outdoor. Guests can enjoy various holistic therapies, including the Ayurvedic Shirodhara treatment and organic therapies with the luxurious collection of the "heaven" products dedicated to skin care. Moreover to enhance the wellbeing of body and mind are several classic and relaxing treatments offered.
Restaurant
The Borgo Santo Pietro houses two restaurants open both for lunch and dinner. Meo Modo is the Michelin-starred gourmet restaurant while the Trattoria offers a typical Tuscan cuisine. An open kitchen, Victorian-style, in which it is served an informal breakfast, where the chefs of Borgo Santo Pietro are at guest's disposal and ready to meet their individual needs. For those who would rather eat a light lunch, we recommend the poolside bar, from which to enjoy the magnificent scenery of the Serena Valley.
The chefs combine the recipes of the Italian cuisine with a careful attention to detail which gives it an international touch, using the herbs and the biological products that are grown in the park of the villa. Their renowned wine cellar provides a select range of excellent Tuscan and international wines.
Services & Activities
Particularly appreciated at Borgo San Pietro is the evening aperitif in front of the fireplace in the central hall or at the pool bar. You can enjoy a prosecco (sparkling wine) listening to the piano bar music, a collective ritual that involves everyone in the house, helping to create a very harmonious familiar atmosphere.
Moreover, in the old guest house now used as a health club, it is possible to have holistic spa treatments that will give a lift to your physical, mental and emotional well-being. Children's playground; baby-sitting on request and against payment.
The Borgo Santo Pietro offers its guests the possibility to use the tennis court, a basketball court and to play bowls.
Every year in the hotel various events are organized in order to involve the guests in recreational activities or sports of high interest. Among these activities, the cooking classes at the Borgo Cooking School are very successful because people have the opportunity to learn, from great chefs, the secrets of Tuscan cuisine. The production of pecorino cheese in the Resort's dairy. Another interesting initiative is the organization of an exclusive dinner with renowned Italian sommeliers who give valuable tips on how to match wines with dishes.


<< Tuscan Countryside Accomodation
Rooms Borgo Santo Pietro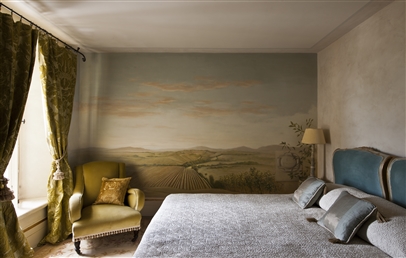 25 sqm – Queen size bed, small king size bed or twin beds Refined and intimate bedrooms
read more »»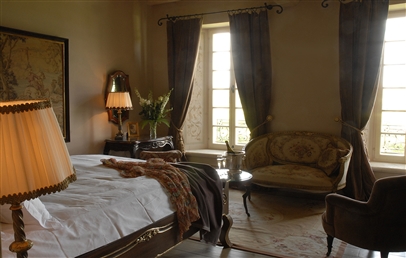 28 sqm – Double bed Charming double room with amazing flowers frescoes. Among its rich furnishings it includes
read more »»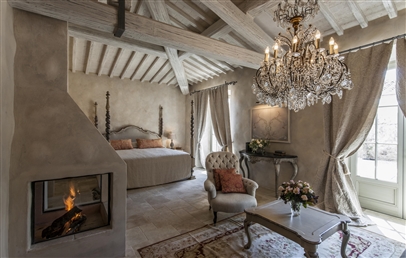 King Size bed Luxurious suites, furnished with refined elegance and a special care for every detail, in
read more »»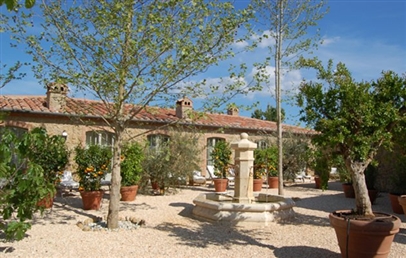 Small King Size bed Elegant and refined bedroom which opens into the Mediterranean courtyard, with fragrant lemon
read more »»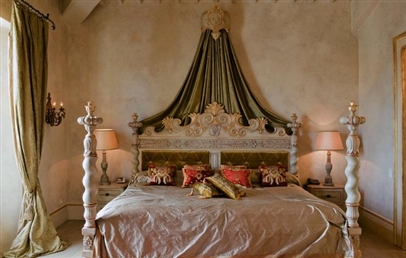 150 sq.m. – four poster bed Prestigious Suite with king-size bed, it is the most exclusive Suite
read more »»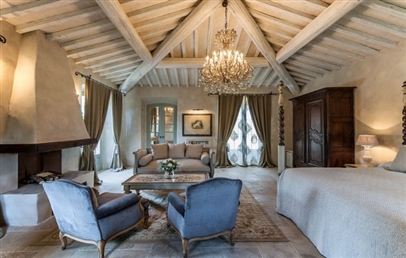 King size bed Elegant Suite furnished with precious fabrics, crystal-drop chandeliers, Casa dell'Unicorno is located not far
read more »»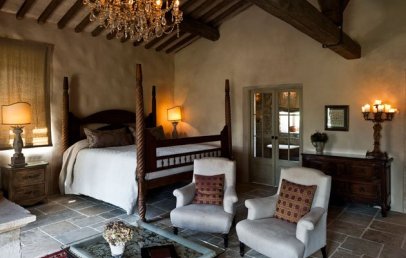 King size bedComfortable and rustically Suite with oak beams, stone floors and mahogany four poster bed.
read more »»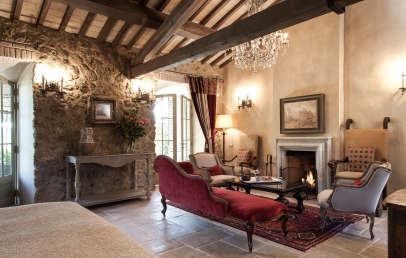 60 sqm / King size bed A nice and spacious Suite with a private garden, with
read more »»
In the surroundings
Cultural Centres
Tourist Centres within 30 mins. by car
Internet
Wi-Fi in the whole structure
Family
Kids Playground
Baby Sitting
Common areas
Swimming pool
Sun terrace
Garden / Park
Outdoor lounge areas
Lounge areas indoor
Wellness
Spa
Beauty treatments
Wellness treatments
Sport
Badminton
Bocce field
Ping Pong
Croquet
Archery
Tennis
Tennis lessons
Yoga/pilates lessons
Activities
Excursions/Guided tours
Wine&Food tours
Natural trails
Wine tastings
Cooking classes
Art and Culture activities
Horse riding
*NB: The services may not be fully available / working and subject to change for reasons beyond the control of CharmingItaly.com who declines every responsibility.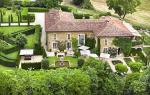 Pasqua late deals and family breaksIf you are savoring the notion of immersing yourself in the Tuscany cradle of Renaissance,to fill your senses with the joy of deserted beaches e relaxing
read full article >>
Map Borgo Santo Pietro
Please select the points of interest you want to display on the map
Get More Borgo Santo Pietro
01-01-2021 - 31-12-2021
Only for Charming customers: flowers and sparkling wine upon arrival!
01-05-2021 - 31-10-2021
Only for Charming customers: free upgrade in the higher room category (upon availability)
*NB: The offers are not valid for all rooms. To find out, which rooms and periods the offers apply to, please check our online-booking portal.