Strada E.S.A. Mosè San Biagio, 20 -
Useful Info
20 Rooms
Free Wi-Fi
Gourmet Restaurant
Centre de remise en forme
Agrigento historic centre, 6 Km
Valley of the Temples, 1.5 Km
Nearest beach, 4 Km
Scala dei Turchi, 15 Km
Charming's opinion
If you are someone who, when on holiday, likes to have privacy but also beautiful places to visit at your fingertips, then Doric boutique Hotel 4* deserves a closer look. The hotel offers the best of both worlds. Located near by some amazing places
Check In:
05-06-2023
Check Out:
06-06-2023
Nights
1
Clients:
0 Adults
Modify
Opening Period : Doric Boutique Hotel
From 01 January 2023
-
to 31 December 2023
From 01 January 2024
-
to 31 December 2024
Location
Doric Boutique Hotel 4* is a "window" with a magnificent view over the Valley of the Temples of Agrigento, a UNESCO site, from which it is only 2 km away. 
The ultra-romantic, Doric Boutique hotel has a fantastic location. The view from this hotel is a skyline of the temple of Juno, in the background the African sea and the beautiful valley that won the Italian Landscape Award in 2018.
About 8 minutes by car from the beach of San Leone. It is a beautiful beach of soft golden sand, characterized by kilometers of beaches bathed by a beautiful blue and clear sea scented with tropical algae.
1.5 km from the famous Valley of the Temples in Agrigento. A story of two thousand years and an area included in 1997 on the List of World Heritage Sites by UNESCO. This incredibly well preserved temples are one of Italy's most impressive archaeological sites. 
15 Km dalla famosa Scala dei Turchi. An extraordinary white cliff made of marl (a mix of clay and limestone) wich slopes gradually towards the sea. It is the passing of time, the sea and the salty breeze which has transformed this rocky outcrop into southern Italy's most spectacular sight.
The nearest airport is Comiso at 118 Km. Catania airport is 162 km away, Palermo airport 170 km and Trapani Birgi 179 km.
Hotel
The ultra-romantic, Doric Boutique hotel has a fantastic location a modern design. A new small and friendly hotel designed by the owner architect, offering genuine hospitality to its guests.
Modern and elegant interiors open up to the Valley of the Temples and give the feeling of being inside and outside at the same time.
The hotel is oozing simple elegance, with minimalist interiors, a grey and white palette and gentle nuances in the background creating an ambiance of relaxed sophistication. 
In the Doric Boutique Hotel, there are 20 rooms and different categories of rooms in which you can relax undisturbed. Deluxe rooms have a private pool.
And if you feel your own private pool is not quite big enough, you can always use the commun Infinity pool with panoramic view over of the valley and a glimpse of blue sea. 
The hotel is set in a garden full of aromatic herbs created to allow guests to experiment a sensory experience immersed in beauty. And a Sicilian gourmet restaurant with a young and emerging Chef: Max Ballarò, winner of the gold medal at the Olympics in culinary art.
The Doric boutique Hotel pays great attention to the respect of the principles of environmental sustainability: it produces water and renewable energy and is perfectly integrated into the surrounding environment.
Rooms
Doric Boutique Hotel has 20 rooms including 9 standard rooms, 10 Deluxe rooms with exclusive private pool at ambient temperature (heated on request and for a fee) and a Queen.
Different categories of rooms and suites in which you can relax undisturbed. Standard rooms have balcony or window. The deluxe rooms have a terrace and their own swimming pool which meld seamlessly with environment. The Queen room enjoys its own outdoor veranda with a Turkish bath, emotional shower and jacuzzi.
The rooms have a minimalist design and a bathroom with lot of amenities. The Deluxe and Queen rooms well equipped with private pool areas give you the possibility to unwind with a glass of champagne or wine in hand and put aside the world's worry to enjoy the moment.
All the rooms have the view on the temples which constitute one of the most important testaments to Greek culture and art, and they tell us about the thousand-year old history which began in the Sixth century B.C. with the founding of the ancient colony of Akragas.
The rate includes: buffet breakfast; free Wi-Fi connection, use of the infinity pool; use of the panoramic gym; luggage porter with golf cart.
Strand
Etwa 8 Autominuten vom Strand von San Leone entfernt. Es ist ein wunderschöner Strand mit weichem, goldenem Sand, der sich durch kilometerlange Sandstrände auszeichnet, die von einem wunderschönen blauen Meer umspült werden und klar mit tropischen Algen duften. Es gibt Sanddünen und es ist möglich, Sportarten wie Surfen oder Kitesurfen zu betreiben, aber auch angenehme Momente zu verbringen, einen lokalen Wein zu probieren und den Sonnenuntergang an einem der wenigen vorhandenen Kioske zu bewundern. 
4,5 km vom Strand von La Maddalusa entfernt, ein breiter und wilder Strand, der von Landzungen und Hügeln überragt wird.
Sport & Fitness
The hotel welcomes you to the panoramic Fitness Centre, a small gym available for guests for a quick training session from 07h30am to 7 (treadmill, exercise bike, spin bike, multistation). 
And the refreshing infinity pool that overlooks the Valley. Watch the nature and the greek temples as you swim and soak up, in the idyllic surroundings. Whether you take a dip early morning or you want to watch the sunset in the most relaxing way possible, our infinity pool is waiting for you.
Restaurant
Get spoiled and pampered as soon as you wake up. You will start the day with a sweet Italian breakfast with croissants, homemade baked goods and seasonal fruit. Breakfast is served from 08.00 to 10am.
In front of the Temple of Juno, let yourself be enchanted by the aroma and beauty of the Mediterranean plants, in the aromatic garden created to fulfillthe senses.
Many of the plants in the Aromatic Garden are familiar culinary herbs such as basil, rosemary, oregano, summer savory and marjoram.
At the Ambrosia Restaurant we try to create a relationship between history, nature and harmony of the senses.
Herbs and vegetables are used in the delicious dishes of the chef Max Ballarò who starts each morning in the garden to gather ingredients for the meal of the day, especially fresh and aromatic herbs.
Type of cuisine: regional and national, made using typical local products and ingredients grown in the hotel's kitchen garden. Open for lunch and dinner on request
Simplicity, quality and passion are the secrets of the chef. Whose creative interpretation of traditional island dishes is the distictive of the Restaurant
For any special diet needs, please let us know when booking so we can provide you with gluten-free foods or other foods that meet your dietary needs as soon as you arrive.
Services & Activities
Doric Boutique Hotel 4* reserves several services to its guests: free parking, free luggage storage, infinity pool with indoor bar, restaurant, panoramic gym, booking of excursions and transfers, multilingual staff, garden enriched with aromatic herbs and Mediterranean plants.
The Wi-Fi connection is available for free in common areas and rooms.
Extra services for a fee: transportation from / to the airport by taxi or private car with driver, car rental with driver, tours, guided tours and excursions (Valle dei templi, Farm Cultural park, Agrigento, Menfi, Scala dei Turchi), massages and facial or body treatments, yoga classes, cooking classes.
---
Check-in from 14.00pm to 22pm
Check-out by 10.30am
Late check-out - on request, with supplement
Rooms Doric Boutique Hotel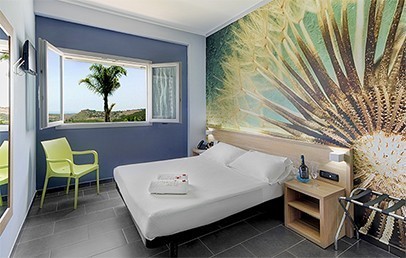 14 sq.m. / double bed + third extra bed or cot The standard rooms are comfortable, practical, and
read more »»
16 sq.m. / double bed For your stay with privacy and an economy rate choose the dependace. It's located
read more »»
15 sq.m. / double bed + third extra bed or cot If privacy is paramount, these 10 hotel
read more »»
24 sq.m. / double bed + 2 extra beds For a romantic stay, enjoy the Queen Panoramic suite
read more »»
14 sq.m. / double bed + third extra bed or cot The standard rooms are comfortable, practical, and
read more »»
King-size double bed The Villa Suite with private pool is located in an extremely quiet and relaxing
read more »»
King-size double bed The Villa Suite with private pool is located in an extremely quiet and relaxing
read more »»
Queen-size bed Located in an extremely quiet and relaxing area with a jacuzzi located on its own
read more »»
Food & Drink
Restaurant
Breakfast
Lunch
Dinner
Wellness
Massages
Wellness treatments
Activities
Excursions/Guided tours
Cooking classes
Internet
Wi-Fi in the whole structure
In the surroundings
Selection of beaches
Cultural Centres
Tourist Centre within 10/15 mins. by car
Sport
Gym / Fitness room
Yoga/pilates lessons
Common areas
Swimming pool
Garden / Park
*NB: The services may not be fully available / working and subject to change for reasons beyond the control of CharmingItaly.com who declines every responsibility.
Map Doric Boutique Hotel
Please select the points of interest you want to display on the map
Get More Doric Boutique Hotel
01-01-2023 - 31-12-2024
Only for Charming customers: free upgrade in the higher room category (upon availability)
01-01-2023 - 31-12-2024
Only for Charming customers: one typical sicilian granita
01-03-2023 - 15-11-2023
Only for Charming customers: farm products (100 ml oil, 100 g almonds, 50 g pistachios)
Extra Doric Boutique Hotel
01-01-2023 - 31-12-2024
Baby cot (optional) for the child up to 2 years: € 20,00 per day
*NB: The offers are not valid for all rooms. To find out, which rooms and periods the offers apply to, please check our online-booking portal.