Useful Info
76 rooms
Equipped Beach
Cardedu 4 km, Tortolì 18 km, Arbatax 22 km
Airports - Cagliari 115 km, Olbia 185 km
Charming's opinion
A small resort with old-time charm, set in a lush green garden just a short distance from the sea. Somewhere intimate and comfortable where you can relax. Ideal for visitors looking for relaxation in a nature setting, with the beach and sea just a
Check In:
16-09-2019
Check Out:
17-09-2019
Nights
1
Clients:
0 Adults
Modify
Opening Period : Hotel Corte Bianca
From 18 May 2019
-
to 12 October 2019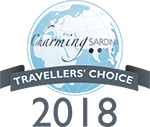 Novelty 2018! The Hotel Corte Bianca re-opens under the management of Bovi, a historic name in Sardinian tourism, with successes such as Hotel La Bitta and Hotel Club Saraceno: the complete refurbishment will mark the hotel with a fresh, all-embracing Mediterranean ambience, with pleasing touches of contemporary design. Impeccable hospitality and high-quality services are guaranteed by the Bovi family!
Location
Situated directly on the seashore, on a stretch of coast marked by long sandy beaches, Corte Bianca is set against an extremely beautiful scenic backdrop, in large part still unspoilt.
The hotel can be reached from Cagliari airport (115 km) and from Olbia (185 km) and is an excellent base for exploring a number of beaches (Lido di Orrì, Cea, Rocce Rosse, Su Sirboni…), and stunning, famous coves such as Cala Goloritzé and Cala Mariolu (about 46 km).
Hotel
The resort is designed like a Sardinian village, built round a courtyard, where everything is at hand. Traditional elements blend in well with stylish design, inspired by natural elements. The garden offers large areas for relaxation and wellbeing.
Rooms
All 76 rooms have an independent entrance and look out either over the garden or the pool. The superior rooms (the Junior Suites and the 3 Suites) have one beach umbrella and 2 sun beds reserved on the beach, in the first row. All rooms have free Wi-Fi connection.
Beach
On leaving the garden, you walk through a small pine wood to reach the beach of Cardedu (about 250 m from the hotel).
The beach is sandy with a strip of pebbles where the waves break. One section is for the exclusive use of Corte Bianca guests, with beach umbrellas and deckchairs, free of charge starting from the third row. 
The first and second row attract payment: € 140 for 1 umbrella and 2 deckchairs in the first row per week; € 70 for 1 umbrella and 2 deckchairs in the second row per week.  
The first supply of beach towels on arrival is free of charge; each change costs €2.50.
Restaurant
The rich breakfast buffet served on the terrace surrounded by glass walls is based mainly on local and organic products.
For lunch, guests can choose the Beach Grill Restaurant, which offers a series of dishes to be savoured in the shade of the pine wood.
In the evening, guests will be able to appreciate dishes based on regional traditions. Dinner opens with a buffet of starters, followed by the main dishes served at the table. 
A central bar and a beach bar are also available. 
Services and activities
The two equipped pools are free for use by guests. For small purchases, the resort has a convenience store with tobacco products.
Guests can rent bicycles (for a fee) and explore the surrounding territory.
More services: free Wi-Fi; free car/motorbike parking in front of the hotel; diving centre in the nearby; sports programme; shuttle service (for a fee) to Cardedu, Arbatax and Tortolì, booking excursions by sea and inland.
<< Boutique Hotels Sardinia
Rooms Hotel Corte Bianca
19 sq.m. / double bed or twin beds Large well-lit rooms with an independent entrance; no
read more »»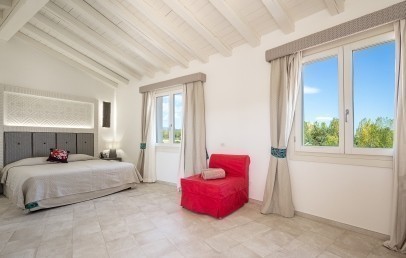 30 sq.m. / double bed or twin beds Newly constructed rooms, large and comfortable, with independent
read more »»
36 sq.m. / double bed Newly constructed rooms in a reserved, position guaranteeing peace and
read more »»
About 30 sq.m. + 25 sq.m terrace / double bed Furnished with fine furniture, the resort's
read more »»
22 sq.m. – double bed or twin bedsLarge well-lit rooms with balcony, located in a quiet
read more »»
Common areas
Swimming pool
Garden / Park
Lounge areas indoor
Outdoor lounge areas
Food & Drink
Restaurant
Bar
Breakfast
Lunch
Dinner
Beach
Private beach
Equipped Beach
Sun umbrellas
Sunbeds
Beach Towels provided
Internet
Wi-Fi in the whole structure
In the surroundings
Selection of beaches
Cultural Centres
In room
Hairdryer in Room
Air conditioning in Room
Phone in Room
Digital Terrestrial TV
Minibar
Furnished Patio or Balcony
*NB: The services may not be fully available / working and subject to change for reasons beyond the control of CharmingItaly.com who declines every responsibility.
Map Hotel Corte Bianca
Please select the points of interest you want to display on the map
Get More Hotel Corte Bianca
18-05-2019 - 12-10-2019
For customers staying in a Junior Suite or Suite: beach service in the first row (1 beach umbrella and 2 sun beds) included.
*NB: The offers are not valid for all rooms. To find out, which rooms and periods the offers apply to, please check our online-booking portal.