Nicolaus Club Borgo Rio Favara Resort
Contrada Santa Maria del Focallo -
Useful Info
132 Apartments
Distance to the beach 400 meters
Ispica 12 km, Noto/Modica 30 km
Catania airport 115 km
Beach shuttle service
Activities for children and teenagers 3-17,99 y.o.
Pets not allowed
Charming's opinion
Set on the exceptionally beautiful southern coast of Sicily, just a short distance from Ispica, this resort is surrounded by charming scenery. We suggest it for families looking for a seaside holiday together with sports, entertainment and the
Check In:
19-10-2021
Check Out:
20-10-2021
Nights
1
Clients:
0 Adults
Modify
Opening Period : Nicolaus Club Borgo Rio Favara Resort

Location
Situated just a short distance from Pozzallo, in southern Sicily, the Nicolaus Club Borgo Rio Favara Resort is set against a truly beautiful backdrop and is just 400 m from the beach. Noto, Modica and Ragusa are easily reachable, just 30/50 km away, while Catania Airport is 115 km away.
Hotel
In perfect Mediterranean style, the Nicolaus Club Borgo Rio Favara Resort is a holiday village which offers extensive green spaces, close to the sea, a full range of comforts and a host of daytime and night-time activities. A resort meeting the needs of the entire family, catering to adults and children alike.
Rooms
There are 132 apartments going to make up the resort, divided into villas of eight units. Each apartment measures some 40 m2 and has a private, covered, parking space.
Check-in: 17:00 – Check-out: 10:00
Beach
A long stretch of golden sand, with clear waters and softly shelving sand is some 400 m from the hotel and can be reached by a shuttle bus. The beach is equipped with sun umbrellas and sunbeds (beach towels available for a fee); there is a bar and a restaurant not managed by the resort. JOB wheelchairs are available for guests with mobility problems.
Important: at the moment, for security reasons, the hotel shuttle service is not available. The beach can only be reached on foot.
Sport
Guests will find a wide range of sports activities, including a 7-a-side grass pitch plus a synthetic grass soccer pitch, a tennis court, a bowling pitch, ping-pong and a jogging route. On the beach there is a beach volley pitch and kayaks can be rented. There is also a diving centre and boat rental 7 km distant from the structure.
Families
Divided by age brackets, kids and youngsters are involved in a host of sports and recreational activities: they are assisted by our young staff of the Nicolino Baby Club (3-5 years), the Nicolino Mini Club (6-11 years) and the Nick Club (12-14 e and 15-17 years).
The Nicolino Card is mandatory for kids from 0-2 years. It includes the "baby-food" corner at the restaurant, the food kit, bottle heater and baby bathtub (to be requested when booking, based on availability).
Restaurant
The Nicolaus Club Borgo Rio Favara Resort has a restaurant and bar at the pool. 
For guests with food requirements (gluten/lactose intolerance) basic pre-packaged products are available, to be supplemented with your own products. 
The baby food corner "Pappe e Mamme" is set up with bottle warmers and microwave. It is possible to order basic infant food such as small pasta, vegetable and meat broth, mashed vegetables.).
The Formula Soft All Inclusive includes:
Full board including drinks at mealtimes from dispensers (water, wine and beer). Breakfast, lunch and dinner are served buffet-style. At the Central Bar (open from 10.00 am to midnight) unlimited servings of fruit juice, water, cola, sprite, orgeat, syrup mint, cherries, peach and pineapple, tropical blue, all served in plastic cups, coffee service (espresso, cappuccino, coffee with milk, American coffee, tea and fruit and herb teas). 
The following products are charged as extras: liqueurs and spirits, drinks and water not on tap, ice cream, snacks, all pre-packaged products and all items not expressly indicated as included. 
Services and Activities
The Nicolaus Team will take care of guests with tourneys, dances, games and recreational activities, music and evening entertainment.
Within the resort guests will find a boutique, a newsagent/tobacconist, over-the-counter pharmacy, a photographer and a beauty centre.
Tourist tax payable on the spot: € 1.50 per day per person (children under 10 exempt).
Wi-Fi connection is free and is available at reception and in communal areas, while it is not present in the rooms.
Guests may request the use of strollers for kids from 0-3 years (subject to availability).
Sorry – no pets.
Rooms Nicolaus Club Borgo Rio Favara Resort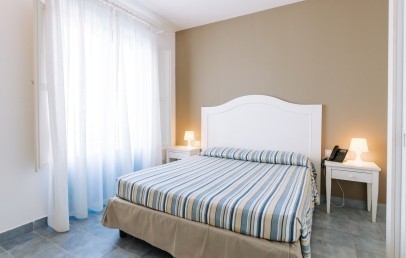 approx. 40 m2 - double bed + sofa bedThe apartments are divided into villas of eight
read more »»
Family
Baby Club
Mini Club
Junior Club
Beach
Beach Shuttle-bus
Equipped Beach
Sport
Tennis
Five-person soccer field
Ping Pong
*NB: The services may not be fully available / working and subject to change for reasons beyond the control of CharmingItaly.com who declines every responsibility.
Map Nicolaus Club Borgo Rio Favara Resort
Please select the points of interest you want to display on the map